Indian blast alert fell through Sri Lankan leadership crack
Easter bombing toll touches 290, emergency declared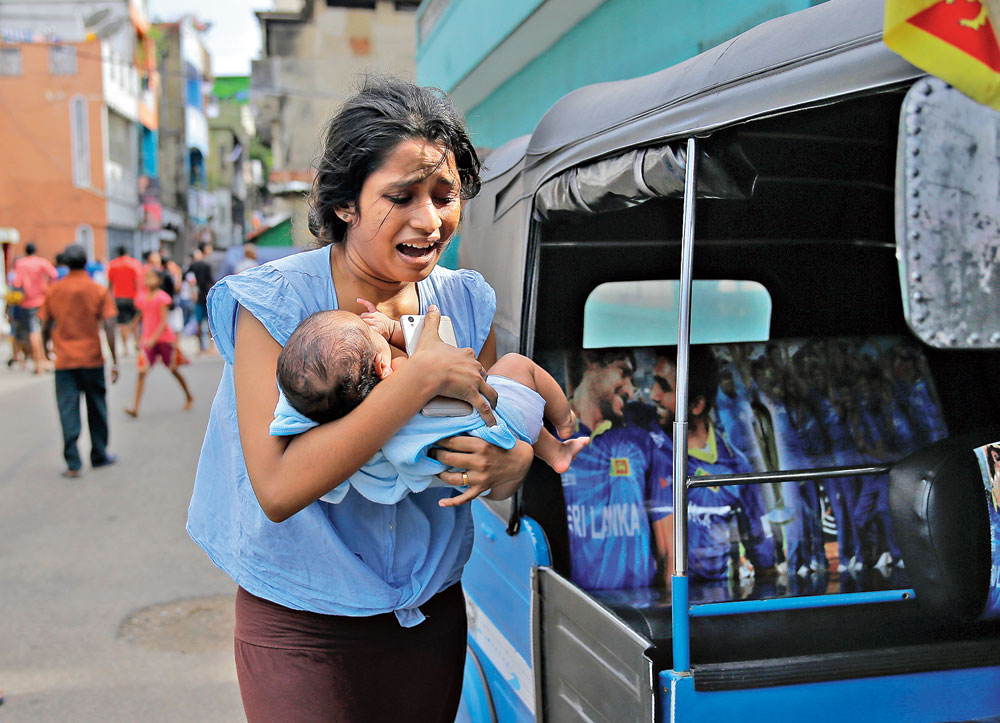 ---
---
Disclosures that India had alerted Sri Lanka as early as on April 4 to the possibility of suicide attacks and an apparent communication gap at the top in the island nation have triggered what looks like a brewing crisis in the government in Colombo.
Multiple sources in India and Lanka have said the Indian alert was issued 17 days before serial blasts ripped through churches and hotels there on Easter Sunday, killing at least 290 people and wounding nearly 500.
The deaths of at least eight Indians have been confirmed so far.
India, a close ally of Sri Lanka, has been watching the entire South Asia region for any sign of activity by al Qaida or the Islamic State. Indian security agencies shared specific intelligence about the National Thowheeth Jama'ath, a little-known radical Islamist outfit that has now emerged as the prime suspect, and the possibility of attacks with their Sri Lankan counterparts, The New York Times reported.
"But with Sri Lanka's President and Prime Minister feuding for months, resulting in a political breakdown last year, it seems the President shut out the Prime Minister from top security briefings and that the Prime Minister's office had no inkling of the warnings of imminent suicide attacks," the newspaper added.
While President Maithripala Sirisena is considered close to China, Prime Minister Ranil Wickremesinghe is known to share a good rapport with India.
The President had fired the Prime Minster last year but was forced to reinstate him after a furore and a judicial order. The frosty relationship has continued and the Prime Minister had been shut out of intelligence briefings.
On the basis of the April 4 alert by India, the Lankans appeared to have drawn up a confidential memo on April 11 that mentioned names, addresses and phone numbers. But Prime Minister Wickremesinghe was apparently not told of this report.
Sri Lanka's security agencies had been watching a cell of the National Thowheeth Jama'ath, which, officials said on Monday, carried out the coordinated bombings with help from international militants.
"Within hours of when three churches and three hotels were bombed, Sri Lankan security services seized at least 24 suspects, implying that they knew exactly where this group was operating and were quickly able to locate their safe houses," The New York Times reported.
"Why the security agencies failed to act before the bombings — and why some top officials, including the country's own Prime Minister, didn't even know about the intelligence that the agencies possessed — are enormous questions that have created a crisis in the Sri Lankan government," the newspaper added.
Sri Lanka declared a state of emergency from Monday midnight, which give police and the military extensive powers to detain and interrogate suspects without court orders.
A forensic analysis of human remains found at three churches and three hotels determined that seven suicide bombers had carried out the attacks. Most sites were attacked by lone bombers, but two targeted the Shangri-La Hotel in Colombo. Bombings at a guesthouse and the suspects' safe house remain under investigation.
Counter-terrorism experts said that such an extensively planned and coordinated attack would almost certainly have required considerable financing and expertise from a more experienced group overseas.
"The target selection and attack type make me very sceptical that this was carried out by a local group without any outside involvement," said Amarnath Amarasingam, a specialist in Sri Lankan extremism at the Institute for Strategic Dialogue, a counter-terrorism research group based in London. "There's no reason for local extremist groups to attack churches, and little reason to attack tourists."
Additional reporting from New York Times News Service, Reuters and PTI