India seeks Turkey restraint
We are deeply concerned at the unilateral military offensive by Turkey in northeast Syria, India said in a statement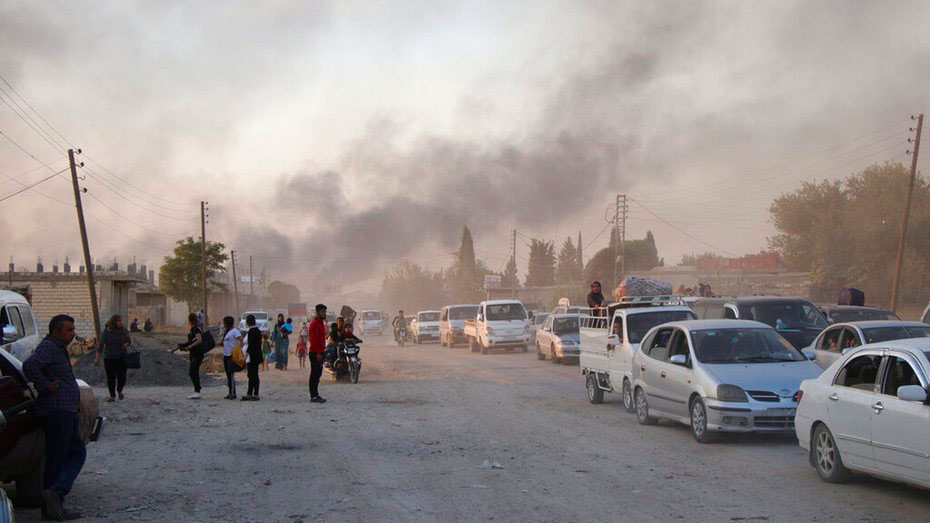 Syrians flee shelling by Turkish forces in Ras al Ayn, northeast Syria, on Wednesday, October 9, 2019
AP Photo
---
New Delhi
|
Published 10.10.19, 09:32 PM
|
---
India on Thursday urged Turkey to exercise restraint and respect Syria's sovereignty a day after Ankara, with US President Donald Trump's approval, attacked a Syrian militia that had helped Washington fight the Islamic State.
"We are deeply concerned at the unilateral military offensive by Turkey in northeast Syria. Turkey's actions can undermine stability in the region and the fight against terrorism. Its action also has the potential for causing humanitarian and civilian distress," India said in a statement.
"We call upon Turkey to exercise restraint and respect the sovereignty and territorial integrity of Syria. We urge the peaceful settlement of all issues through dialogue and discussion."
India's statement is likely to put an added strain on  its relations with Turkey, which has been critical of New Delhi's recent decisions on Jammu and Kashmir. Turkish President Recep Tayyip Erdogan had broached Kashmir in his speech at the United Nations General Assembly as part of Ankara's continuing campaign against India's actions.
India's statement on Turkey's offensive came after Trump himself called the operation a "bad idea'' although he had agreed to it over the weekend after a phone conversation with Erdogan.
Turkey has for a long time been itching to go after the Kurdish-led Syrian Democratic Forces in northeastern Syria, arguing the militia poses a threat to the Turkish people. Ankara also says it wants to create a safe zone in the area to facilitate the return of Syrian refugees.
Since the world waded into the popular uprising against the Assad regime in Syria in 2011, India has adhered to a policy of non-interventionism in the conflict, which has various countries fishing in the Arab nation's troubled waters.
The change of government in Delhi did not see a change in strategy although many of the Gulf countries have a stake in the conflict, among them Saudi Arabia and the UAE, with whose leadership Prime Minister Narendra Modi has a particularly close equation.