In Bucha, 'crazy man' on killing spree
Soldier's rampage was not an isolated event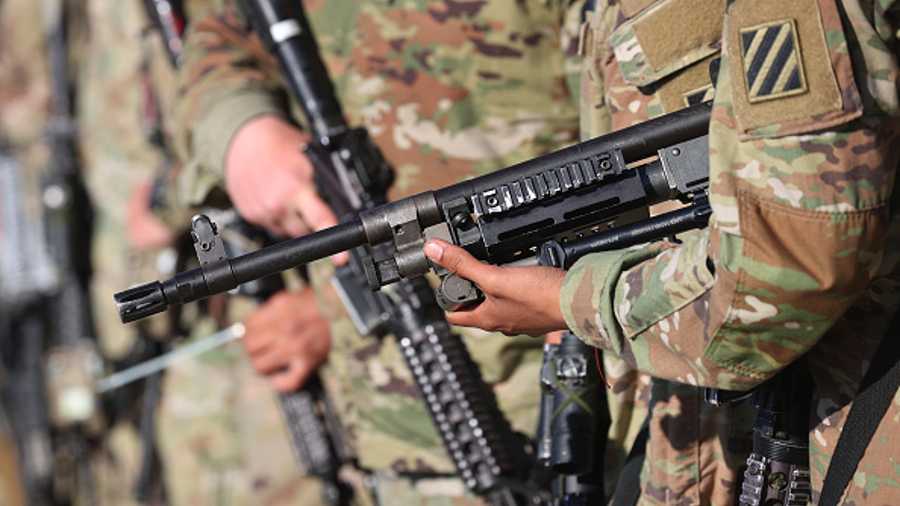 Representational image.
File Photo.
---
Bucha, Ukraine
|
Published 02.01.23, 01:56 AM
|
---
On one of the last nights of the Russian occupation of Bucha, a lone Russian soldier, drunk or high, went out looking for wine. He forced a 75-year-old resident at gunpoint along the street and made him bang on the doors of private homes.
What unfolded thereafter was a night of horror for two families that stands as a coda to a month of senseless killings by Russian troops in Bucha, a suburb of Ukraine's capital, Kyiv. The Russian soldier left a trail of blood and devastated lives in a last paroxysm of violence only hours before Russian troops began withdrawing. His own unit fetched him in the morning, disposed of the bodies, and within hours, it was gone.
Nine months after those events, the dead have mostly been recovered and laid to rest, and people have picked up their lives and returned to work. But the grief of family members remains raw.
The soldier's rampage was not an isolated event. Nine soldiers from a unit based in the same wooded neighbourhood have been charged in one of the first war crimes cases to reach court in Ukraine. The case centres on their cruel treatment of a civilian, an electrical engineer who was repeatedly detained and beaten in the last days of March.
The engineer, Serhiy Kybka, is losing his sight from injuries suffered in another severe beating he received later, by a Russian soldier who encountered him on the street after his release.
More than 450 people died in Bucha in one month. Fifteen of those people died in an area of only a few blocks around Antoniya Mykhailovskoho Street, where the intoxicated soldier went on his rampage.
Like their neighbours, the two men — who, according to the mayor of Bucha, neighbours and family members, died at the hands of the lone soldier — were victims of an undisciplined and brutal occupying army.
It was evening, not long before the 8 o'clock curfew on March 27, when the Russian soldier encountered Oleksandr Kryvenko and ordered him at gunpoint along the street to a large house set behind high walls. Bucha was in the dark, without electricity or Internet.
Kryvenko was a teacher, who was living alone after helping his wife and her disabled daughter evacuate from Bucha. Trained as a pilot, he had spent his life working as an adjuster at Bucha's glass processing factory.
His family said he would have sought to make peace with the Russian soldier. "We never had fights," said his wife, Svitlana Tkachuk, 55. 
When he and the soldier reached the house, Kryvenko banged on the gate and called out to the guard, a Ukrainian named Serhiy, whom he knew.
Serhiy opened the gate and the soldier, pointing his assault rifle, shouted, "I want wine, Boyar!" using an old-fashioned form of address for a Russian nobleman.
Serhiy explained he was just a guard. Russian soldiers had already seized all of the alcohol there was in the house, he told him. "Then he put the gun to my temple, and asked, 'Do you have any wine?'" Serhiy recounted in an interview. "I said: 'No.' I thought: 'This is the end.'"
Serhiy braced for a bullet, but the Russian suddenly jerked his rifle upwards and fired over his head, he said. The soldier ordered the two Ukrainians inside the house to look for alcohol. When he found there was none, he threatened to throw a grenade, but was so intoxicated that he could not manage to pull it from a pocket on the side of his combat pants.
Eventually, the soldier, who Serhiy said was ethnic Russian and looked about 35 years old, went off, taking Kryvenko with him.
Twenty minutes later, Serhiy said, the soldier's commander came by with a posse of three soldiers looking for the soldier. The commander said the soldier, whom he called Aleksei, was a troubled man, a veteran on his fourth war, and dangerous. "Go and hide and don't stick your nose out for anything," the commander told him. "He's not in his right mind. He can shoot or throw a grenade."
For all of his dire warnings, the commander did not catch up with Aleksei or his hostage that night. The two ended up not far away at the large property of a retired Ukrainian politician, Oleksandr Rzhavsky.
Rzhavsky apparently let the Russian and his hostage into his house. They sat at the dining table in the main open-plan living area, and Rzhavsky gave them wine, according to neighbours familiar with events.
But the two women in the house at the time, Rzhavsky's wife and his sister, were able to hide and escaped injury, according to Bucha's mayor, Anatoliy Fedoruk.
Something snapped that evening, and the soldier, Aleksei, opened fire on the two men at the table. Kryvenko was killed in his chair with three bullets to the chest, said his son, Yuriy Kryvenko. Rzhavsky was shot in the head. The soldier subsequently threw a grenade and injured his own leg in the explosion.
"There followed a night like an American horror movie," said a neighbour, Olga Galunenko. "This dark house, two bodies lying there and this crazy man with a rifle."
She said Rzhavsky's sister, Zoya, crawled out and hid in a cloakroom. "The wife was hiding in another place," Galunenko said.
Only in the morning did the soldier's unit come to find him. They took him away in an armoured vehicle. They apologised for his actions to the women and even dug a grave and buried Rzhavsky in the garden. In a final act of cruelty, they dumped Kryvenko's body in a small copse across the street.
"They thought he was some kind of bum, or alcoholic," Yuriy Kryvenko said bitterly. He spent the next week and a half searching for his father, desperately hoping that he had somehow survived.
As the snow began to melt, with the help of a friend, Kryvenko's son began to search the copse opposite Rzhavsky's home. They found a pair of shoes and uncovered his father's body. He was lying on a curtain from the Rzhavsky house.
Kryvenko was buried beside his mother in his home village outside Bucha. "For 18 days, he lay on the ground, covered with leaves," Kryvenko's son said, recounting the pain of confirming his death. "At first, I didn't think it was him. When a person is missing, it is somehow easier."
New York Times News Service