Impeachment inquiry legal, says court
Order directs justice department to hand over Mueller probe evidence to investigators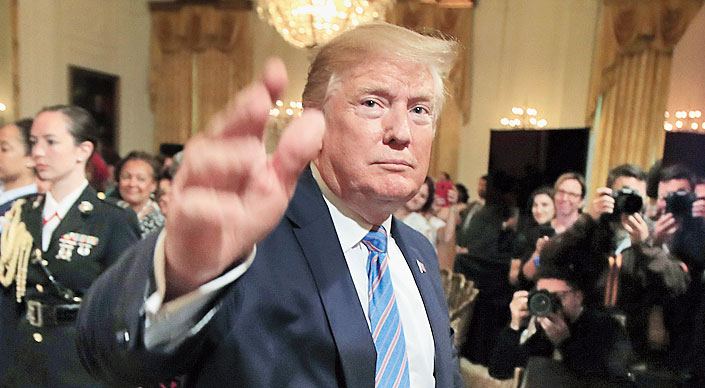 ---
---
A federal judge handed a victory to House Democrats on Friday when she ruled that they were legally engaged in an impeachment inquiry, a decision that undercut President Trump's arguments that the investigation is a sham.
The declaration came in a 75-page opinion by Chief Judge Beryl A. Howell of the Federal District Court in Washington. She ruled that the House Judiciary Committee was entitled to view secret grand jury evidence gathered by the special counsel, Robert S. Mueller III.
Typically, Congress has no right to view such evidence. But in 1974, the courts permitted lawmakers to see such materials as they weighed whether to impeach President Richard M. Nixon. The House is now immersed in the same process focused on Trump, Judge Howell ruled, and that easily outweighs any need to keep the information secret from lawmakers.
And in a rebuke to the Trump administration, she wrote that the White House strategy to stonewall the House had actually strengthened lawmakers' case. She cited Trump's vow to fight "all" congressional subpoenas and an extraordinary directive by his White House counsel, Pat A. Cipollone, that executive branch officials should not provide testimony or documents to impeachment investigators.
"The White House's stated policy of non-cooperation with the impeachment inquiry weighs heavily in favour of disclosure," Judge Howell wrote. "Congress's need to access grand jury material relevant to potential impeachable conduct by a President is heightened when the executive branch willfully obstructs channels for accessing other relevant evidence."
The administration is likely to appeal the ruling; the justice department was reviewing it, a spokeswoman said. It came on a day when House investigators unleashed another round of subpoenas. They demanded that the acting chief of the White House budget office and two other administration officials testify next month in their inquiry into Trump's pressure campaign on Ukraine to open investigations that could benefit him politically.
Democrats praised Judge Howell's decision. Representative Jerrold Nadler of New York, the chairman of the Judiciary Committee, applauded the "thoughtful ruling" and its recognition that "our impeachment inquiry fully comports with the Constitution".
"This grand jury information that the administration has tried to block the House from seeing will be critical to our work," Nadler said in a statement.
In arguing that the impeachment inquiry is a sham, Republicans have noted that the full House has not voted for a resolution to authorise one, as it did in 1974 and 1998 at the start of impeachment proceedings targeting Nixon and President Bill Clinton.
Democrats have countered that no resolution is required under the Constitution or House rules and pointed out that impeachment efforts to remove other officials, like judges, started without such a vote.
Judge Howell agreed with the Democrats, calling the Republican arguments "cherry-picked and incomplete" and lacking support from the Constitution, House rules or court precedents.
"Even in cases of presidential impeachment, a House resolution has never, in fact, been required to begin an impeachment inquiry," wrote Judge Howell.
Though the impeachment inquiry has broadened to focus on investigating the Ukraine scandal that erupted last month, the dispute before Judge Howell arose from an earlier stage: the aftermath of the Mueller investigation.
After Mueller completed his report about the Russia investigation and Trump's efforts as President to obstruct it, attorney0-general William P. Barr turned over most of the report to Congress. But he censored portions that contained material that is secret under grand-jury rules.
Lawmakers demanded to see that text, as well as underlying documents and transcripts of testimony by witnesses who appeared before a grand jury. In July, they filed a petition asking Judge Howell to order the justice department to provide that information.
In its legal filings, the House Judiciary Committee asserted that it was already conducting an inquiry into whether Trump should be impeached.