Hundreds of migrants stuck at Belarus border
Poland and other EU member states accuse the country of encouraging illegal migrants from West Asia, Afghanistan and Africa to cross the border into the EU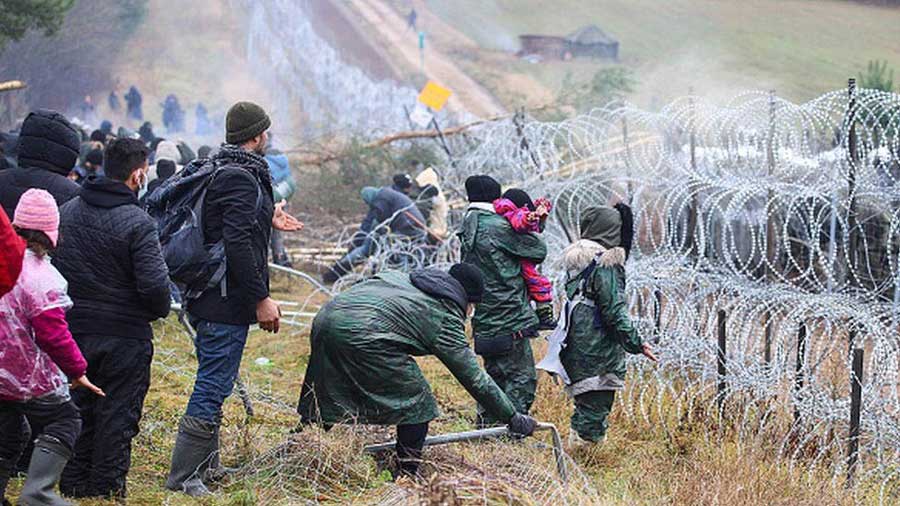 Poland has increased security along its border with Belarus amid fears of a major breach.
Twitter/@jimmy_1975
---
Sokolka, Poland
|
Published 10.11.21, 02:12 AM
|
---
Hundreds of migrants shivered in freezing temperatures and huddled round campfires on the Belarusian border with Poland on Tuesday in front of razor wire fences and lines of Polish border guards blocking their entry into the EU.
 Polish authorities were bracing for further clashes after some migrants used logs, spades and other implements on Monday to try to break down a border fence, escalating a months-long crisis that has prompted calls for tighter sanctions on Minsk.
 Poland and other EU member states accuse Belarus of encouraging illegal migrants from West Asia, Afghanistan and Africa to cross the border into the EU in revenge for sanctions already slapped on Minsk over rights abuses.
"The Belarusian regime is attacking the Polish border, the EU, in an unparalleled manner," Polish President Andrzej Duda said in Warsaw.
"We currently have a camp of migrants who are blocked from the Belarusian side. There are about 1,000 people there, mostly young men. These are aggressive actions that we must repel, fulfilling our obligations as a member of the EU."