Online furor over student's hijab engulfs New Jersey town
The second-grader said her teacher in Maplewood had begun to pull off a hijab she wears as an observant Muslim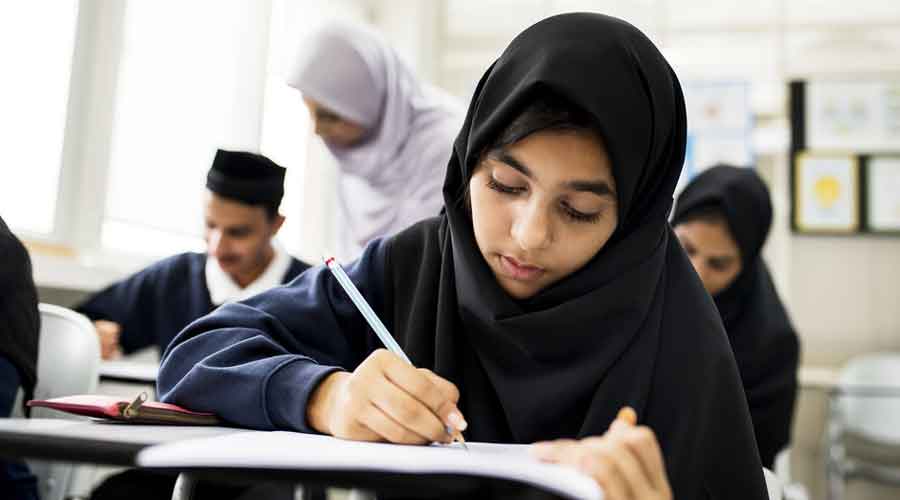 ---
Maplewood, New Jersey
|
Published 24.10.21, 03:00 AM
|
---
A seven-year-old girl came home from school earlier this month upset, impatient to tell her mother a story.
The second-grader said her teacher in Maplewood, New Jersey, had begun to pull off a hijab she wears as an observant Muslim, exposing her hair and prompting her to hold on to the head covering, the family's lawyer said.
The girl's mother recounted the story on Facebook. Then, an Olympic medalist who fences in a hijab and lives in the same New Jersey school district denounced the incident on Instagram, where she has 384,000 followers.
Soon, the story was cascading across the Internet, drawing news crews and police cars to the front of the elementary school as the controversy roiled the liberal suburb.
Fundamental facts surrounding the October 6 interaction remained in dispute, but Reddit and Instagram were awash in opinions. New Jersey's governor weighed in on Twitter, and a statewide Islamic group demanded the teacher's "immediate firing".
It was the fifth week of school. The teacher, Tamar Herman, has said that she brushed back the girl's hooded sweatshirt because it was covering her eyes, unaware the girl was not wearing her usual hijab underneath. The "moment" she realised it,  Herman said, the student "kept the hood on".
But the seconds-long interaction between a white teacher and a black student was already firmly in the grip of an online maw, underscoring the extraordinary power of social media to quickly pass judgment, with little regard for accuracy or fallout.
"It's made clear what was always kind of clear: There's dividing lines around race and religion and identity that we have yet to really tackle in substantive ways," said Khadijah Costley White, who teaches journalism and media studies at Rutgers University and runs SOMA Justice, a non-profit created to promote racial justice in the school district.
By last week, administrators for the school district, South Orange-Maplewood, had fielded more than 2,000 emails — most from outside the state and nearly all calling for the teacher's termination, they said.
Recess and lunch at the school, Seth Boyden Elementary, were held indoors. Last Friday, families were told that students might be asked to enter and exit through the back door to shield them from news cameras or protesters.
"What I keep trying to tell people is that there is a child at the centre of this," said Prof. Costley White, who also lives in Maplewood. "She is a neighbour. She has to return to this school. And this community has to exist."
Herman said that she asked the student to "raise the hood of her sweatshirt" because it was covering her eyes. "With her mask on too, her whole face was covered. I gently got her attention by brushing up the front of her hood," said Herman, who has been placed on paid administrative leave.
"The moment I realised she was not wearing her usual hijab underneath, she kept the hood on," she said. "And the learning went on."
New York Times News Service