"Star & Style covered showbiz and films, Indian and Hollywood. It had a gossip columnist called Devyani Chaubal, who was very, very good at her job. She riled all the actors and directors in the theatre stories — she used to get amazing stories about what everyone was up to. They would get very angry and call my mother and shout and scream and my mother would always back Devyani.
"That my mother helped young journalists makes me so proud."
There is a very filmi story behind how Gulshan met her husband. Just after India's independence in 1947, when most British people were fleeing India to return to the UK, Joseph Dennis Ewing made the journey in the opposite direction. He left Manchester for a job as a financial editor of The Statesman of Calcutta. His son, Guy, 17 at the time, also began in journalism in Calcutta before venturing to Bombay a couple of years later. In time, he became editor of Onlooker.
"My dad was outside the Strand Cinema in Bombay with a friend of his — he spotted my mother with a group of her friends. He said, 'Oh, look at her.' His friend, Charlie, said, 'Oh, that's Gulshan Mehta, she works at Current, she is a journalist.'
"My dad said, 'If you know her, can you get us together? His friend said, 'Come on, I will introduce you.' My dad said, 'No, no, not like this. Why don't you throw a get together of some kind?' Charlie threw some kind of party and he invited my mum. And my dad monopolised her for the entire evening. Apparently he proposed towards the end of the evening. My mother said, 'Don't be silly. You are tipsy.' So he promised to propose sober the next day which apparently he did do. They courted for a year — and got married in 1955 and stayed on in India.
There were two Gulshan Ewings, it emerged after her death in a care home in London, aged 92, on 18 April —the glamorous editor in Bombay from 1966-1989 of Star & Style and Eve's Weekly who had shaped the careers of a generation of young journalists, and the woman who lived in quiet retirement in the UK with her husband, Guy Ewing, from 1990 onwards.
After Gulshan had passed away a test result showed she had contracted coronavirus — and is true that the high number of deaths from the virus in care homes has become something of a national scandal.
But when the BBC got in touch with Gulshan's daughter, Anjali, who has been a journalist herself and also lives in London, wishing to do a story focusing on deaths in care homes, especially of people from the ethnic minorities, the request was politely turned down.
"Her ethnicity had nothing to do with her death," said Anjali. "She was 92 and frail."
Instead, Anjali emphasised she wanted to celebrate her mother's "amazing life".
During the highly infectious pandemic crisis, most hospitals and even care homes have barred relatives from being with their loved ones during their last moments. But this was not the case with Anjali, whose mother had been in a care home only a short distance from her daughter's residence in the borough of Richmond in London.
"I was very lucky," said Anjali. "I was with her when she passed away. She had no suffering, she had no distress, she went without any medical intervention or drugs of any kind so she had a 'good coronavirus death'. I want to celebrate her life."
What is remarkable is that the Indian community in London was almost totally unaware that living in their midst was the woman who had cut such a swathe for so long in the elegant cosmopolitan Bombay of old before the city's enforced conversion to the Shiv Sena's nationalistic Mumbai.
Anjali has been looking at black and white photographs of her mother with the likes of Cary Grant, Gregory Peck, Alfred Hitchcock, Danny Kaye, Ava Gardener and Roger Moore and also with the Italian director Italian director Roberto Rossellini as well as Prince Charles.
There is one of her dancing with Lord Astor.
"The black and white pictures are very evocative of a '40s, '50s kind of Hollywood glamour," said Anjali. "She went to only one film festival in Poland. She didn't go to Hollywood — these people must have come to India to promote something."
At home, Anjali and her elder brother Roy were only vaguely aware of their mother's professional life. "We had known always known about these pictures — we saw them when we were young. We were kids — we weren't interested in celebrities and all that."
There are also photographs of Gulshan with Rajesh Khanna, Shammi Kapoor, Amitabh Bachchan, Nargis, Raj Kapoor — and one with Indira Gandhi.
In April 1975, the Indian Prime Minister gave Eve's Weekly "an 18-minute interview" — this was apparently long by her standards — when she talked to Gulshan about "the women of India". The date is significant — just a few weeks before the declaration of the emergency on June 25, 1975.
Gulshan Mehta was born into a Parsi family in Bombay on 20 March 1928. As a journalist, "she had worked at Filmfare and been an assistant editor at Femina and then she was appointed simultaneously the editor of two magazines in 1966 — Eve's Weekly and Star & Style.
"Eve's Weekly was a women's magazine that became more and more feminist because of the younger writers and editors she started to appoint. It had stories about recipes and fashion, then more powerful stories about working women.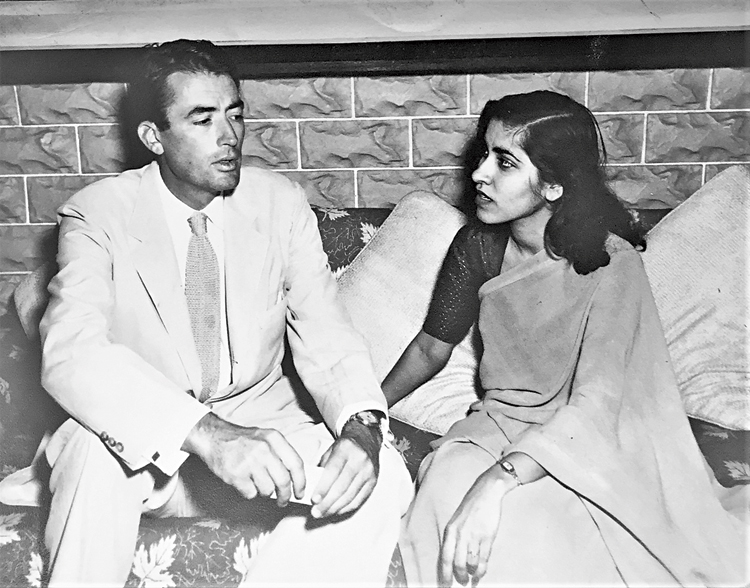 Gulshan Ewing with actor Gregory Peck
"My mother must have been very Parsi growing up but when she married my father, she got excommunicated from the religion — women are not allowed to practice any more. She couldn't go to the fire temple. She was quite westernised, anyway. Being with my father we all spoke English at home. It was a very English household in India.
"They came to live here in the UK with my grandparents for a year after their marriage — my mother worked with Air India — but then went back to India. My brother Roy was born in 1957 and I was born in 1961. After they retired, they came to the UK in 1990 and settled in Surbiton. My dad died in 2018."
In retirement in England, Gulshan would be nostalgic about her days in Bombay. "She used to watch a lot of Indian movies, and immerse herself in magazines like Stardust. There was a coterie of seven or eight of her Eve's Weekly crowd and they would email each other."
In retirement, she drew a line under her past life.
She didn't even bother to stick her photographs into the kind of album most Indian families had once upon a time.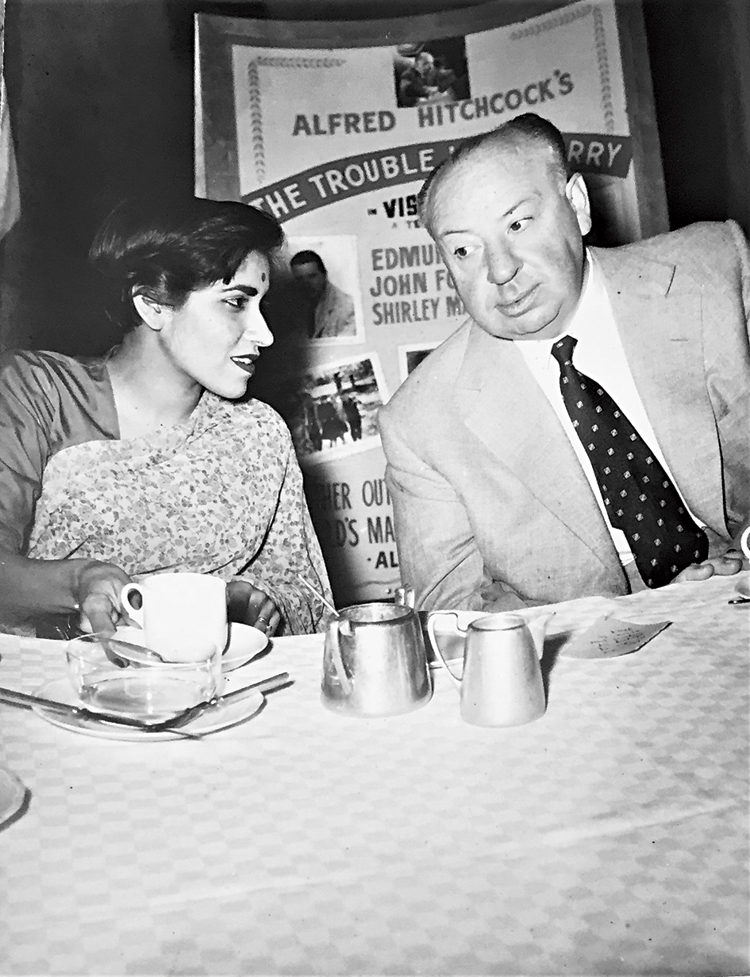 Gulshan Ewing with director Alfred Hitchcock