Four of 8 FedEx victims were Sikhs
'My nani, my family and our families should not feel unsafe at work'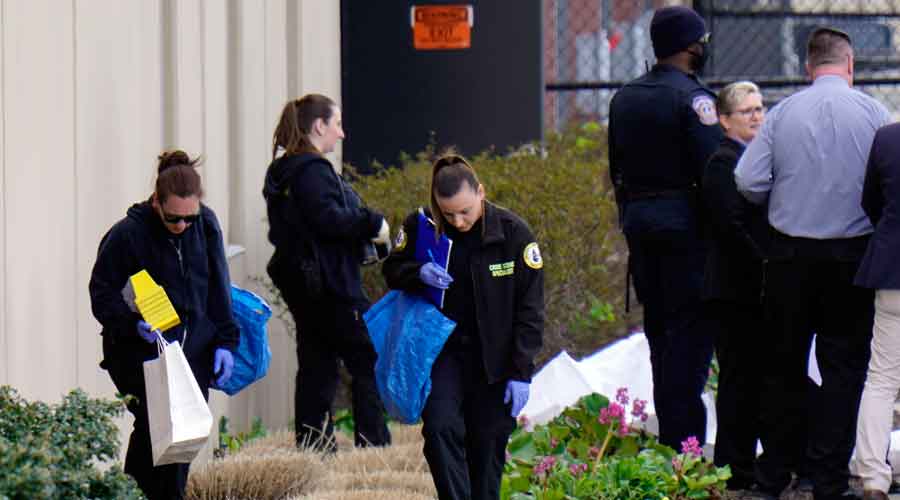 ---
|
New York
|
Published 18.04.21, 12:19 AM
---
At least four of the eight victims of the Thursday night shooting were part of the local Sikh community, many of them drawn to the Indianapolis area to take jobs at places like the FedEx warehouse that was attacked.
The warehouse employed many Sikhs, and on Friday, relatives confirmed the deaths of Jasvinder Kaur, 50; Amarjit Sekhon, 49; Jaswinder Singh, 70; and Amarjeet Johal, 66.
In a statement from the Sikh Coalition, a Johal's granddaughter, Komal Chohan, said that she had several family members who worked at the warehouse and that she was heartbroken about "the senseless shooting".
"My nani, my family and our families should not feel unsafe at work, at their place of worship, or anywhere," she said. "Enough is enough — our community has been through enough trauma."
Although the motive of the gunman is unknown, local leaders said his actions generated fear similar to what many Sikhs felt after the September 11 attacks, when they were confused for Muslims, and after a 2012 rampage by a white supremacist, who killed six people at a gurdwara, or Sikh temple, in Oak Creek, Wisconsin.
"We don't know whether this was targeted or a coincidence," said Dr Sukhwinder Singh, 29, a leader at his gurdwara, or Sikh temple southeast of Indianapolis. "We are all so numb. This is something that will take weeks to process."
The Sikh community in Indianapolis has grown in recent years. The Sikh Satsang of Indianapolis, a large gurdwara, was built about 20 years ago, and has grown from about 50 families to about 1,000 members, according to the Center for Faith and Vocation at Butler University.
The community is known for its long history of service, supporting victims of natural disasters and, during the coronavirus pandemic, organising food drives and grocery delivery for older people. An annual Sikh day parade started in Indianapolis about six years ago.
The Sikh temples in the Indianapolis area, Dr Singh said, will hold special prayer services for mourning.
The exact size of the Sikh population in the US is hard to determine, but estimates suggest that there are several hundred thousand members. According to the Sikh Coalition, about 10,000 Sikh Americans have made Indiana their home over the past 50 years.
Kanwal Prakash Singh was one of the first to arrive, moving to Indianapolis in 1967. Over the decades, he worked for the local government, built a business, served on the police merit board and watched the area's Sikh population grow by the thousands.
Sikhs had come to feel at home in Indiana, he said. But over the years, there were difficult times, especially after the September 11 attacks.
"No matter where you went, somebody yelled at you 'Osama bin Laden' or somebody yelled at you 'Go home,'" Singh said. Still, the community continued to grow, with many moving to the Midwest from the coasts. Some became doctors or police officers, while many others worked in trucking or transportation or operated petrol stations.