Facebook changes name of parent company to Meta
I've been thinking a lot about our identity with this new chapter: Mark Zuckerberg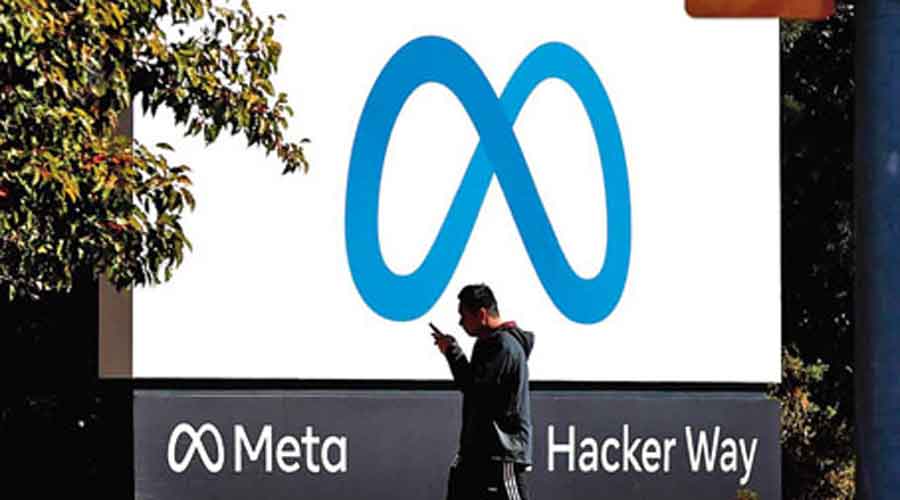 The Facebook's new logo, Meta.
The Telegraph
---
San Francisco
|
Published 30.10.21, 12:31 AM
|
---
Facebook rose to prominence over the past two decades with some of the world's most recognisable branding: a big blue-and-white letter F.
No longer. On Thursday, the social networking giant took an unmistakable step towards an overhaul, de-emphasising Facebook's name and rebranding itself as Meta. The change was accompanied by a new corporate logo designed like an infinity-shaped symbol that was slightly askew. Facebook and its other apps, such as Instagram and WhatsApp, will remain but under the Meta umbrella.
The move punctuates how Mark Zuckerberg, the chief executive, plans to refocus his Silicon Valley company on what he sees as the next digital frontier, which is the unification of disparate digital worlds into something called the metaverse.
At the same time, renaming Facebook may help distance the company from the social networking controversies it is facing, including how it is used to spread hate speech and misinformation.
"I've been thinking a lot about our identity" with this new chapter, Zuckerberg said, speaking at a virtual event on Thursday to showcase Facebook's technological bets on the future. "Over time, I hope we're seen as a metaverse company."
With the change, Zuckerberg telegraphed that his company was going beyond today's social networking, which Facebook has been built on since it was founded 17 years ago. Having Facebook as the corporate name when the company now owned many apps and was fundamentally about connecting people was no longer tenable, he said.
That was especially the case, Zuckerberg said, as Facebook has committed to building a composite universe melding online, virtual and augmented worlds that people can seamlessly traverse.
He has said that this concept, known as the metaverse, can be the next major social platform and that several tech companies will build it over the next 10-plus years.
On Monday, Facebook had signalled its intent to be a big player when it separated its virtual reality and augmented reality business into a division known as Facebook Reality Labs.
But evolving Facebook into a metaverse company will take time since the concept is theoretical and may take years to achieve. Facebook and its sister apps also remain a giant business, generating more than $86 billion in annual revenue and serving more than 3.5 billion globally.
New York Times News Service