Explosions behind Russia lines
Raids aim to undermine Moscow's fighting ability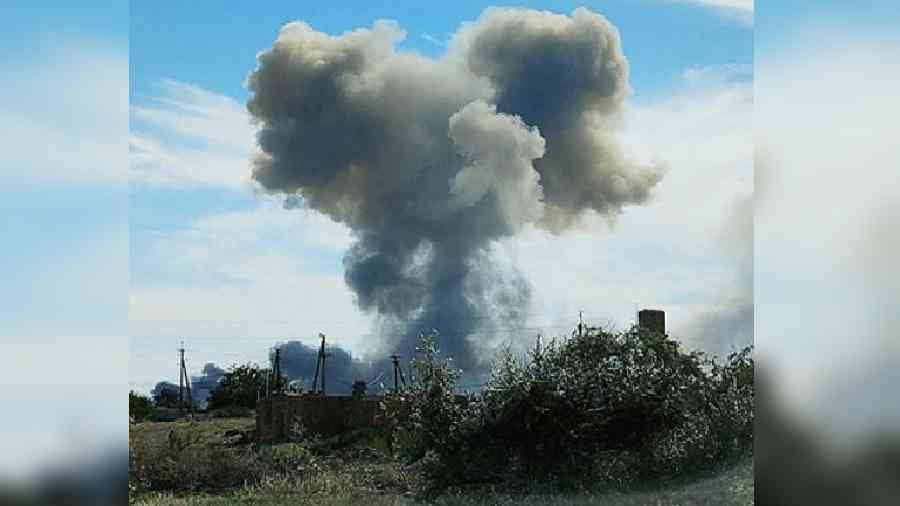 Smoke rises after explosions near Novofedorivka, Crimea.
File picture
---
Kyiv
|
Published 20.08.22, 12:26 AM
|
---
A series of explosions rocked ammunition depots and other sites deep in Russian-held territory overnight into Friday, including in the strategically important Crimean Peninsula, as Ukraine appeared to step up its campaign to degrade Moscow's combat capabilities.
A large blast at an ammunition depot was also reported within Russia itself, in the border city of Belgorod, and was strong enough to require the evacuation of two villages.
In several cases, Russian officials acknowledged that sites had been hit but did not reveal the extent of the damage and said they were investigating the causes.
The Ukrainians had previously been somewhat circumspect about their involvement in a series of behind-enemy-lines attacks in Crimea, but on Friday a senior Ukrainian security official said that Kyiv would target sites there as part of a "step-by-step demilitarisation of the peninsula with its subsequent de-occupation".
The official, Oleksiy Danilov, the head of Ukraine's national security council, said that Crimea was a sovereign territory of Ukraine and that there was an ongoing effort to liberate it.
It was the highest-level acknowledgement that the growing number of strikes in Crimea was part of a coordinated Ukrainian military campaign.
While the prospect of driving Russians from Crimea is a distant one, Ukraine is trying to undermine what has been a vital link in the logistical chain of the Russian war machine.
The Crimean Peninsula, which Russia has controlled since 2014, was a key staging ground for the invasion of Ukraine six months ago and is a vital link in Moscow's supply chain for troops occupying southern Ukraine.
It is also home to Russia's Black Sea Fleet and over the past eight years has been increasingly militarized by Moscow.
Danilov, who did not claim Ukrainian credit for individual strikes, urged people living in Crimea to provide Ukraine'smilitary with critical information about Russian military equipment placement.
But after eight years of exposure to Russian propaganda and with many pro-Ukraine residents having fled, it remained unclear whether the government in Kyiv could inspire local resistance. 
New York Times News Service