EU wants systematic Covid testing for passengers from China
The 'overwhelming majority' of EU member states want passengers arriving from China to be tested for coronavirus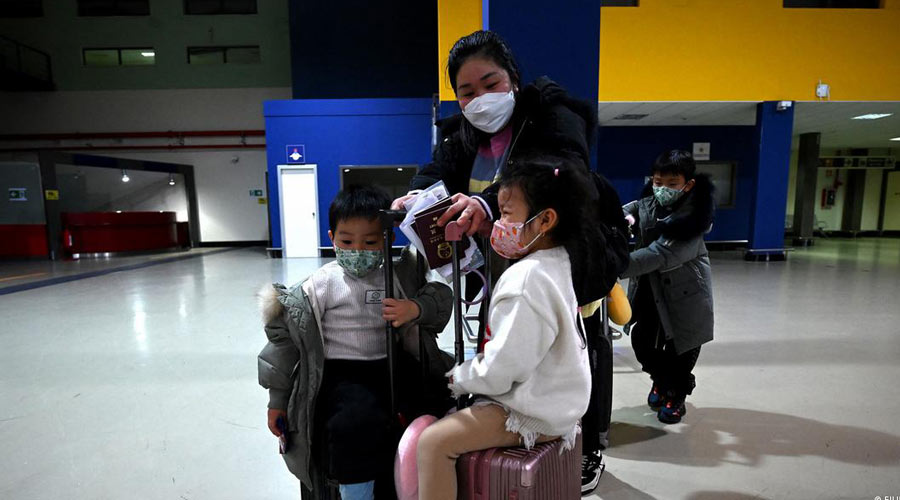 For nearly three years, the Chinese people faced lockdowns and border closures.
Deutsche Welle
---
Published 04.01.23, 09:39 AM
|
---
EU health ministers reached a consensus over how to handle travellers from China, as the country is gripped by a surge of COVID-19 infections.
Following a meeting Tuesday in Brussels, the European Commission said that the "overwhelming majority" of the 27-member states of the EU want passengers arriving from China to receive systematic testing for COVID-19 prior to their arrival in the EU.
A crisis meeting is now scheduled for Wednesday to coordinate a response across the bloc.
It all comes in the wake of China lifting its "zero COVID" policy following mass protests opposing what was the world's most stringent lockdowns amid the global pandemic that originated in Wuhan, China.
For nearly three years, the Chinese people faced lockdowns and border closures.
Why is the EU concerned?
A sudden influx of passengers from China coupled with Chinese government reticence to permit the World Health Organization (WHO) to test for new variants has sparked various levels of concern among EU officials regarding the emergence of new forms of the potentially legal virus.
The lack of transparency and incomplete data on infections has led to an "overwhelming majority" of EU countries "in favor of pre-departure testing," a spokesperson for the European Commission said following Tuesday's meeting.
Stella Kyriakides, the EU health commissioner, said officials also opted to recommend monitoring of wastewater on flights and at airports to detect traces of new variants along with increased surveillance measures. Kyriakides also emphasized "unity" ahead of Wednesday's meeting.
France, Spain and Italy are among the EU nations that have already imposed new testing requirements on passengers arriving from China prior to a coordinated approach from the EU.
While Italy, hard hit at the start of the pandemic, was first to introduce testing, France requires masks be worn on flights from China and has asked French citizens to curb nonessential travel to the Asian nation. France has also introduced PCR testing on arrival for flights from China. Spain has mandated that travellers from China be vaccinated, tested or recovered.
However, in an impact study published Tuesday, the EU's European Center for Disease Prevention and Control said the situation in China did not present an immediate overall health threat to the bloc.
"The variants circulating in China are already circulating in the EU, and as such are not challenging for the immune response," the agency said.
Earlier Tuesday, the European Commission offered to provide expertise and vaccines to Beijing, offers thus far admonished by China's one-party state.
Many EU countries are contending with stockpiles of the mRNA vaccine developed by BioNTech and Pfizer, widely considered more effective against the virus and its variants than vaccines developed by China.
How has China reacted to the new measures?
Beijing has expressed its displeasure over new measures imposed by the US, Japan and Australia. China insists the COVID-19 situation in the country is "under control."
Government spokesperson Mao Ning insisted medical provisions are "in adequate supply."
Mao added, "We are firmly opposed to attempts to manipulate the COVID measures for political purposes and will take countermeasures based on the principle of reciprocity."
According to official Chinese government statistics, only 22 new deaths from COVID-19 have been recorded since restrictions were lifted last month.
Why are Beijing's statistics considered unreliable?
Official statistics provided by Beijing are widely regarded with suspicion as they are unlikely to reflect the reality of the virus' spread and reach within China, the world's most populous nation with a population of over one billion people.
For over a week, the WHO has not provided new numbers on infections or deaths from China. The EU relies on statistics from the WHO to make its decisions.
In a statement, Sweden, which currently holds the EU presidency as of the start of the new year, noted that "travellers from China need to be prepared for decisions being taken at short notice."