Erdogan meets Putin as truce nears end
An opportunity for them to consolidate their gains in Syria in the wake of Trump's sudden withdrawal of American troops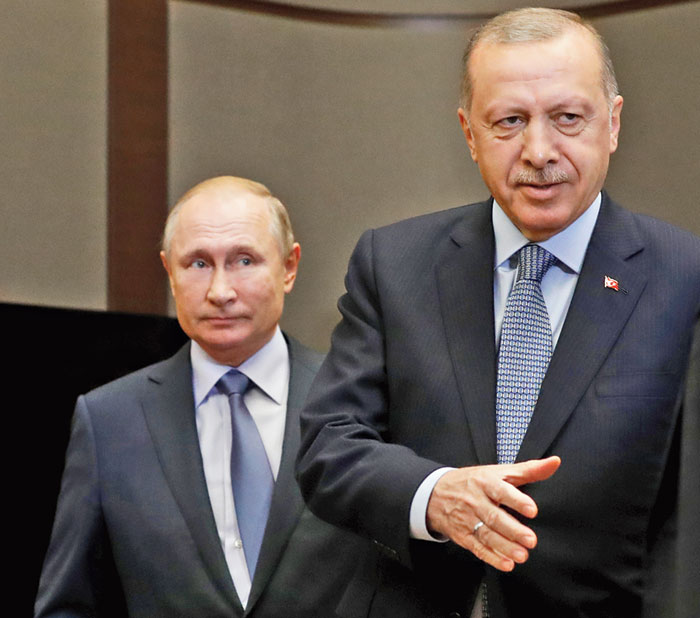 ---
Russia
|
Published 22.10.19, 08:04 PM
|
---
The leaders of Turkey and Russia were meeting at this Black Sea resort city on Tuesday, an opportunity for both of them to consolidate their gains in Syria in the wake of President Trump's sudden withdrawal of American troops.
The meeting began hours before the end of an American-brokered truce between Turkish and Kurdish forces in Syria, where President Recep Tayyip Erdogan of Turkey says his troops have seized more than 900 square miles of territory since invading on October 6.
The negotiations highlight the loss of American influence in the days since Trump ordered troops to withdraw from northeast Syria, a region controlled by a Kurdish-led militia allied with the United States. The presence of American soldiers there had ensured that other nations did not challenge Kurdish control.
The American retreat created a power vacuum, allowing Turkey to invade. That prompted the area's Kurdish leaders to turn to the government of Bashar al-Assad, and its main backers, the Russian government, for protection.
This sudden alliance has allowed Syrian government forces back into parts of northeast Syria that they have not entered in half a decade. It has positioned President Vladimir V. Putin of Russia as the main power broker in negotiations about the future of the region, a status emphasised by Erdogan's hastily planned trip to Sochi.
The two leaders were expected to discuss whether Turkey will be allowed to expand its sphere of influence beyond the central pocket of formerly Kurdish-held territory that Turkish-led forces have seized this month.