Hawk behind mass hangings set to lead Iran
Half of Ebrahim Raisi's rival candidates withdrew after an orchestrated campaign to help him win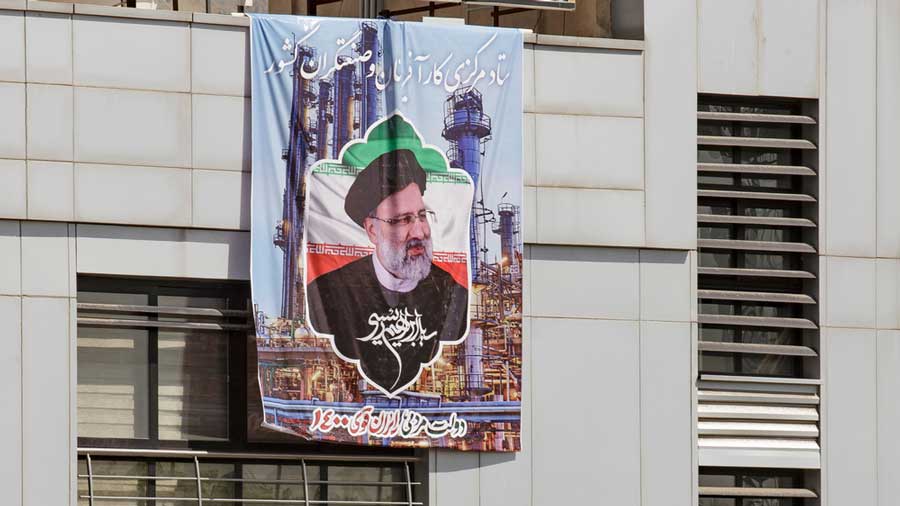 ---
|
London
|
Published 19.06.21, 12:58 AM
---
A conservative  judge is heading for almost certain victory in Iran's presidential election on Friday after half his rivals withdrew as a result of a campaign, seemingly orchestrated at a high level, to help him to win.
Two ultraconservative candidates and a reformist announced that they were pulling out of the race on Wednesday, two days before voting. Their decision makes it more likely that Ebrahim Raisi, 60, the chief justice and runaway favourite in opinion polls, will emerge victorious in the first round by garnering more than half the votes.
His presidency would ensure that the regime was united in its dealings with the West, after eight years in which the "reformist" government of President Rouhani, 72, who favoured opening up the conservative nation, clashed openly with loyalists close to Ayatollah Ali Khamenei, the supreme leader.
Raisi has promised to continue negotiations with the West to rejoin the 2015 nuclear deal — scrapped by President Trump in 2018 — but has pledged to strike a harder bargain with the US than he claimed Rouhani was offering.
The election brings to a close Rouhani's eight-year presidency, which began with high hopes in the West for more moderate policies in Tehran, and expectations in Iran of an economic revival. Neither came to pass.
Reformists have criticised the growing sway of the Islamic Revolutionary Guard Corps, which answers directly to the supreme leader, as Rouhani's government has become wildly unpopular. Accusations of corruption have been levelled against reformist and hardline figures alike, and Raisi, who lost to Rouhani in the 2017 election but was appointed chief justice shortly after, is standing on his record of fighting graft.
Among those imprisoned under his watch was Hossein Fereydoun, Rouhani's brother.
Early in his career in the 1980s Raisi was a prosecutor in mass trials in Tehran that led to the execution of thousands of rebels. It was said when he entered the race in 2017 that it was a trial run for this year's polls, and even a sign that he was the supreme leader's choice eventually to succeed him. Ayatollah Khamenei is 82.
This time he was regarded as a favourite right from the start; all the more so when the best known of his rivals were all disqualified by the Council of Guardians, which vets candidates. Among those ruled out was Ali Larijani, 64, a former Speaker of parliament.
The campaign was fought vigorously, with the seven remaining candidates battling it out in television debates over who was responsible for Iran's economic crisis. Abdolnaser Hemmati, 64, Rouhani's central bank governor, emerged as the standard bearer for the reformist cause. He defended his boss's detente with the West and said that renewed attempts to have sanctions lifted and trade resume were the only way to lift Iran out of poverty.
Hemmati, like the two other remaining candidates still hoping to challenge Raisi, has remained at single digits in opinion polls.
However, online comments suggest that many disillusioned voters will boycott the election, as urged by dissidents in exile, rather than vote for another reformist.
The only way Raisi might lose is if he is forced into a run-off against Hemmati, who could stage a late surge if pro-reformists abandon the boycott and rally round him.
Saeed Jalili, a hardline former nuclear negotiator, urged his supporters to vote for Raisi as he announced his own withdrawal. "A significant part of society has favoured my dear brother," he said, referring to the chief justice.
The Council of Guardians has rejected suggestions that it has fixed the election in Raisi's favour. "The media and the people have testified that this is a good competition," Abbas Ali Kadkhodaee, its head, said in a press conference on Thursday.
However, Larijani has demanded to know the grounds on which he was disqualified and Rouhani protested about the lack of competition in a letter to the supreme leader. Khamenei himself appears to have admitted that some of the rejected candidates were unfairly treated. In a television broadcast he urged people to go out and vote anyway.
Siavush Randjbar-Daemi, a lecturer in Iranian politics at St Andrews University, said although Raisi was the frontrunner, surprises could never be ruled out. "The system may be engineered but it is not German engineering," he said. "Abdolnaser Hemmati has been putting up a valiant struggle."
Negar Mortazavi, an analyst at the Middle East Institute think tank, was sceptical. "Elections in Iran have never been free or fair but they have been competitive," she said. "This election seems to be the least competitive of all."
Iran's supreme leader has found in Raisi — dour, loyal, an unflinching Islamic revolutionary — a candidate in his own image.
Many Iranians believe that Raisi will also succeed to the quasi-monarchical throne occupied by Ayatollah Khamenei. That is not inevitable but he is a more convincing replacement than previous Presidents.
President Rouhani is held in contempt by the religious and Revolutionary Guard establishment. His predecessor, Mahmoud Ahmadinejad, went rogue and challenged his former boss, and before him Mohammad Khatami has become another disgraced reformist and lives under semi-formal political restrictions.
As chief justice, Raisi has the status to assert his authority. His clerical credentials, although questioned, seem no worse than Khamenei's when he started out.
As a young prosecutor in Tehran in the 1980s, some of the Islamic Republic's darkest days, Raisi took part in trials that condemned thousands of dissidents to death. But that marks him out as a safe pair of hands for the regime, and for most of Iran's young population that is a long time ago. In any case, few senior regime figures have clean hands.
Raisi has been astute in his alliances. He headed Iran's biggest charitable foundation, the Astan Quds Razavi, which helps to fund the regime.
His father-in-law, Ayatollah Ahmad Alamolhoda, is
the prayer leader in the conservative power base of Mashhad.
Above all, he is unsullied by Iran's economic failures. His chances of rising even higher, assuming he wins, may depend on whether he can handle a job that has been a poisoned chalice recently.
While state television showed long queues at polling stations in several cities, the semi-official Fars news agency reported 14 million or 23 per cent of voters had cast ballots by 4.45pm (1215 GMT), citing its own reporter.
Raisi is under US sanctions for alleged involvement in executions of political prisoners decades ago.
Reuters