Drone hits Black Sea fleet hub
Bid to put war back on Russian domestic agenda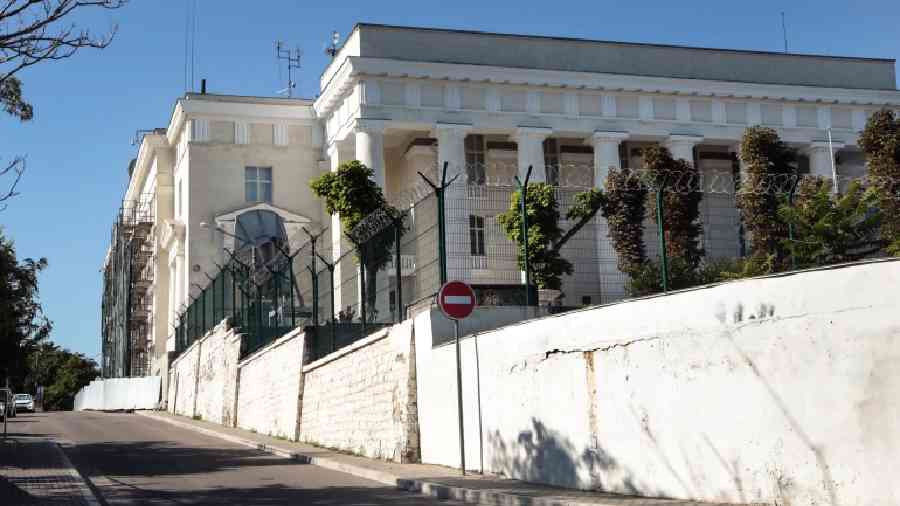 The Russian Black Sea Fleet's headquarters in Sevastopol, Crimea.
File picture
---
Kyiv
|
Published 21.08.22, 01:19 AM
|
---
A drone crashed into a building at the headquarters of Russia's Black Sea Fleet in Crimea on Saturday morning, sending plumes of smoke rising over the port city of Sevastopol, a strike that comes as Ukraine seeks to sow chaos and destruction in territory under Moscow's firm control.
The extent of the damage was not clear in videos released by local officials and residents.
Mykhailo Razvozhaev, the local Russian proxy leader in the city, said no one was killed in the drone strike. 
Local officials advised people to remain in their homes on Saturday morning.
"Just like many other residents, I heard the blasts in the city centre," Razvozhaev said on Friday night.
He said the explosions were part of the city's air defence systems. It was not immediately clear who was responsible for the strike. 
Crimea, a key staging ground for Russia's invasion, has been under Kremlin control since Moscow illegally annexed the peninsula in 2014.
It has been steadily militarised since then and is home to the Black Sea Fleet.
While the overall impact on Russia's military is far from clear, Ukraine's recent campaign of strikes behind Russian lines has disrupted the peninsula's sense of security and distance from the war.
The attacks and attempted strikes in Crimea appeared to have kicked off in earnest on August 9 with a strike on the Saki air base in which eight fighter jets were destroyed.
Paula J. Dobriansky, a former American diplomat specialising in national security affairs, said that by threatening Russian supply lines and underscoring Moscow's tenuous grip on Crimea, the strikes in Crimea were "both operational and symbolic".
The strikes may also represent a strategy to not only disrupt Russian logistics but also put the war back on the Russian domestic political agenda, said Christopher Miller, an associate professor of international history at Tufts University. 
New York Times News Service
12 hurt in Russia attack near nuke plant
A Russian missile hit a residential area of a southern Ukrainian town not far from a nuclear power station on Saturday, wounding 12 civilians and heightening fears of a nuclear accident during the war in Ukraine, Ukrainian officials said.
Vitaliy Kim, governor of the Mykolaiv region, said on the Telegram messaging app that four children were among those wounded in an attack that damaged several private houses and a five-storey apartment building in Voznesensk.
The town is about 30km from the Pivdennoukrainsk Nuclear Power Plant, the second largest in Ukraine.
The general prosecutor's office in the Mykolaiv region, updating an earlier toll, said 12 civilians had been wounded.
Energoatom, which manages all four Ukrainian nuclear energy generators, described the attack on Voznesensk as "another act of Russian nuclear terrorism"