Dimer devil for tiffin in land of Scotch egg
Anjan Chatterjee's landmark restaurant Chourangi takes kosha mangsho, luchi and prawn malai curry to London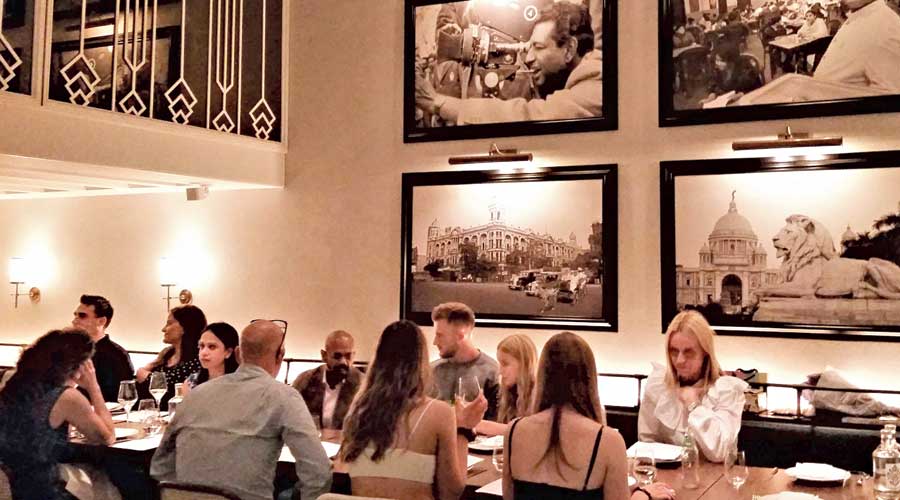 ---
London
|
Published 20.09.21, 01:23 AM
|
---
Anjan Chatterjee's landmark restaurant, Chourangi, which aims to bring the cuisine and culture of Calcutta to the heart of London, is up and running, with tasting trials currently under way and with a formal opening fixed for September 30.
"London's been a dream," he told The Telegraph.
The UK has more than 8,000 curry houses but genuine Bengali cuisine is conspicuous by its absence — especially since the demise of Udit Sarkhel in 2012.
On Friday night, the 70-seat Chourangi, located at 3, Old Quebec Street just behind Marble Arch tube station on Oxford Street, was full of family and friends tasting everything from Tiger prawn cutlet ("College Street's favourite") to Malai curry ("coconut shell baked").
Kosha mangsho is on the menu.
Will he serve luchi?
Chatterjee, boss of Spice Restaurants with "around 10 Oh! Calcuttas", looked pained.
"Yes, yes, of course, we will," he declared. "How can kosha mangsho be eaten without luchi? Aami toh Bangali (I'm Bengali after all)!"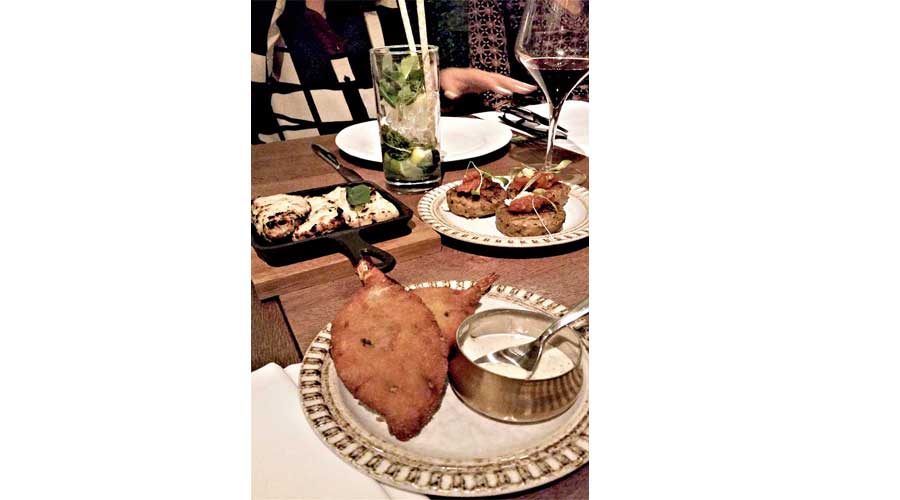 One of his many innovations is introducing "Calcutta tiffin" from 3.30pm to 5.30pm, when the menu will include Kathi roll and dimer devil.
Referring to traditional British scotch eggs, a staple in pub lunches, he quipped: "You have scotch eggs — dimer devil holo scotch egg-er baap (Dimer devil is the father of scotch egg.)"
Chatterjee is being exacting about getting the right spices.
High quality Welsh lamb was available in the UK "but you have to give paanch phoron there", he pointed out.
Similarly, kosha mangsho couldn't be made with any old garam masala: "Between the north Indian garama mashla and Bengali garam mashla there is hell and heaven difference. Bengali garam mashla you cannot get anywhere but in Paschim Bangla. With north Indian garam mashla you cannot make kosha mangsho," Chatterjee said
He added: "The food is curated by me." His resident top chefs and staff include "Chef Jolly" (Surjan Singh) — "I made him go to Calcutta 19 times" — and "Subir Kumar Deb, Sachin Thakur and Manas Das, all Oh! Calcutta guys".
Chourangi now has an importer who can get Chatterjee all the required spices but during the trials he took the precaution of arriving with a suitcase "full of aam kasundi, Gandharaj lebu and good mashla you can't get here (in London)".
Covid put paid to plans to open Chourangi on April 4, 2020, "so we had to park for almost one and a half years". Chatterjee's business partner in the venture is Aditya Ghosh, the former president of IndiGo airlines and a childhood friend, who was also going table to table on Friday night.
The interiors, designed by Steve LaBouchardiere, has tried to evoke the atmosphere of Calcutta with photographs of Satyajit Ray, the Esplanade, Victoria Memorial and the Coffee House, paintings by Anukta Mukherjee Ghosh, and wall decorations "resembling Alta".
The iron grills are inspired by the Bengal Club, the louvres "have a touch of the Tolly", and the furniture include rattan and wicker.
His clientele, Chatterjee hopes, will be mainly British but when asked whether he was adapting Calcutta cuisine for the local palate, he responded: "Not really. I don't believe in — sorry to use a bad word — bastardising food. Food has to be honest and authentic. For example, we are sourcing ilish from Bangladesh and it's cooked with the same shorshe bata recipe (as in Calcutta)."
On Friday night, the dishes kept coming. Banana florets croquettes, lotus stem-sweet potatoes chaat and pan-fried Jackfruit cake were followed by Nizami malai tikka, tandoor-roasted herbed tiger prawns, braised lamb shank curry, Daak bungalow sahib's curry, aubergine aam-kasundi, Calcutta chicken biryani which had "Shropshire chicken and quail eggs", and hing aloor dum.
Over the last few days Chatterjee has been giving feedback forms to his guests. One admitted, "I didn't know this is the Indian food", while another, after relishing the Tiger prawn malai curry, said, "Oh my God, oh, my God."
Incidentally, on Friday, various passers-by, attracted by the buzz inside, wanted to come in but had to be politely turned away by Chatterjee.
"We open on the 30th," said Chatterjee, to one disappointed person after another. "Tonight we are only doing tasting sessions."