Democrat preacher shatters Georgia barrier
Born and raised in Georgia, Raphael Warnock became state's first black senator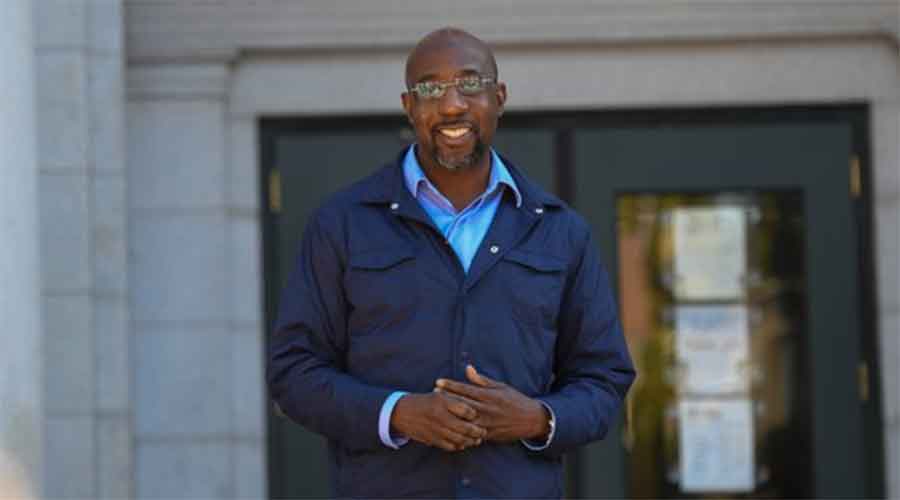 Reverend Raphael Warnock
Twitter/ @ReverendWarnock
---
Garden City, Georgia
|
Published 07.01.21, 12:30 AM
|
---
There have been so few black Democrats elected to the Senate that when Vice-President-elect Kamala Harris campaigned for the Reverend Raphael Warnock in Savannah this week the pairing spoke volumes, even if unintentionally, about racial representation in statewide office.
In purely partisan terms, a leader of the Democratic Party was seeking to rally voters in an important Senate run-off election, the results of which will determine whether Democrats or Republicans control the chamber. But it was also a rare chance for one Senate barrier breaker to pass the torch to another. Harris was the first black woman and woman of colour to serve as a senator from California. Warnock will become the first black senator from Georgia.
Warnock, a Baptist preacher from the historic church of Martin Luther King Jr, beat Republican incumbent Kelly Loeffler to become the first black senator in the history of the deep South state.  Jon Ossoff, a filmmaker who at 33 would become the Senate's youngest member, held a narrow lead over incumbent David Perdue in the other race.
During his speech at the Savannah event with Harris, Warnock described being arrested by police officers at the US Capitol during protests and political action over the years.
"I wasn't mad at them. They were doing their job and I was doing my job," Warnock said. "But in a few days I'm going to meet those Capitol Hill police officers again and this time they will not be taking me to central booking. They can help me find my new office."
Warnock's victory is a fitting culmination to an election cycle in which, hours after Biden was declared the President-elect, he told black voters, "You've always had my back, and I'll have yours."
It is also a generational breakthrough for southern black Democrats. 
Warnock, 51, spoke on the campaign trail about his life experiences as a black man born and raised in the South. 
He ran for office in a state where people in predominantly black neighbourhoods waited in disproportionately long lines to vote last year, and where one study found that more than 80 per cent of the residents hospitalised for coronavirus in the state were black — vestiges of systemic racism in the democratic and health care systems.
Political power in the former Jim Crow South, where few black Americans have been elected to statewide office, is inextricably linked to race. And Warnock's place in the political universe is distinct from the election of Harris, or northerners like former President Barack Obama, previously a senator from Illinois, and Senator Cory Booker of New Jersey.
Together, Warnock and Jon Ossoff, the other Democratic candidate, have the chance to expand the legislative agenda of incoming President Joseph R. Biden Jr. But Warnock alone was seeking to overcome a barrier reinforced in the South over and over again, crystallised in a saying that become popular during the civil rights movement: "The South doesn't care how close a Negro gets, just so he doesn't get too high."
On Tuesday, black Democrats in Georgia said such history was not lost on them. Neither was how long it took the party to seriously pursue the possibility of success in Georgia. 
"It took Democrats forever to invest in Georgia," said Frazier Lively, a 71-year-old who lives in Macon and attended a recent rally. "Now you would hope what's happening here is a message to what's possible going forward."
Felicia Davis, an organiser, said it was important to think about the coalition that is supporting Democrats as the next iteration of organisers who worked in the civil rights movement. She drew a direct line from their work to the current push to register and turn out black voters for a black candidate.
New York Times News Service