Deal in UK to return seven historical artefacts to India
Antiquities include a ceremonial Indo-Persian sword which dates back to 14th century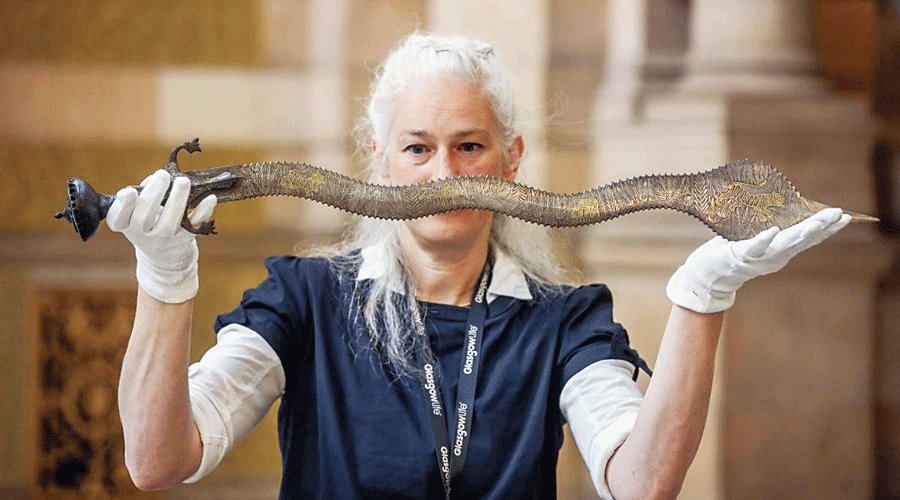 The Indo-Persian sword that was handed over to India.
The Telegraph
---
London
|
Published 20.08.22, 02:50 AM
|
---
A ceremony in Glasgow on Friday put the seal on the return of seven historical artefacts from local museums to India.
The antiquities include a ceremonial Indo-Persian sword believed to date back to the 14th century and an 11th-century carved stone door jamb taken from a temple in Kanpur.
Six of the objects were removed from temples and shrines in northern India during the 19th century, while the seventh was bought following a theft from the owner. All seven artefacts had been gifted to Glasgow's collections.
Acting Indian high commissioner Sujit Ghosh lauded those "who made this possible, especially Glasgow Life (a charity) and Glasgow City Council".
However, the Glasgow effort is best described as having symbolic value, for there's no policy to return the tens of thousands of Indian treasures that are in Britain's possession, including the Kohinoor.
The Indian treasures in Britain are looked after with much care and are on display to visitors from around the world. British institutions are prepared to be franker about how they were obtained — often this is not clear — but there is no general policy of return.
Glasgow Life Museums has signed an agreement that it says will make it the first UK museum service to repatriate artefacts to India.
 "We are delighted that our partnership with Glasgow Life has resulted in the decision to restitute Indian artefacts from Glasgow museums to India," Ghosh, who had come from London, said.
"These artefacts are an integral part of our civilisational heritage and will now be sent back home. We express our appreciation to all the stakeholders who made this possible, especially Glasgow Life and Glasgow City Council."
Glasgow Life describes itself as "a charity that delivers cultural, sporting and learning activities on behalf of Glasgow City Council".
For some years, British museums, Oxbridge and other universities and many cultural institutions have been reassessing the provenance of their art collections to provide a fuller and more honest account of how they came to be in their possession.
After the murder of George Floyd, a 46-year-old black American by a white police officer on May 25, 2020, in Minneapolis, and the spill-over of the "Black Lives Matter" movement to the UK with its anti-slavery connotations, some museums have started the process of returning art objects.
For example, the Horniman Museum in south London is handing back to Nigeria 72 Benin bronzes that were looted by British forces in 1897.
However, there is no chance that the Kohinoor diamond, part of the crown jewels in the Tower of London, will be returned to India, or the Elgin Marbles to Greece.
Friday's transfer-of-ownership ceremony took place after Glasgow City Council's city administration committee approved an April recommendation by the cross-party Working Group for Repatriation and Spoliation to return 51 items to India, Nigeria and the Cheyenne River and Pine Ridge Lakota Sioux tribes in South Dakota, the US.
After the meeting at the Kelvingrove Art Gallery and Museum, Indian diplomats and a representative of the Archaeological Survey of India were given the opportunity to view the objects at Glasgow Museums Resource Centre, where they are stored.
Glasgow Life Museums has been working on the repatriation of the Indian artefacts, alongside the Indian high commission, since January 2021.
Duncan Dornan, Head of Museums and Collections, Glasgow Life, said Glasgow had "led repatriation efforts in the UK since 1998".
He added: "The transfer of ownership of the Indian antiquities symbolises a significant step for Glasgow, with the city continuing its positive repatriation history by ensuring these cultural artefacts are placed back in the hands of their legitimate owners."
Glasgow Life Museums is also repatriating 19 Benin bronzes to Nigeria and 25 Lakota cultural items sold and donated to the city's museum collection by George Crager in 1892.
Bailie Annette Christie, chair of Glasgow Life and convener for Culture, Sport and International Relations for the Glasgow City Council, underlined the commitment to address past wrongs.