Cameron condemns Patel
It is fascinating what Cameron has to say about India in his memoir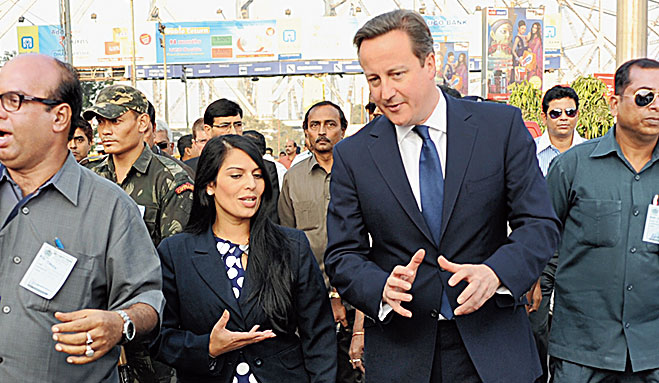 ---
|
London
|
Published 14.09.19, 07:24 PM
---
Priti Patel is the woman David Cameron was photographed with by Howrah Bridge in November 2013 when she was the former Prime Minister's "diaspora champion" for India but now he does not think very much of the current home secretary.
To Indians what will be fascinating will be what Cameron has to say about India in his forthcoming memoirs, For the Record, whose publication in London on September 19 is being promoted as the publishing event of the year — at least, so far as political books are concerned.
The reality is that all books by politicians have a very brief shelf life before being offered in second hand shops for a couple of pounds.
Cameron has been paid £800,000 for his book, which isn't bad but nowhere near the £4.6 million Tony Blair managed to get for his.
It is worth remembering that out of all British Prime Ministers to date, Cameron was by far the most pro-Indian. He visited the country three times as PM and once as opposition leader after he took over the Tory party in 2006 and said he wanted a special relationship with India. He commissioned the statue of Mahatma Gandhi in Parliament Square in March 2015.
What Cameron has to say about Manmohan Singh and Narendra Modi, whom he accompanied to the latter's packed rally in Wembley Stadium in November 2015, will emerge by and by.
He wanted to use Britain's 2.5m Indian population to strengthen India-UK relations and picked out Priti, then a new member of parliament, as his "diaspora champion". He took her to India with him and made sure she was photographed coming down the aircraft steps with him when the prime ministerial plane landed in Mumbai.
But Priti, a hardline Brexiteer, turned against him and joined Boris Johnson and Michael Gove in the Leave campaign during the EU referendum.
In an interview with The Times ahead of the publication of his £25 book by William Collins, an imprint of HarperCollinsUK — both are ultimately owned by Rupert Murdoch — Cameron has described the behaviour of Messrs Johnson and Gove as "appalling".
The Daily Mail's headline on Saturday was: "Cameron's revenge. Ex-PM's bombshell as he savages 'appalling' Boris. Damns Gove and No Deal. Suggests 2nd referendum."
He is not quite as rude about Priti, who has made big time as home secretary, one of the great offices of state, in Boris's ethnically diverse cabinet.
Priti will no doubt argue that she broke with the Prime Minister who did so much for her on a point of principle but the interview in The Times makes it obvious what he now thinks of her.
Boris and Cameron, who were contemporaries at Eton and Oxford, were friends but also had "issues". But Cameron considered Gove to be an intimate friend.
Cameron tells The Times: "I say in the book: Boris had never argued for leaving the EU, right? Michael was a very strong Eurosceptic, but someone whom I'd known as this liberal, compassionate, rational Conservative ended up making arguments about Turkey [joining] and being swamped and what have you. They were trashing the government of which they were a part, effectively."
Then comes the reference to Priti with the interviewer noting: "Then there was, I say, Priti Patel, now our home secretary. He levers his eyes heavenward."
Cameron thinks Priti crossed the line of decency: "I remember her attack that wealthy people didn't understand the problems of immigration. It felt very like she was put on point to do some attacking of the government and its record. I suppose some people would say all is fair in love and war and political campaigns. I thought there were places Conservatives wouldn't go against each other. And they did."
Most commentators now say that Cameron, for all his successes, will be remembered for his toxic legacy of Brexit, which he caused by calling an EU referendum which he thought he would easily win. Cameron admits he was "hugely depressed" when he had to resign after Leave won – thanks to the combined efforts of Boris and Gove, and to a lesser extent, Priti.