Calcutta to Dubai, via Armenia and a forced vacation in progress
Covid plight leads to a chance discovery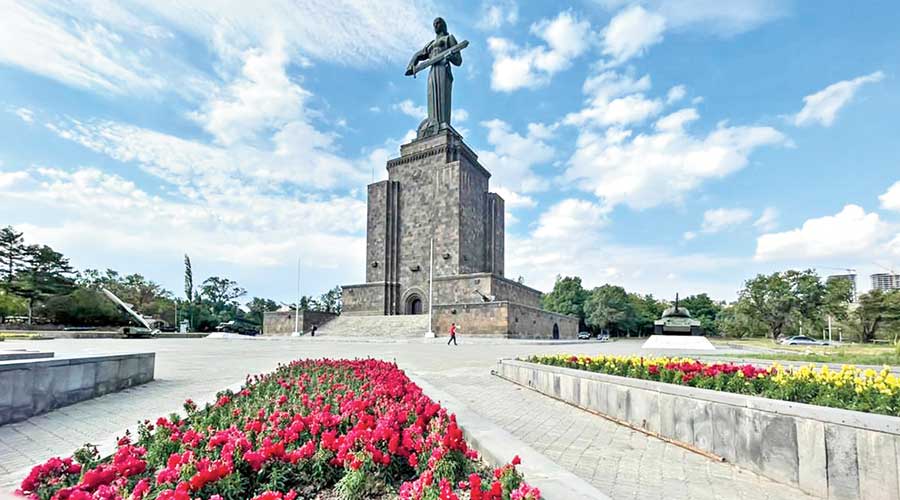 ---
Published 26.07.21, 01:55 AM
|
---
Nearly dying is a funny way of breaking someone's spirit. The plan was simple: reach Armenia, check into a hotel, self-quarantine for two weeks and safely depart to Dubai afterwards. But true to the cliché that "life happens", it indeed did happen.
To rewind and put my current situation in context, in January 2020 I had moved to the UAE from India. I was excited to start a future with my partner, unaware that the pandemic would put a wrench into my plans for months.
As the rest of the world struggled, so did I. As a new immigrant, it took me some time to find a job and settle down. After I found a decent position, things began to align and we hoped that 2021 would be a year of opportunities.
At the end of March 2021, the first wave had subsided and the restrictions in the UAE and India were eased. This was our cue to plan a visit home and we were able to work out a 15-day trip. We left for India on April 17. While we reunited with our families, the second and deadly wave of Covid struck the country. Immediately, the most unfortunate news struck us: "The UAE has banned all flights from India because of the sudden spike in Covid-19 cases in India."
With each passing day, the threat of job loss became more real and our patience began to wear thin. My husband and I were working from home, with longer hours and through weekends just to secure our jobs. My husband's visa expired and still there was no sign of the UAE lifting the ban.
Finally, we decided it was time to explore alternative ways of travelling back to the UAE. Since my husband's visa had expired, I would have to travel alone to a
third country before self-quarantining and continuing the trip further. I started my search for a travel company but this proved difficult with hundreds of agents claiming to be the best and numerous chat rooms on every social media platform acting as guides.
After some trial and error, I decided to accept a package to travel to Armenia. With hundreds of UAE residents stranded in India, the race to get home was chaotic and competitive. People were willing to bid higher and higher to secure a route out. With travel companies leveraging the desperation of the current situation, I got a day's notice from an agent to report to Mumbai.
Now my journey to an unknown country began. I left my city with clouded thoughts and anxiety: the fraudulent nature of travel companies, a trip to an unknown country, travelling alone, the geopolitical conflicts in and around Armenia. While all this may seem glamorous in a Bollywood movie, the reality was surreal.
Considering the fragility of the situation, I travelled from Calcutta to Mumbai to catch my flight to Yerevan with no visa. My agent claimed I would have my visa before I boarded the flight.
Before boarding the flight we all received our visas, but then found out that they were dummy visas. While this seems hilarious in hindsight, at that moment my heart was sinking.
But it was too late to back out, as I had already boarded the flight (a chartered one at that). Our travel agency then said we would have our visas before we reached Yerevan, Armenia.
Soon our flight took off. Two hours into the trip, the captain's voice filled the cabin: "We are experiencing technical difficulties and we won't be able to continue our journey to Yerevan. We are heading back to Mumbai."
Panic ensued. After another two hours, the cabin crew then delivered more bad news. We wouldn't be able to land in Mumbai in the given time and were hovering over no-man's land. The moments that followed were filled with terror and heightened emotions.
By some miracle the captain announced that we were reaching Mumbai. All of us felt this might not be a normal landing but we hit the ground safely.
In an hour I had boarded another flight but this time without any glitches. And because of the delay, I had received my legal visa that I needed to enter Armenia.
I was mentally and physically exhausted from the unusual events of the previous few hours.
On reaching Armenia, I was scared and was planning to stay indoors. But then I thought to myself, "What more could go wrong?"
The bleakness of the situation helped me see the positive side. I planned to see places and go out. And I would say it was one of the best decisions I ever made.
In my time here, I found that Armenia was an underrated treasure. It's a land of rich cultural heritage where ancient sites abound. Few may know that Armenia is the first Christian country in the world, and has majestic medieval architecture juxtaposed against breathtaking landscapes, creating spectacular sights like the Geghard Monastery and the Temple of Garni.
My explorations took me to Lake Sevan, the largest water body in Armenia. Around Yerevan I found small fountains called pulpulaks, fed by spring water.
The pristine beauty of Armenia took my breath away at the Tsaghkadzor cable ropeway. In the spirit of adventure and facing one's fears, I ventured out to zip-line across picturesque views at the Dilijan National Park.
One of the best things to see were the mulberry trees and grapevines lining Yerevan's streets, with fresh fruits falling to the ground, both ripe and sweet.
With the sun setting past 9pm, it was easy to spend the long summer days capturing moments to remember and making the most of the unexpected.
It's been 13 days of exploring Yerevan. This experience has renewed my spirit, changed my perspective of the world and strengthened my resilience. What started out as a forced trip filled with trials and tribulations turned into a much-needed break and will become one of my best memories.
Though I've loved my stay in Armenia and will cherish its beauty for years to come, I hope my journey from here to the UAE starts safely without any more adventures or unexpected announcements.
Richa Rai, who hails from Calcutta, is an advertisement professional based in Dubai