US jobless claims skyrocket to 6m
In two weeks, the outbreak has wiped out more jobs than during the last recession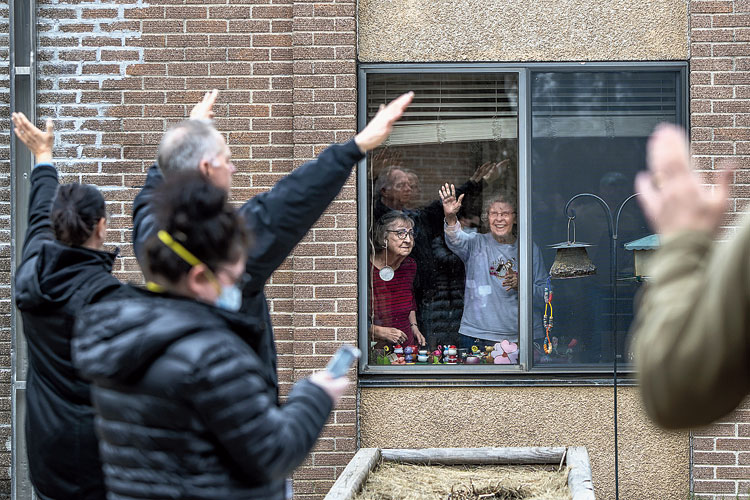 Members of City Impact (in foreground), a faith-based organisation from Cedar Springs, Michigan, sing and pray for residents and staff of a nursing home.
(The Grand Rapids Press via AP)
---
New York
|
Published 03.04.20, 12:06 AM
|
---
The tendrils of the coronavirus pandemic reached deeper into the American economy last week, leaving millions more people out of work as the damage spread to jobs and industries that were spared at the outset of the crisis.
More than 6.6 million people filed new claims for unemployment benefits last week, the labour department said on Thursday, setting a grim record for the second straight week.
The latest claims brought the two-week total to nearly 10 million.
The speed and scale of the job losses is without precedent. Until last month, the worst week for unemployment filings was 695,000 in 1982. By shuttering businesses and forcing vast layoffs, the coronavirus outbreak has in two weeks wiped out more jobs than the worst months of the last recession.
"What usually takes months or quarters to happen in a recession is happening in a matter of weeks," said Michelle Meyer, chief US economist for Bank of America Merrill Lynch.
The economic damage from the pandemic was initially concentrated in tourism, hospitality and related industries. But now the pain is spreading much more widely. The Institute for Supply Management said on Wednesday that the manufacturing sector, which had recently begun to recover from last year's trade war, was contracting again.
Data from the employment site ZipRecruiter shows a steep drop in job postings even in industries usually insulated from recessions, like education and health care.
Law firms, technology start-ups and other white-collar employers that were initially able to keep workers on payroll and let them work from home are now laying people off as revenue dries up.
Even ZipRecruiter isn't immune — the company cut hundreds of jobs this week as the steep drop in job postings cut into its business.
"People are being way too sanguine about a lot of the white-collar industries," said Martha Gimbel, an economist and labour market expert at Schmidt Futures, a philanthropic initiative. "This thing is going to come for us all."
Erica Battle, an education consultant in Nashville, figured her industry was as close to recession-proof as any — no matter how bad the economy, schools stay open. But as schools moved to online learning because of the virus, business began to dry up.
Then, on March 16, as she was preparing for a week-long consulting trip to Alabama and Texas, she got a call: The gigs were cancelled.
"It was like, this is unbelievable, this is not really happening," Battle said. "I'm going to wake up and I'm going to have to catch a flight."
April was meant to be one of her busiest months, as schools rush to get students ready for standardised testing season. Instead, she is home with her husband and teenage son, trying to figure out how to cut expenses.
They have gotten their bank to defer this month's mortgage payment.
Battle's husband, a substance abuse counsellor, still has a job, but they aren't sure how long that will last.
"When you have to think about paying for groceries or for therapy, which one are you going to do?" Battle said.
Economists have warned that those sorts of choices — groceries or therapy? — could turn an acute economic crisis into a long recession. If laid-off workers can't pay their bills, there could be a cascade of further layoffs and business failures.
The greater the damage, the less chance of a quick economic rebound once the health crisis eases.