UK troops to prevent panic buying at markets
Isolation for the aged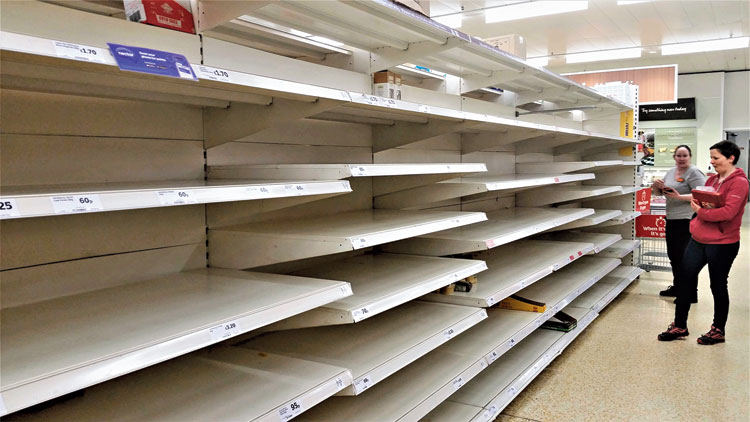 ---
|
London
|
Published 15.03.20, 09:51 PM
---
Troops "trained in chemical, biological and nuclear warfare" will deep-clean empty public buildings in Britain in case they need to be turned into hospitals or morgues to deal with the coronavirus pandemic, it was reported on Sunday.
Troops will also be used to guard supermarkets — these are being stripped bare by panic buying — hospitals and care homes for the elderly, and also ensure secure passage of food, fuel and essential supplies, the Mail on Sunday said after talking to its defence sources.
On Sunday the number of confirmed coronavirus cases in the UK stood at 1,372, with 35 deaths.
Reports that the government would instruct over-70s to self-isolate for up to four months, even if they were not ill, were confirmed by health secretary Matt Hancock, who told Sky News on Sunday: "That is in the action plan, yes, and we will be setting it out with more detail when it is the right time to do so because we absolutely appreciate that it is a very big ask of the elderly and the vulnerable, and it's for their own self-protection."
A growing worry is about whether supermarkets will run out of food and other day-to-day necessities. Hancock said: "I understand why people might be stocking up but people have got to behave responsibly."
But he warned: "And of course we stand ready to take further measures if that's necessary."
Some supermarkets have already introduced rationing but in future troops may have to be brought in to prevent chaos and possible rioting if there is a run on food.
Britain's food retailers appealed to shoppers on Sunday to stop panic buying during the coronavirus outbreak, saying purchasing more than they need would mean others would be left without.
The health secretary was asked about an open letter, written by 300 UK-based scientists — there are some Indian names on the list — urging the government to adopt "more restrictive measures" to combat the spread of the disease.
"Under unconstrained growth, this outbreak will affect millions of people in the next few weeks," it says. "This will most probably put the NHS at serious risk of not being able to cope with the flow of patients needing intensive care…. Going for 'herd immunity' at this point does not seem a viable option, as this will put NHS at an even stronger level of stress, risking many more lives than necessary."
In response, Hancock said: "What we will do is listen to all the credible scientists and we will look at all the evidence. Herd immunity is not our goal or policy, it's a scientific concept. Our policy is to protect lives and to beat this virus."