Trump says he is taking anti-malaria drug
President's announcement drew immediate criticism from experts, who warned of the example it set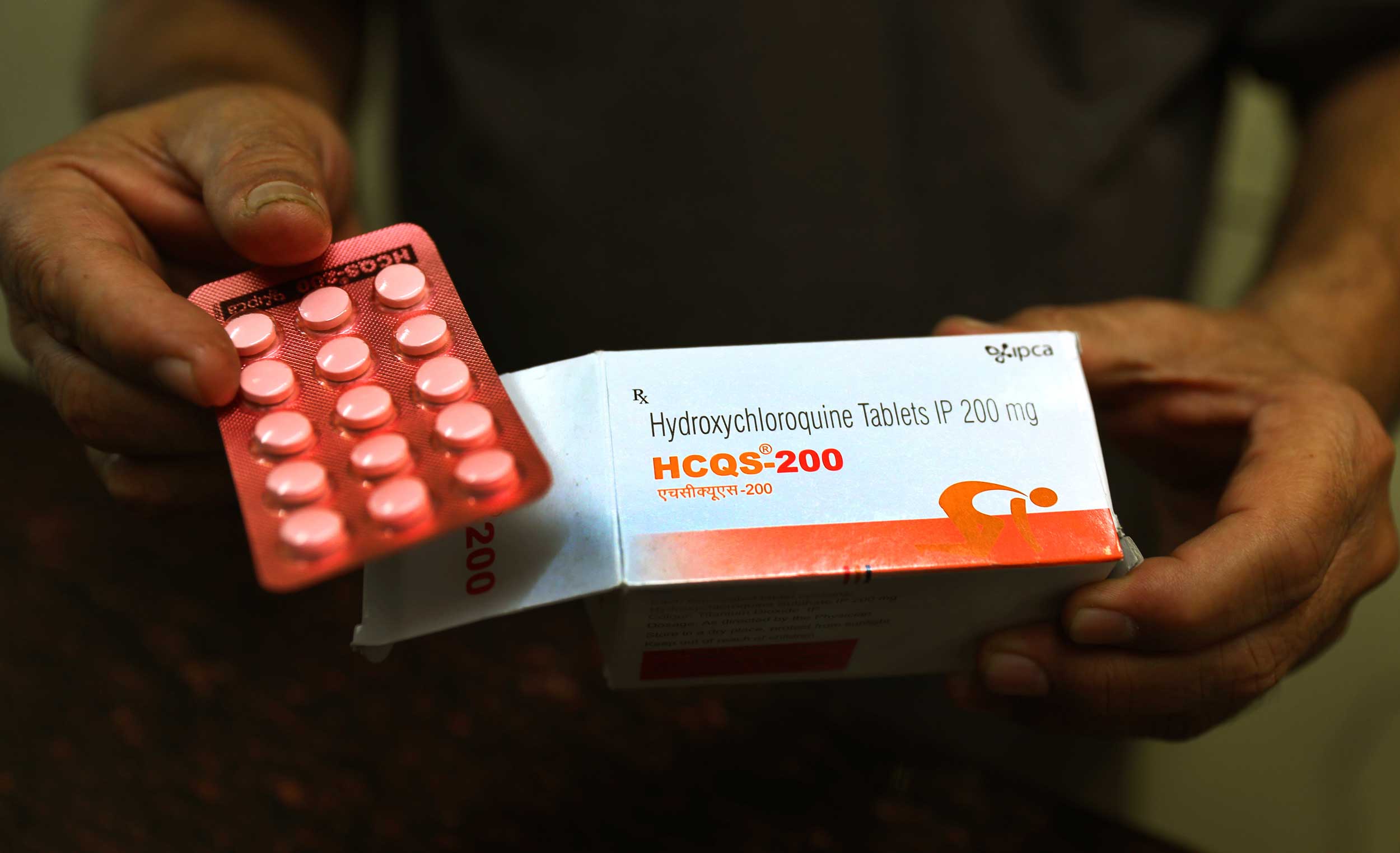 A chemist with hydroxychloroquine tablets
(AP photo)
---
Washington
|
Published 19.05.20, 08:01 PM
|
---
President Trump said on Monday that he had been taking hydroxychloroquine, an antimalarial drug the Food and Drug Administration warned could cause serious heart problems for coronavirus patients. He said he was taking the drug as a preventive measure and continued to test negative for the coronavirus.
"All I can tell you is so far I seem to be OK," Trump said, adding that he had been taking the drug for about a week and a half, with the approval of the White House physician. "I get a lot of tremendously positive news on the hydroxy," Trump continued, explaining that his decision to try the drug was based on one of his favourite refrains: "What do you have to lose?"
But Trump's announcement surprised many of his aides and drew immediate criticism from a range of medical experts, who warned not just of the dangers it posed for the president's health but also of the example it set.
"My concern would be that the public not hear comments about the use of hydroxychloroquine and believe that taking this drug to prevent Covid-19 infection is without hazards. In fact, there are serious hazards," said Dr Steven E. Nissen, the chief academic officer of the Miller Family Heart, Vascular & Thoracic Institute at the Cleveland Clinic.
Dr Scott Solomon, a professor of medicine at Harvard Medical School, said Trump's decision to try the drug was up to him and his physician. "But what is irresponsible is the example he is setting," Dr Solomon said.
Trump publicly embraced hydroxychloroquine as a "game changer" in the fight against the virus in March, and his endorsement, amplified by Fox News hosts like Laura Ingraham and Sean Hannity, caused a run on the drug, making it scarce for those who took it for lupus and rheumatoid arthritis, for which it is regularly prescribed.
But on Monday night, Dr Manny Alvarez, the senior managing editor for Fox News's health news, said on air that the President's statement was "highly irresponsible" and asked what had changed since studies showed the drug had no benefits.
Trump first said he was considering taking the drug himself in April. But in recent weeks he had notably stopped promoting it, as did the Fox News hosts. But he then suggested at a news conference that injecting disinfectants into the human body could help combat the virus, causing confused callers to flood state health hotlines and the makers of Clorox and Lysol to plead with Americans not to inject or ingest their products.
His announcement on Monday came less than a month after the FDA issued a safety warning about the drug, noting that it could cause dangerous abnormalities in heart rhythm in coronavirus patients and should not be used outside clinical trials or in hospitals where patients were closely monitored for heart problems.
But by that time hydroxychloroquine had become a divisive issue within the Trump administration.
Dr Rick Bright, who led the federal agency involved in developing a coronavirus vaccine, said he was removed from his post after he pressed for rigorous vetting of the drug.
Dr Bright said he was pressured to direct money towards hydroxychloroquine, one of several "potentially dangerous drugs promoted by those with political connections."
On Monday, the President not only promoted the drug but also said he was taking it. And he made it clear that his decision was based on trusting anecdotal evidence, and his own gut, over the warnings of the government, or any data.
In that sense his position was consistent with his view of other expert medical advice — he has also refused to follow the guidelines of the Centers for Disease Control and Prevention and wear a face mask. And before becoming President he had alleged that there was a link between the number of vaccines children got in early infancy and the development of autism.
"I take it because I think I hear very good things," Trump said, citing a letter he received from an unnamed doctor in Westchester, New York, promoting the use of hydroxychloroquine.
"I want the people of this nation to feel good. I don't want them being sick," Trump said at the end of a round table with restaurant executives at the White House.
New York Times News Service