Trump dons a mask, then takes it off
'I didn't want to give the press the pleasure of seeing it'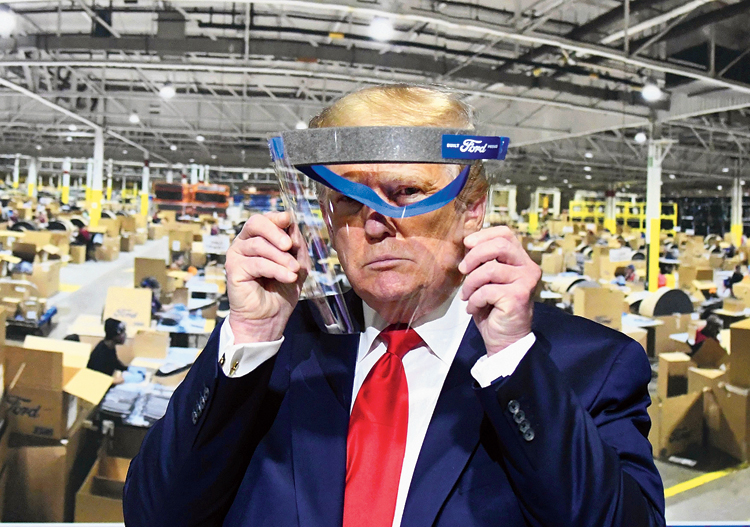 President Donald Trump looks through a face shield while touring a Ford plant in Ypsilanti, Michigan.
(Detroit News via AP)
---
Washington
|
Published 22.05.20, 08:02 PM
|
---
A day after threatening to withhold federal funding from Michigan, President Trump visited a Ford plant in Ypsilanti and held his fire, delivering a re-election pitch for himself in a battleground state where his campaign advisers have become increasingly concerned that his support is declining.
Trump toured the factory without wearing a face mask, despite the plant's guidelines that required anyone on the site to have a face covering to protect from the spread of the coronavirus.
The President said he wore one when he was alone with Ford executives, but took it off for the public portion of his tour because "I didn't want to give the press the pleasure of seeing it."
The admission was the latest sign that Trump is more concerned about the optics of wearing a face mask than with following the recommendation of the Centers for Disease Control and Prevention to wear one when in proximity to other people.
"Bill Ford encouraged President Trump to wear a mask when he arrived," the Ford Motor Company said in a statement. "He wore a mask during a private viewing of three Ford GTs from over the years. The President later removed the mask for the remainder of the visit."
After falsely claiming the state was engaged in voter fraud and had acted illegally by sending out absentee ballot applications to millions of voters, Trump dropped his criticism of governor Gretchen Whitmer, a Democrat, and other state officials.
The President toured the factory, where the auto manufacturer has been producing ventilators and personal protective equipment, and then delivered remarks in front of red, white and blue Ford trucks. He told reporters he was "not going to discuss" what funds he was referring to.
Instead, Trump talked about the reopening of the country, promising an economic surge built on "pent-up demand". He said he wanted to start holding campaign rallies again "sooner rather than later", despite the thousands of new Covid-19 cases still being identified each day in the US and the grim milestone of 100,000 deaths expected in the coming days.
"I think we're going to do better the second time, and it's important that we win the second time," Trump said at what was ostensibly an official presidential event. "It's important that we win the second time."
In fact, some national polls show Trump trailing former Vice-President Joseph R. Biden Jr, the presumptive Democratic nominee, in Michigan by up to six points. And in a recent poll commissioned by the Detroit Regional Chamber, 63 per cent of Michigan voters approved of Whitmer's handling of the coronavirus crisis, compared with just 43 per cent who approved of the job Trump is doing.
The split was on display outside the factory, where several hundred supporters and protesters gathered before the President's visit.
Denise O'Connell, 59, a retired hospital IT worker, said she came to express her distrust of Whitmer as much as her support for the President. "We've got a tyrannical wench running our state," she said. "It hurts me that so many people just think Trump is a bad guy. I think he was elected to lead at this particular time."
But another driver painted on his windows: "Whitmer = My Governor. Trump = Not My President."
Trump acknowledged the flood in Central Michigan that displaced thousands of residents after a dam failed.
"The Army Corps of Engineers at the highest level is right now in Michigan working on the fact that you had some dams breaking that should not have broke on," he said. "They were probably — maybe not maintained properly."
New York Times News Service