One Covid case, N Korea in emergency
Those who have been in Kaesong City in the last five days have been put under quarantine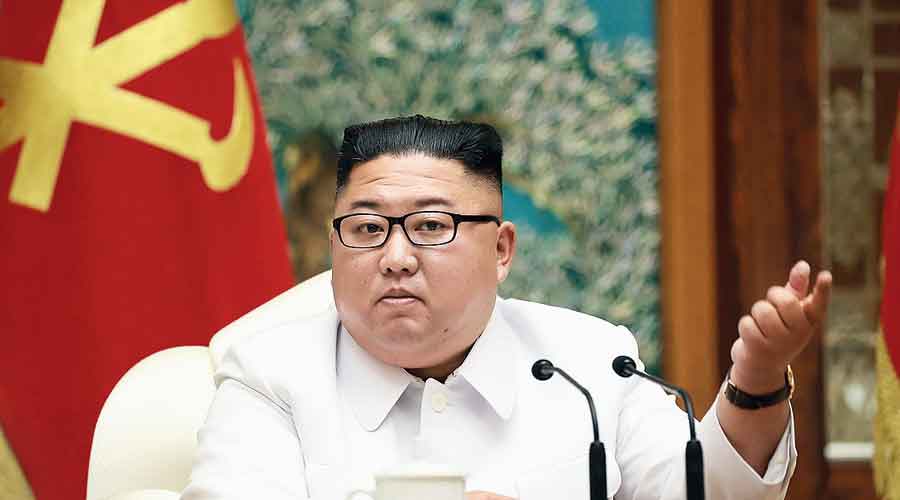 ---
|
Seoul
|
Published 27.07.20, 01:30 AM
---
North Korea said on Sunday that it had locked down a city near its border with South Korea and declared a "maximum" national emergency after finding what its leader, Kim Jong-un, said could be the country's first case of Covid-19 there.
It issued the high alert after a North Korean who had defected to South Korea three years ago but secretly crossed back into the North's Kaesong City last Sunday was "suspected to have been infected with the vicious virus", the North's official Korean Central News Agency said on Sunday.
After running several tests, the health authorities put the person and contacts under quarantine, as well as those who have been in Kaesong City in the last five days, the North Korean news agency said.
While reporting the incident, the agency stopped short of calling it the country's first case of the coronavirus, saying the test result was "uncertain".
But it was serious enough that Kim called an emergency meeting of the ruling Workers' Party's Political Bureau on Saturday, where he admitted that his country may have its first outbreak of Covid-19.
"There happened a critical situation in which the vicious virus could be said to have entered the country," Kim was quoted as saying, while declaring "a state of emergency" around Kaesong City and ordering his country to shift to "the maximum emergency system and issue a top-class alert".
Kim "took the pre-emptive measure of "totally blocking Kaesong City and isolating each district and region from the other" on Friday shortly after he received a report on the situation, the North Korean news agency said.
New York Times News Service