Coronavirus looms on July Tokyo Olympics
Japan PM seeks 2-week ban on sports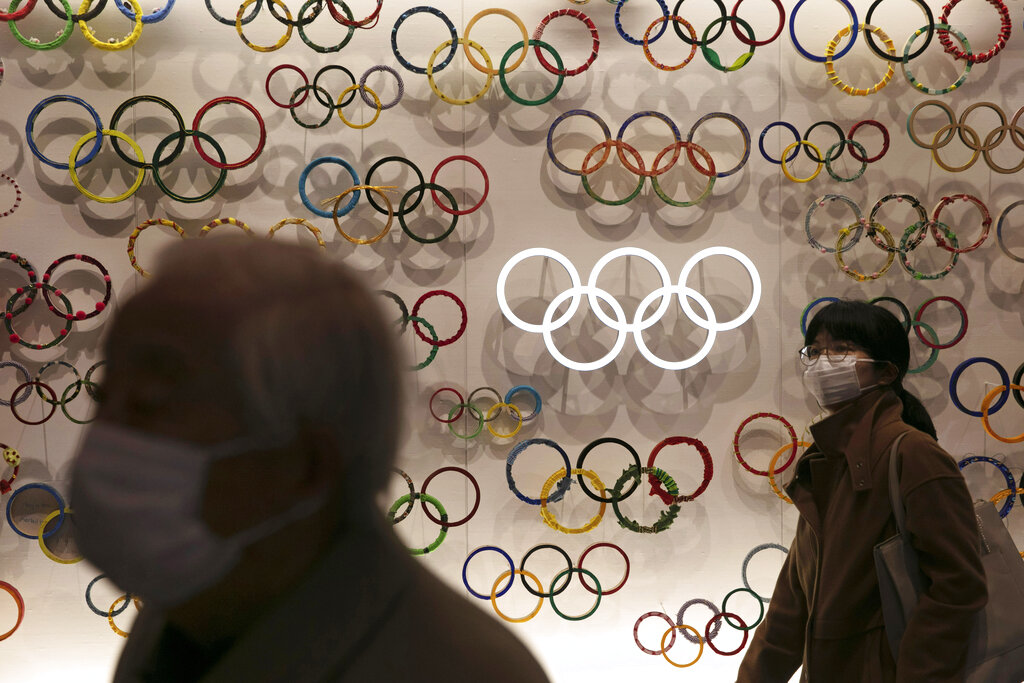 Two people wear masks as they visit the newly opened Japan Olympic Museum located near the New National Stadium on Sunday
(AP)
---
Tokyo
|
Published 26.02.20, 08:04 PM
|
---
Japanese Prime Minister Shinzo Abe called on Wednesday for sports and cultural events to be scrapped or curtailed for two weeks, as two more coronavirus deaths heightened concerns the contagion might scupper the summer Tokyo Olympics.
Abe's call came as Tokyo's baseball league said it would hold games without spectators until March 15. Two businesses in central Tokyo confirmed infections a day after the government told firms to get staff to work from home or stagger commutes.
An 80-year-old man who had not travelled overseas and had no known contact with an infected person died in a Tokyo hospital, media reported, while the northern island of Hokkaido — the region most affected after Tokyo, reported a death, taking Japan's total to six, including four from a cruise liner.
Hokkaido will close some schools from Thursday to March 4.
"Taking into account that the next one to two weeks are extremely important in stopping the spread of the infection, the government considers there to be a large risk of transmission at sports, cultural events and large gatherings of people," Abe said in the parliament.
By mid-afternoon on Wednesday, Japan had close to 170 cases of infections from the flu-like virus, separate from the 691 reported from a cruise ship quarantined off Tokyo this month.
Earlier on Wednesday the minister in charge of the Olympics sought to quell fears the event could be cancelled.
International Olympic Committee (IOC) member Dick Pound said the Games were more likely to be cancelled than postponed or moved if the virus threat forced a schedule change, the Associated Press said, with a decision needed by May. The Games are scheduled to begin on July 24.
"The IOC is preparing for the Tokyo games as scheduled," minister Seiko Hashimoto said in the parliament, when asked about Pound's comment. "We will continue our preparations so that the IOC can make sound decisions."
Last week Tokyo postponed training for Olympic volunteers, and on Wednesday, Toshiro Muto, chief executive of the organising committee, said it would scale back the torch relay to limit spread of the virus.
The shadow over the Olympics grew as advertising giant Dentsu Group Inc, which is deeply involved in the Games, told employees to work from home after an infection at its Tokyo headquarters.
US pandemic caution
The US warned of an inevitable pandemic as outbreaks in Italy and Iran spread to more countries
The US Centres for Disease Control and Prevention also urged Americans to prepare, saying that while the immediate risk there was low, the global situation suggested a pandemic was likely. "It's not a question of if. It's a question of when and how many people will be infected," the CDC's principal deputy director, Anne Schuchat, said.
The US has reported 57 cases of the virus.
Germany couple
A German couple who have contracted the coronavirus had taken part in local carnival celebrations and also visited the Netherlands in the 10 days before they were diagnosed, officials said on Wednesday.
Authorities in the western German state of North Rhine-Westphalia are now racing to stop the coronavirus spreading and are tracking down people the couple have been in contact with in their home district of Heinsberg.
The man, a 47-year-old entrepreneur, is now seriously ill and requires mechanical ventilation. His wife, a kindergarten teacher aged 46, has pneumonia and fever but her case is not as serious as her husband's.
Greece case
A Greek woman who recently returned home from northern Italy became Greece's first coronavirus case and is being closely monitored, the health ministry said on Wednesday. No further information was immediately available on the previous movements of the 38-year-old woman, though Greek media said she had returned to Greece from Milan by air on February 23.
Spain quarantine
Over 700 guests who have been locked down in a hotel on the Spanish island of Tenerife following an outbreak of coronavirus will remain in isolation for 14 days, a senior regional government official said on Wednesday.
Brazil infection
A Brazilian government test has confirmed the first case of a fast-spreading new coronavirus in Latin America, a source said on Wednesday, after a Sao Paulo hospital flagged the possible infection of a 61-year-old who had visited Italy. The diagnosis comes during Brazil's carnival holiday.