Boris under pressure to fire his closest aide
Cry for ouster after Cummings flouted the rules of lockdown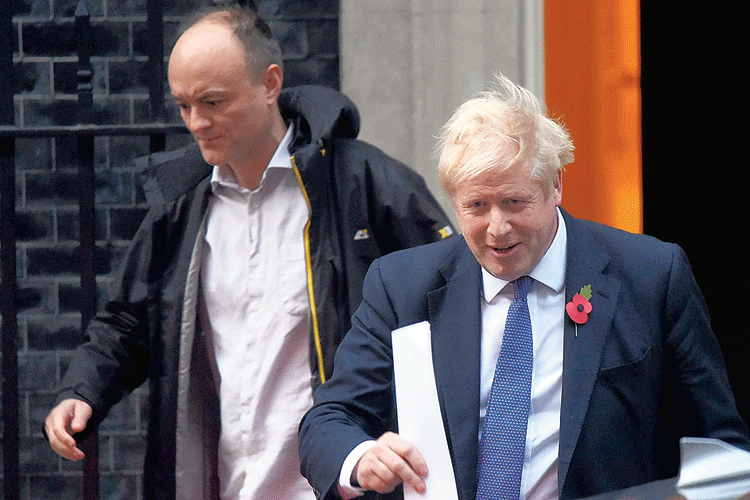 ---
|
London
|
Published 23.05.20, 08:37 PM
---
Boris Johnson is under pressure to sack Dominic Cummings, his closest aide in Downing Street, after he allegedly flouted the rules of lockdown urging people to stay at home by travelling 264 miles from his London residence to see his parents in county Durham.
To describe Cummings as controversial is like saying there is a little bit of a bite to Dracula's character.
There are knives out to get him, many from his own side, though Boris will be loath to get rid of 48-year-old Cummings, who is the Prime Minister's master strategist and some say the second most powerful man in government.
Sajid Javid, who was effectively forced to resign by Cummings who insisted the chancellor could not appoint his own advisers, will not be sorry to see his enemy's downfall.
Cummings made the journey accompanied by his wife when he was showing symptoms of coronavirus apparently to seek help with childcare.
The trip was undertaken at the end of March when government advice following the national lockdown on March 23 left little room for ambiguity: "You should not be visiting family members who do not live in your home. The only exception is if they need help, such as having shopping or medication dropped off."
Even the normally loyal Daily Telegraph reported in its front page lead story on Saturday: "Cumming caught in lockdown rule breach. Johnson's chief adviser faces calls to resign." after police investigate his trip to see parents."
The Financial Times ran a similar page one story: "Johnson under pressure to sack Cummings after reports of lockdown breach."
It added that two Left-wing newspapers, the Guardian and the Mirror, "reported on Friday evening that the police spoke to Cummings — who lives in London — after he was spotted in Durham seven weeks ago and a member of the public told the authorities".
The FT set out the dilemma for the Prime Minister: "The Guardian reported that Cummings was spotted near the gate of his parents' home in Durham at around 5.45pm on Sunday 5 April, five days after the complaint was made to the police. This was only one week after he started to self-isolate with symptoms of the virus, and at the same time that Mr Johnson came down with it. "The story is acutely awkward for the Prime Minister because breaking lockdown rules has already led to resignations for other senior government figures.
"Neil Ferguson, the epidemiologist whose modelling led to the lockdown, quit as a member of the Sage scientific advisory group after the Daily Telegraph revealed he had been visited by his girlfriend.
"Separately, Catherine Calderwood, chief medical officer for Scotland, was also forced to resign after visiting her second home twice during the lockdown."
Former Conservative MP David Lidington, who was de facto deputy Prime Minister under Theresa May, told BBC Newsnight: "There's clearly serious questions that No 10 are going to have to address, not least because the readiness of members of the public to follow guidance more generally is going to be affected by this sort of story."
Ian Blackford, leader of the Scottish national Party in the Commons, said: "He must resign or be sacked."
Sir Ed Davey, acting leader of the Liberal Democrats, also called for Cummings to quit over the allegations, while a spokesman for Labour said: "The British people do not expect there to be one rule for them and another rule for Dominic Cummings."
A source close to Cummings, thought to be the man himself, commented: "He isn't remotely bothered by this story, it's more fake news from the Guardian. There is zero chance of him resigning."