Chinese spy balloon sightings reported across US
American officials say they have assessed it to be a collection device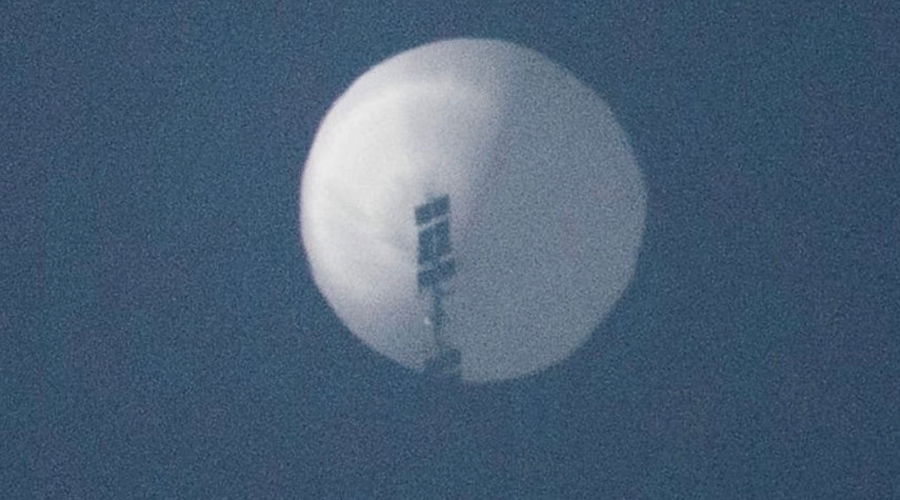 A balloon flies in the sky over Billings, Montana, on Wednesday.
Twitter/@RobSchneider
---
Washington
|
Published 05.02.23, 12:16 AM
|
---
The Chinese spy balloon floating over the continental US generated deep concern on Capitol Hill in part because it came on the heels of a classified report to Congress that outlined incidents of American adversaries potentially using advanced technology to spy on the country.
The classified report to Congress last month discussed at least two incidents of a rival power conducting aerial surveillance with what appeared to be unknown cutting-edge technology, according to US officials. While the report did not attribute the incidents to any country, two American officials familiar with the research said the surveillance probably was conducted by China.
The report on what the intelligence agencies call unidentified aerial phenomenon focused on several incidents believed to be surveillance. Some of those incidents have involved balloons, while others have involved quadcopter drones.
The Chinese government said on Friday the Chinese balloon discovered this week over the US was mainly for weather research. However, American officials said they have assessed it to be a collection device, though not one that could gather the kind of sensitive information that advanced Chinese reconnaissance satellites already collect.
China spends about $209 billion, or 1.3 per cent of gross domestic product, on its military overall, according to a Pentagon report. But policymakers in Washington have been especially worried about its investments in technologies that could have military or intelligence applications.
US defence officials believe China is conducting surveillance of military training grounds and exercises as part of an effort to better understand how America trains its pilots and undertakes complex military operations. The sites where unusual surveillance has occurred include a military base in the US and abase overseas, officials said.
Since 2021, the Pentagon has examined 366 incidents that were initially unexplained and said 163 were balloons. A handful of those incidents involved advanced surveillance balloons, according to a US official, but none of them were conducting persistent reconnaissance of the US military bases. (However, spy balloons that the US government immediately identifies are not included in the unidentified aerial phenomenon tracking, according to two US officials.)
Because spy balloons are relatively basic collection devices and other balloons have not lingered long over US territory, they previously have not generated much concern with the Pentagon or intelligence agencies.
The surveillance incidents involving advanced technology and described in the classified report were potentially more troubling, involving behaviours and characteristics that could not be explained.
Officials said that further investigation was needed but that the incidents could potentially indicate the use of technology that was not fully understood or publicly identified. Of the 171 reports that have not been attributed to balloons, drones or airborne trash, some "appear to have demonstrated unusual flight characteristics or performance capabilities, and require further analysis".
New York Times News Service