Bush looks for new team - Former Goldman Sachs chairman emerges as top contender
Read more below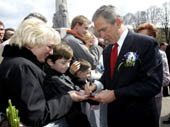 ---
Published 08.12.02, 12:00 AM
|
---
Former First Ladies Barbara Bush (left) and Nancy Reagan during a memorial service in Philadelphia. (Reuters)
Washington, Dec. 7 (Reuters): The White House is focusing on people with Wall Street savvy for its revamped economic team, with former Goldman Sachs chairman Stephen Friedman among those emerging as top contenders for senior economic adviser and US treasury secretary.
Wall Street is not the only place that President George W. Bush is looking for successors to embattled National Economic Council chairman Lawrence Lindsey and treasury secretary Paul O'Neill, both of whom abruptly resigned yesterday.
Possible candidates also include prominent academics led by Stanford University economist Michael Boskin, trusted White House insiders such as commerce secretary Donald Evans, and former lawmakers like Texas Republican Bill Archer.
Republican sources expect a decision as early as Monday for the positions. Those they choose will be expected to champion a tax-cutting agenda — something the White House hopes will bolster Bush's chance of re-election in 2004. A stagnant economy could be his biggest political liability.
Republican sources say Friedman has emerged as an early favourite to replace Lindsey, whose departure came as little surprise.
"Stephen Friedman has been approached," one Republican source said.
A spokesperson for Friedman would neither confirm nor deny any contact with the administration and the White House declined to comment. Friedman is currently a senior principal at Marsh & McLennan Capital Inc. and a limited partner of Goldman. He was senior chairman of Goldman from 1994 to 1997 and co-chairman or sole chairman from 1990 to 1994.
He was a major contributor to the Republican coffers during the 2000 presidential campaign.
Boskin was chairman of the White House Council of Economic Advisers under Bush's father and is said to be a friend of the President. Bush invited him to a recent state dinner.
"Boskin is an intriguing prospect. He's an intellectual heavyweight, he knows the markets and he's a carefully spoken fellow," said a senior Republican congressional aide.
Bush met privately last month with Stanford University professor John Cogan, who advised him on economic policy during the campaign.
Cogan's expertise is in budget matters, and it isn't clear whether the meeting was to discuss a role for Cogan within the administration or to talk about other potential candidates. Vice-President Dick Cheney has also held meetings with several conservative economists.