British Prime Minister Liz Truss's greatest legacy? Jokes, jokes and more jokes
Truss's short tenure has sparked an outpouring of the best of British humour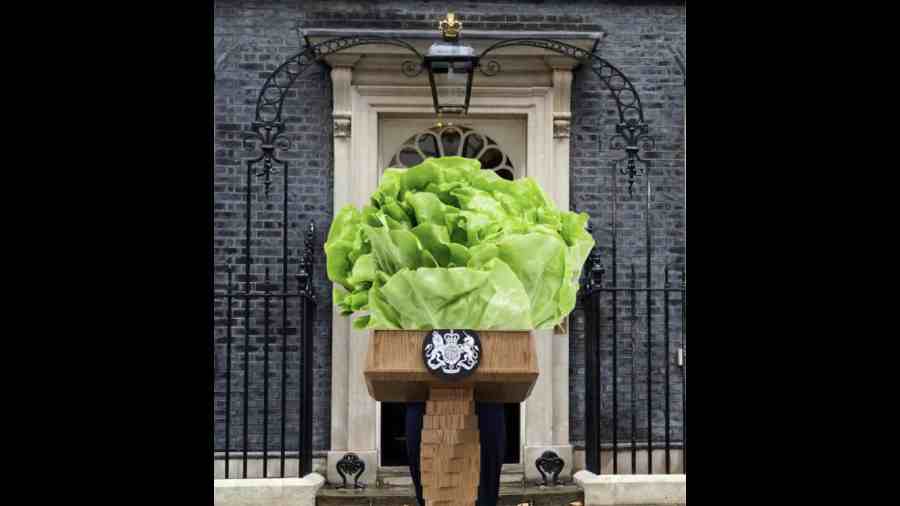 10 Downing Street, the official residence of UK Prime Minister
Twitter/@Pandamoanimum
---
New Delhi
|
Published 20.10.22, 09:55 PM
|
---
British Prime Minister Liz Truss has resigned after having only been in office for 45 days but in one way she has already outdone other politicians who have lasted in office for years. And that's in the number of typically British jokes, potshots and insults that almost seem to be coming off a conveyor belt.
The mightiest insults have come from the normally extremely restrained Economist magazine which brutally declared that Truss's time left in government was "roughly the shelf-life of a lettuce." It followed this up with a second scorcher, declaring: "Ms Truss has become the human equivalent of Larry the cat, living in Downing Street but wielding no power." Larry, the No 10 champion mouser, has already seen out several prime ministers, and has now outlasted Truss. Larry, who has his own Twitter handle, appeared on the social media site soon afterwards to announce he was taking over as prime minister. The famous black door of No 10 Downing Street has been the first casualty for a string of meme artists. In several, a revolving door has taken the place of the most famous front door in the world. Another keeps the black door and puts an Airbnb sign above it: "Perfect for short stays," says the legend below. Another cartoon showed a removal van in Downing Street with the driver telling the policeman on guard: "We were in the neighbourhood and thought we might as well wait." The Economist's lettuce jibe sparked the Daily Star tabloid into action.  It produced a lettuce, which was one day given a blonde wig, to see whether it would outlast Truss. "Which wet lettuce will last longer?" it asked on its front page, adding "Star Daily vegetables is not 6/1 to oust blundering Liz Truss." It even ran a livestream so people could chart the gradual browning of the lettuce and compare it to Truss's shelf life.
After Truss quit Thursday, the Daily Star's gleeful banner headline announced: "Daily Star lettuce celebrates victory as Prime Minister Liz Truss resigns." It added: "Truss has resigned, making her the shortest-serving PM in British history and meaning that the Daily Star's very own 60p lettuce managed to outlast her tenure." About the upcoming race to succeed her the Daily Star declared: "The Daily Star's Lettuce is now 1000/1 to be one of your five (Prime Ministers) a day."
You'd better be-leaf it. pic.twitter.com/O3NjgC1CIA

— Daily Star (@dailystar) October 20, 2022
For those who like their news with extra dressing and croutons too. pic.twitter.com/h7YAbjAfdR

— Daily Star (@dailystar) October 20, 2022
Another meme had a lettuce on the lectern placed outside Downing Street with the words, "We now go live to Downing Street."  
"We now go live to 10 Downing Street." pic.twitter.com/ZdF9UgF4KK

— Amanda (@Pandamoanimum) October 20, 2022
At a different level, one humorist offered "thoughts and prayers" to the two authors of a book Out of the Blue on Truss which was originally slated to hit the stands on December 8. The book jacket shows prices being cut and finally ends with a plaintive: "Please take one." 
Many columnists and commentators had warned Truss would be a disaster. In The Times, London, columnist Matthew Parris reminded people about two earlier predictions. "In December last year I suggested of Truss that "there's nothing there: nothing beyond a leaping self-confidence that's almost endearing in its wide-eyed disregard for the forces of political gravity". This August, Parris sounded a more urgent warning, writing: "She's crackers. It isn't going to work."
Similarly, Max Hastings, the former Daily Telegraph editor didn't mince his words and wrote soon after she took over:  "A new prime minister has assumed office whom even her supporters fear unfit to engage the emergencies she faces. A whirlwind of misfortunes is sweeping the country." Hastings threw in the criticism that Truss, a Remain supporter who went from being a Liberal Democrat to being an ardent Brexiter and a favourite of the Conservative uber-right, was driven solely by a lust for power and was willing to drop her convictions along the wayside. He declared: "Judging from Truss's serial conversions and apostasies since youth, she is bereft of convictions save about her own fitness for power." 
Was there room to feel sorry for Truss in this welter of jokes and blistering political comments? Not really. When forced into a corner, she dumped her closest political friend Kwasi Kwarteng whom she had made chancellor of the exchequer. Kwarteng and she drew up an economic plan that sent the pound and the bond market reeling. She quickly pinned the blame on him and sacked him in an effort to save her own skin. Kwarteng also became the subject of many jokes and memes. According to one, being Kwartenged has become a synonym for a short tenure in a job. He was sacked after 38 days. And one site declared that, "Kwasi Kwarteng still to leave Downing Street, as he's still firmly wedged under the bus" (under which Truss had metaphorically thrown him). Another one announced that Kwarteng, who was suddenly recalled from Washington to be sacked, "had trouble getting a seat on the plane because no one wanted him near business OR economy."
Truss is now receding into history as is her ill-fated lieutenant Kwarteng. But the chaos in the Conservative Party makes it certain that the flow of jokes and memes isn't about to dry up anytime soon.