Boris Johnson's party fares badly in UK local elections
In London, the Tories lost three previously true blue local authorities — Wandsworth, Westminster and Barnet — but elsewhere Labour has not done quite as well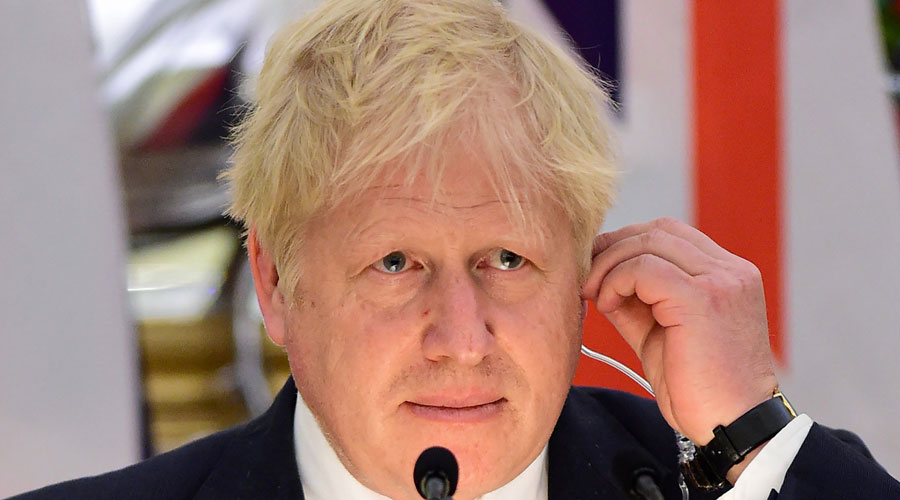 Boris Johnson.
File Photo
---
London
|
Published 07.05.22, 02:56 AM
|
---
The Tories have done badly in local government elections under Boris Johnson's leaderships but perhaps the overall results are not so disastrous that his own MPs will now move to oust him as Prime Minister before the next general election.
In London, the Tories lost three previously true blue local authorities — Wandsworth, Westminster and Barnet — but elsewhere Labour has not done quite as well as to ensure Keir Starmer is on course to become the next occupant of 10 Downing Street.
Local government elections traditionally have low turnouts — often not exceeding 30 per cent.
The country's most respected polling expert, Prof. John Curtice of Strathclyde University, said the Tories looked set to lose between 200 and 300 councillors amid anger over sleaze and Partygate, but Labour was struggling in its former Red Wall seats.
He said it was not a performance "that indicated a party that is on course for winning a general election with a majority" and did not even suggest Labour would necessarily be the largest party in the next Parliament.
The big winners appear to be the Lib Dems and the Greens, who say their victories reflect a "real trend" among voters looking for an alternative to the establishment parties.
The Conservatives' local election results in London are "catastrophic", a former Tory Number 10 chief of staff tweeted.
Gavin Barwell, who served under Theresa May, tweeted:  "Waking up to catastrophic results for the party in London. Wandsworth & Westminster were flagship councils. We held them during the Blair honeymoon. We held them during austerity. We held them under Theresa May. Losing them should be a wake up call for the Conservative Party."
The outgoing Conservative leader of Carlisle City Council, John Mallinson, told the BBC the Prime minister "bears a lot of the responsibility" for "very poor" results.
He said: "I have to say that issues like Partygate made it increasingly difficult to focus people's minds on local issues." Boris, he went on, would be a "poor option" to lead the Tories at the next general election, and if he did the party will "pay for it".
Conservative co-chairman Oliver Dowden acknowledged "difficult results" but insisted Labour does not have the momentum to go on to win the next general election. Starmer described Labour's gains as "absolutely brilliant" and a "big turning point" for the party.
With half the results counted, the BBC's outgoing political editor, Laura Kuenssberg summed up: "There's been a rebuff for Boris Johnson from some parts, notably London, with some warnings from the grassroots that economic pressures and the conduct of government combined to make life difficult for Tories trying to keep voters onside.
"The signs are not, however, of a Conservative rout, even after more than a decade in government, even after the prime minister was fined for lockdown rule-breaking.
"So far, this is not a set of results likely to push privately disgruntled Tory MPs to air their grievances in public, or try to move against Mr Johnson."
"Yet it is an important staging post for Labour, on course to take the biggest national share of the vote in an election since 2016. The party has been able to take steps forward with some gains in important pockets of the country, not just piling up votes in London. But the margin is likely to be narrow, not convincing enough for the opposition to be confident they are set for No 10."
Delhi will want to know whether Boris will be around to deliver an interim UK-India Free Trade Agreement "by Diwali", as he promised after talks last month with Narendra Modi.
It may be premature to predict a Boris ouster at this stage. On Thursday night, as votes were being counted, Grant Thornton published its 9th annual "India meets Britain Tracker", which painted a very positive picture of 900 "UK-incorporated limited companies that are either owned or controlled by Indian interests".
They had combined revenues of £54.4billion, up from £50.8billion in 2021; and employed 141,005 people, up from 116,046 the previous year.
Asked how much the deal depend on Boris remaining prime minister, the report's main author, Anuj Chande, head of the South Asia Business Group at Grant Thornton UK, told The Telegraph: "Obviously, there is a personal relationship there between Modi and Johnson. But I think the strength and depth of the UK- India relationship outlives any change in prime minister.
"But he's very committed to doing something with India. He very enjoys doing business with India. He sees the potential of India. So there's no doubt that it's very much something that he's emotionally attached to and wants to succeed."