Boris Johnson's brother quits UK Adani-linked investment fund after group's $108bn share wipeout
Elara Fund was bookrunner In cancelled Adani share sale, Jo Johnson says he lacked 'domain expertise' to be director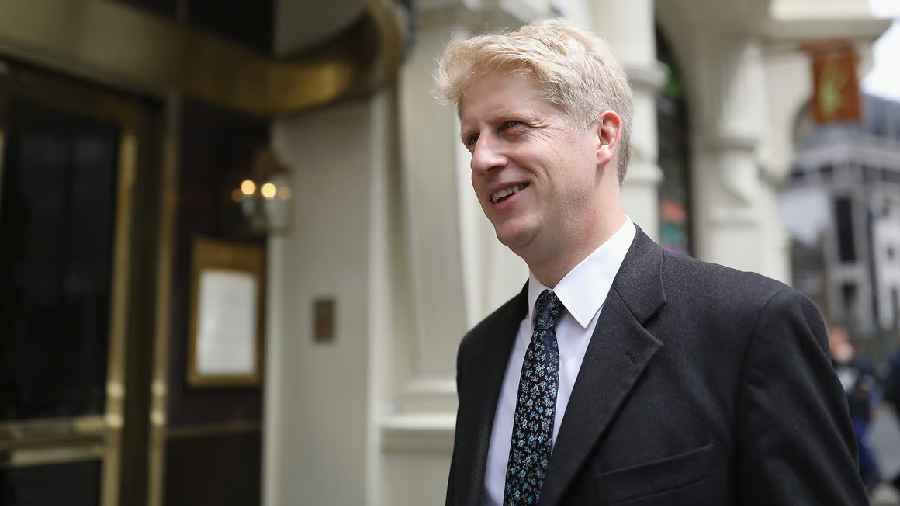 Lord Jo Johnson
File picture
---
Published 03.02.23, 06:56 PM
|
---
Lord Jo Johnson, the younger brother of former British Prime Minister Boris Johnson, has resigned from the board of London-based Elara Capital, one of the bookrunners in the ill-fated $2.4-billlion Adani Enterprises share sale. Jo Johnson said he lacked the "domain expertise" to serve as director. 
Another director on the Elara board, distinguished economist Lord Meghnad Desai who writes columns for several Indian newspapers, remains with the fund.
US hedge fund Hindenburg Research accused Elara in a report last week of assisting Adani Group companies in engaging in massive alleged share price manipulation and accounting fraud. The group has blasted the allegations as "baseless" and "malicious."
Jo Johnson, who used to be an investment banker at Deutsche Bank, said in a statement explaining his resignation, "I now recognise that this is a role (being a director) that requires greater domain expertise in specialised areas of financial regulation than I anticipated."
Johnson was a former journalist at the Financial Times before he was made a minister and later a peer by his brother. Jo Johnson said in his statement that: "I have consistently received assurances from Elara Capital that it is compliant with its legal obligations and in good standing with regulatory bodies…."
Elara Capital is a global investment bank that has done work for several Indian companies. The Hindenburg report alleged it had close ties with the Adani Group and that the Elara India Opportunities Fund and a second fund, Vespara, have largely invested in the Adani Group's public limited companies.
The FT said it reporters from the newspaper who visited the Elara office in central London were told there was nobody in who could answer their questions. Elara was one of 10 bookrunners for the Adani Enterprises follow-on public offer (FPO) which the group pulled after its close.
The FT reported that Elara chairman Raj Bhatt "referred the Financial Times's request for comment to its compliance officer, who did not respond." FT correspondents who visited the Elara office, said it had, "a nondescript lobby" on the sixth-floor of a building in the Marylebone district. They were told, "there was nobody in the office who could answer our questions at the time."
The Elara website says it was established, "primarily as a capital markets business, raising funds for Indian corporates through GDRs, FCCB's and the London AIM (Alternative Investment Market). Bhatt launched the firm in 2002 that is described as a "financial re-engineering and fund-raising expert". It has since expanded into a variety of fields including private equity advisory, brokerage and asset management.
In its report on the Adani Group, Hindenburg Research alleged that Elara managed an "offshore fund with almost $3 billion in concentrated holdings of Adani shares, including a fund that is around 99 per cent concentrated in shares of Adani". Hindenburg said it had spoken to a former Elara employee who alleged: "It is obvious that Adani controls the shares. He explained that the funds are intentionally structured to conceal their ultimate beneficial ownership."
Analysts say that the Hindenburg report has raised the question of whether any of Adani's own funds were used to help meet the $2.4-billion Adani Enterprises' share issue target. 
Desai, who serves as a non-executive director on the Elara board, told the FT that, "My position is that whether the report is correct or not, the market believed it." He added he felt the Hindenburg allegations were, "very vague". He said he had got in touch with the Mauritius financial regulator and Elara Chairman Raj Bhatt to get more details about the allegations.
He added: "If it is correct that Elara was used as a vehicle indirectly by the Adanis, then we have to worry about that. If this is not clarified by the government, they (India) are going to have a serious problem attracting foreign capital."
The FT reported the Elara Capital funds are registered in Mauritius and Bermuda. On its website, Elara says it has offices in India, New York, Singapore, Mauritius and London. Elara says on its website "Elara has raised funds for several Indian corporates… and is a full-service investment bank.
Jo Johnson was the Financial Times correspondent in India before he returned to the UK and then got into politics. Johnson said his statement Thursday he had joined Elara, hoping he could contribute to "UK-India trade and investment ties." 
Bloomberg earlier reported that Elara India Opportunities Fund was predominantly invested in Adani Group companies. Bloomberg said in July 2021 that "four Mauritius-based funds (including Elara Equal Opportunities Fund) that have attracted attention for parking almost all their money in companies controlled by Indian billionaire Gautam Adani have a history of investing in firms which ended up defaulting or were investigated for wrongdoing." 
This marks the second time Johnson has resigned from a post at a financial firm in recent months. In December, he quit his role advising Binance, the world's biggest cryptocurrency exchange. The resignation from the Bifinity job "looked like a case of wrong place, wrong time — who knew crypto was risky?" quipped the FT Alphaville column.
In a separate development, the National Stock Exchange has moved to curb extreme swings in the shares of some Adani companies, including the group's flagship Adani Enterprises whose stock crashed 28 per cent on Thursday. The exchange has placed the companies under its Additional Surveillance Mechanism, better known as ASM. Under ASM, a stock price can only move 5 per cent either way from the previous day's close before trading is halted in the stock for the day. Aside from Adani Enterprises, other Adani stocks placed under ASM are Adani Ports and Ambuja Cements.
The NSE has also taken steps to stop traders speculating on how much the Adani stocks will move by demanding that they pay a higher amount of cash up front for the shares.