Boris ban on ministers' Davos trips
'Our focus is on delivering for the people, not champagne with billionaires,' said an official source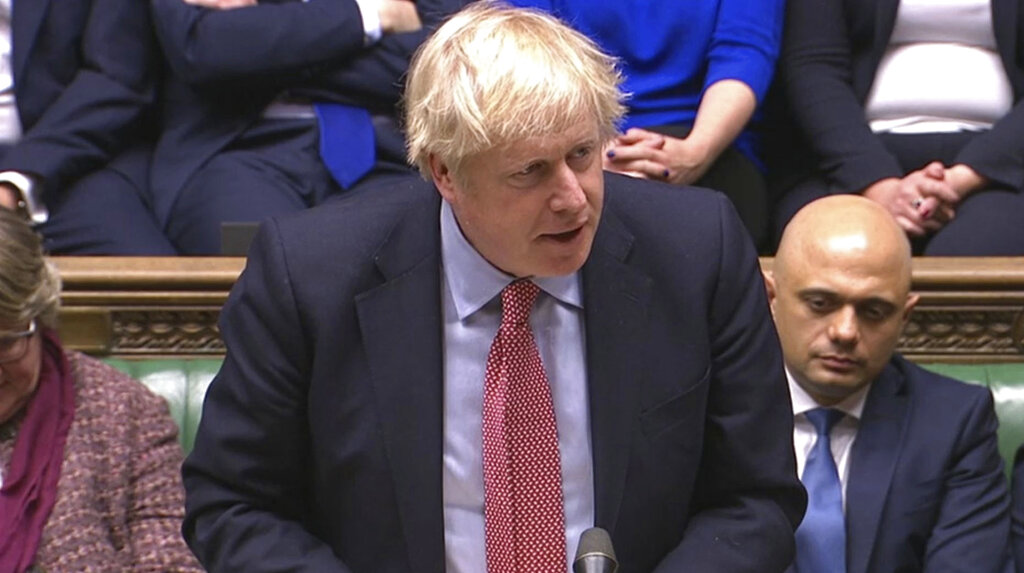 ---
|
London
|
Published 18.12.19, 07:27 PM
---
Boris Johnson, keen to be seen to be heading a "people's government" after his 80-seat electoral triumph, has banned his ministers from attending next month's economic forum in Davos in Switzerland.
"Our focus is on delivering for the people, not champagne with billionaires," said a Downing Street source.
The Hindujas, who tend to hold court in Davos, might be offended by that remark although they do not drink themselves. The snow covered Swiss resort has become a place where Indians like to tell others about just how well the country is doing.
The British Prime Minister, who will himself stay away from the annual gathering of national and business leaders — in common with President Donald Trump — wanted to "get on with delivering the priorities of the British people", the Downing Street source said.
"The emphasis will be upon delivering Brexit by 31 January and the NHS," it added. "That is what we promised, not going to Davos."
Meanwhile, the former Labour Prime Minister, Tony Blair, who won three elections in a row, has laid into Jeremy Corbyn, arguing the party must ditch not only its present leader as quickly as possibly but also his Left-wing policies.
According to Blair, the only Labour leader to have won an election in the last 45 years, "Labour needs not just a different driver, but a different bus".
This comment is relevant because Corbyn supporters, who are dominant in the party's National Executive Committee and in the half million strong membership in the country at large, say the election was lost mainly because of Brexit and a Right-wing media and that the new leader should carry on with Leftist policies such as nationalisation of water, rail and broadband.
Blair, who became a strong supporter of former Indian Prime Minister Manmohan Singh's government and of India in general — in marked contrast to Corbyn — was supposed to say in a speech in London on Wednesday: "The choice for Labour is to renew itself as the serious, progressive, non-Conservative competitor for power in British politics, or retreat from such an ambition, in which case over time it will be replaced.
"So, at one level, sure let's have a period of 'reflection', but any attempt to whitewash this defeat, pretend it is something other than it is, or the consequence of something other than the obvious, will cause irreparable damage to our relationship with the electorate."
There will need to be a period of reflection in India, too, where the Congress Party has traditionally enjoyed a close relationship with Labour, which has changed beyond recognition.
Perhaps unaware of the shifting sands, Rahul Gandhi, the Congress president, met only senior Labour Party members in London — not all Corbyn supporters — during his visit to London in August 2018.
The latter included Barry Gardiner, shadow trade secretary; Valerie Vaz, shadow leader of the Commons; Sir Keir Starmer, shadow Brexit secretary; Gareth Thomas, shadow foreign minister; Stephen Pound, shadow minister for Northern Ireland; and Preet Gill, shadow minister for international development. There was no meeting with the Tories.
Even a likely centrist candidate for the leadership, such as Starmer, said on Wednesday that Corbyn was right to make Labour an "anti-austerity" party and it must not "oversteer" away from left wing politics.
Currently shadow business secretary Rebecca Long-Bailey, regarded as a Corbyn supporter, is regarded as the favourite to take over as the new leader.
Starmer insisted that as leader he would make his own decisions rather than simply following in the footsteps of one of his predecessors.
"I don't need somebody else's name tattooed to my head, some past leader, in order to identify and make decisions. I can make them for myself," he said.
He rejected suggestions that as a north London lawyer who strongly supported Remain, he was too middle class to get elected. "My dad worked in a factory, he was a toolmaker, and my mum was a nurse, and she contracted a very rare disease early in her life that meant she was constantly in need of NHS care."