Belarusians 'encouraged' migrants, fleeing Iraqi Kurds offered visas
The move is described by European leaders as a cynical ploy to "weaponise" migrants in an effort to punish the region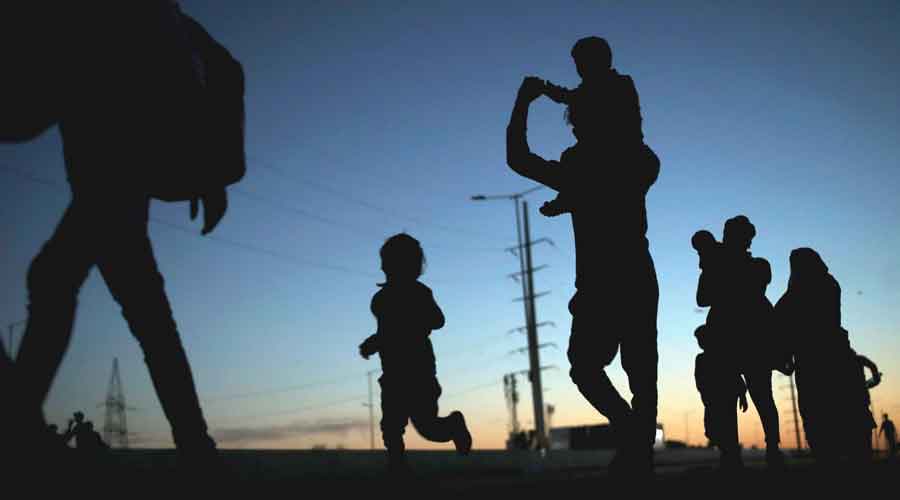 ---
Sulaimaniya, Iraq
|
Published 14.11.21, 12:20 AM
|
---
The sudden surge of migrants to Belarus from West Asia that is now the focus of a political crisis in Europe was hardly an accident.
The government of Belarus loosened its visa rules in August, Iraqi travel agents said, making a flight to the country a more palatable journey to Europe than the dangerous sea crossing from Turkey to Greece.
It increased flights by the state-owned airline, and then actively helped funnel migrants from the capital, Minsk, to the frontiers with Poland, Latvia and Lithuania.
And Belarusian security forces gave them directions on how to cross into the EU countries, even handing out wire cutters and axes to cut through border fences.
These moves, which European leaders have characterised as a cynical ploy to "weaponise" migrants in an effort to punish Europe, opened the gates to people desperate to flee a region plagued by instability and high unemployment.
Now, thousands of people are stranded or hiding along the border in freezing conditions, not wanted by the EU countries or, circumstances are making clear, by the country that lured them there in the first place.
The human tide has turned cities like Sulaimaniya, in the Kurdistan region of Iraq, into bustling ports of departure for migrants eager to take an expensive and risky journey for the chance of a better life in Europe.
As word went viral on social media that Belarus offered a route into Europe, the number of migrants snowballed.
Mala Rawaz, a travel agent in Sulaimaniya, said he had been selling about 100 packages a week for trips to Belarus. The packages included airfare through a third country, transit accommodation and a Belarusian visa.
At the city's bazaar, Bryar Muhammad, 25, was doing a brisk business on Thursday selling warm clothes.
"Good clothes for Belarus!" he shouted, holding up thick acrylic sweaters and winter jackets pulled from a cardboard box. "For the snow of Belarus!"
Even as young families in Iraq were putting up their homes as collateral to raise money for the journey, evidence mounted that Belarus's autocratic leader, Aleksandr G. Lukashenko, was orchestrating the migration to manufacture a crisis for the EU.
The Belarusian state-owned airline, Belavia, had increased flights from West Asia to Minsk. The Belarusian authorities eased the issuance of visas through the state-owned travel agency Tsentrkurort, according to the Lithuanian foreign ministry.
Migrants who reached Minsk were put up in at least 3 hotels, according to Latvia's defence minister, Artis Pabriks, and Franak Viacorka, an adviser to Belarusian Opposition leader, Sviatlana Tsikhanouskaya. New York Times News Service