BBC heat over Labour Indian
Thakar's five minutes of fame for appearing on national television has cost him dear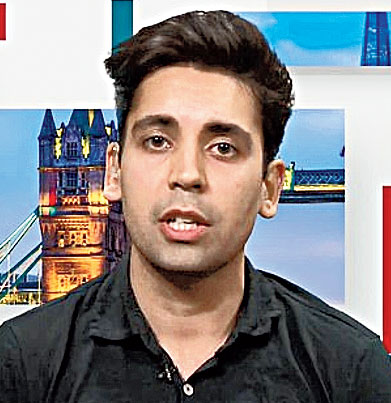 Labour Party member Aman Thakar
(Telegraph picture)
---
London
|
Published 20.06.19, 08:58 PM
|
---
The BBC is under fire from Right-wing newspapers for putting on an Indian during a live TV debate with five Tory leadership candidates without telling over 5 million viewers that Aman Thakar was an active Labour party member.
Thakar's five minutes of fame for appearing on national television has cost him dear.
Increased scrutiny of his political activities by a Right-wing website, Guido Fawkes, turned up injudicious tweets about Hitler which has now got Thakar suspended from his job as a legal assistant with Leigh Day, a well-known firm of solicitors' firm which probably took him on in the first place to burnish its "diversity" credentials.
Screenshots taken before Thakar made his Twitter account private showed he once suggested "Hitler's abuse of the term nationalism is, to me a nationalist, the most harmful part of his legacy".
The tweet will enrage Jews because it appears to suggest that the holocaust was a less serious offence.
The Daily Mail, for example, ran a story about Thakar headlined: "Labour candidate whose Twitter joke sparked Nazi storm."
On Wednesday, Thakar offered an apology of sorts by tweeting: "Context on my tweets regarding Hitler, my full and sincere apologies for any offence caused."
Guido Fawkes commented witheringly: "No one could see the context this morning because he took his tweets private. Presumably whilst he deleted anything else embarrassing…"
A Leigh Day spokesman said: "We can confirm that Aman Thakar is currently a solicitor at Leigh Day in our employment department.
"We have been made aware of a tweet which we are taking very seriously. Thakar has been suspended with immediate effect from the firm whilst we carry out an internal investigation into these matters."
After the second ballot on Tuesday, the five remaining candidates — Boris Johnson, the foreign secretary Jeremy Hunt, the environment secretary Michael Gove, the home secretary Sajid Javid, and the international development secretary Rory Stewart — took part in a live debate, with BBC presenter Emily Maitlis acting as moderator, and questions being beamed in from across the country.
The question that Thakar asked the five candidates was legitimate enough: "In the event that you become Prime Minister, you're only going to be voted on by your parliamentary colleagues and 100,000 Conservative Party members.
"And you have no mandate from the people. So, in the event that you become Prime Minister, when will you do the right thing and call a general election?"
The BBC is also under attack because it picked an imam from Bristol, Abdullah Patel, without being aware he had put out tweets widely considered to be anti-Semitic.
Responding to criticism about Thakar's inclusion, the BBC responded: "A background in politics doesn't disqualify anyone from taking part in a debate show. Last night's questioners held a range of political views and we did not specify these views nor their backgrounds although some chose to do so themselves.
"The last questioner on the debate is a solicitor who was seconded by his law firm to the Labour Party in the past, rather than being a Labour 'staffer'. He is a Labour supporter and once stood as a councillor."
Thakar's back story has now got even more complicated. It is reported he was brought into the Labour party's headquarters to work on anti-Semitism by none other than Bengali Baroness Shami Chakrabarti, who is Jeremy Corbyn's shadow attorney general.
She has been condemned by Jewish organisations for allegedly accepting a peerage from Corbyn after submitting an official report which said that while individual members of the Labour might be ant-Semitic, the party itself was not institutionally anti-Semitic.
It will be a surprise if Thakar gets back his job at Leigh Day.
According to Guido Fawkes, "it turns out that not only was Thakar a Labour Party council candidate in 2018 in Southwark, he even worked in Labour HQ. As this letter sent in October 2018 from Labour's Acting Head of Disputes Nareser Osei to a party member under investigation for anti-Semitism reveals: the General Secretary has appointed Aman Thakar, Legal Assistant, to arrange conduct of the Party's own investigation.
"A source who worked in Labour's complaints department at the time says Thakar was 'uber partisan' and claims he was brought in by Shami Chakrabarti to help 'close down' cases of anti-Semitism."