Asia Bibi 'freed' from prison
Pakistani authorities on Thursday rejected as 'fake news' reports that Asia Bibi was released from jail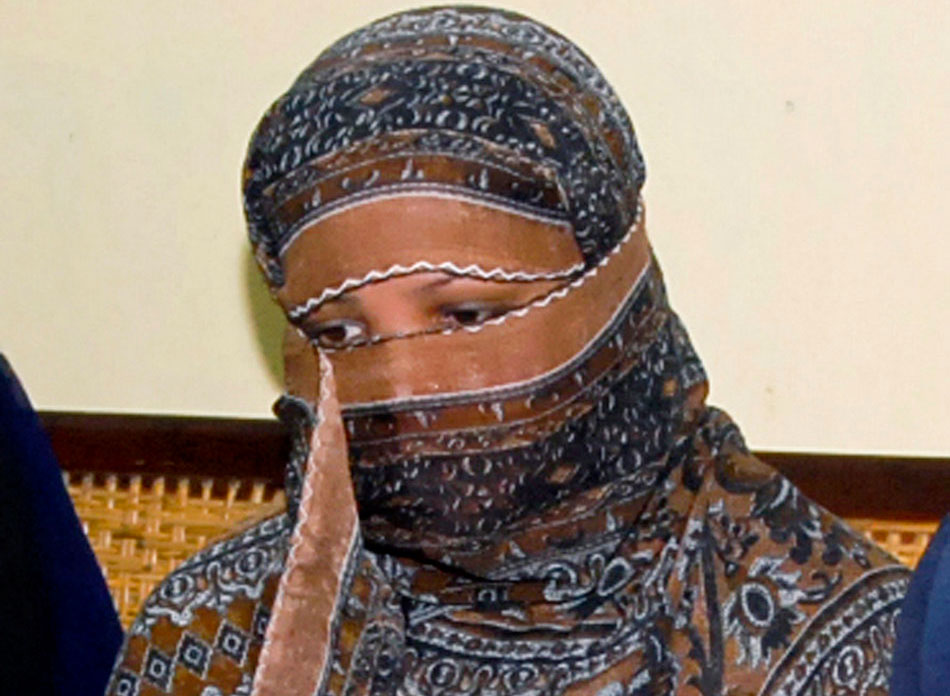 Asia Bibi listens to officials at a prison in Sheikhupura near Lahore, Pakistan on November 20, 2010.
AP File Picture
---
Islamabad
|
Published 08.11.18, 08:03 PM
|
---
Pakistani Christian woman Asia Bibi has been freed from prison a week after the Supreme Court overturned her conviction and death sentence for blasphemy against Islam, and she is at a secure location in the country, officials said on Thursday.
However, Pakistani authorities on Thursday rejected as "fake news" reports that Bibi was released from jail.
It was reported in local media that she had been taken to Noor Khan Airbase in Rawalpindi, from where she would be shifted to the Netherlands.
"Asia Bibi was released from New Jail for Women Multan (some 350km from Lahore) on Wednesday midnight. She is taken to Noor Khan Airbase in Rawalpindi where a chartered plane will take her to the Netherlands," 24News reported on Thursday.
However, foreign office spokesman Mohammad Faisal dismissed reports that the mother of five had left the country. "There is no truth in reports about Bibi leaving the country — it is fake news," he said.
"You are aware of the media furore and speculation about Asia Bibi having left Pakistan. Let me state clearly that Asia Bibi remains at a safe place in Pakistan. I would also request all of you to verify such news before issuing them, in line with standards of objective, impartial journalism to prevent needless sensationalism and controversy," he said.
The release overnight of the mother of five prompted immediate anger from a hardline party that has threatened to paralyse the country with street protests if her acquittal is not reversed.
Bibi, 53, was convicted of blasphemy in 2010 over allegations she made derogatory remarks about Islam after neighbours objected to her drinking water from their glass because she was not Muslim.
She always denied having committed blasphemy.
The case has outraged Christians worldwide, and Pope Francis met Bibi's family this year, saying he prayed for her. Italy said on Tuesday it would try to help Bibi, who is Catholic, to leave Pakistan.
In Rome, the Catholic aid agency Aid to the Church in Need (ACN) said Bibi has been able to see her husband in an undisclosed location.
Their daughters were "close by" but had not yet seen their mother as of early afternoon, Pakistan time.
The agency, which arranged a meeting for Bibi's husband and daughter with Pope Francis at the Vatican this year, said the family was awaiting visas but declined to disclose from which country for security reasons.
Blasphemy carries a mandatory death penalty in Pakistan, which is about 95 percent Muslim and has among the harshest blasphemy laws in the world.
No executions for blasphemy have been carried out in Pakistan but enraged mobs sometimes kill people accused of blasphemy.
Rights groups say the blasphemy law is exploited by hardliners as well as ordinary Pakistanis to settle personal scores. Christians make up about 2 per cent of the population.
Pakistan on Thursday said the Afghan Taliban's former deputy chief Mullah Abdul Ghani Baradar was released from jail at the request of the US as part of efforts to pursue a political settlement in war-torn Afghanistan.