Chaos at Kabul airport as US troops fire shots in air
Ashraf Ghani flees as Afghanistan falls to Taliban fighters
Hamid Karzai to form a Coordinating Council with Abdullah Abdullah and Gulbuddin Hekmatyar, leader of the Hesb-i-Islami party, to manage a peaceful transfer of power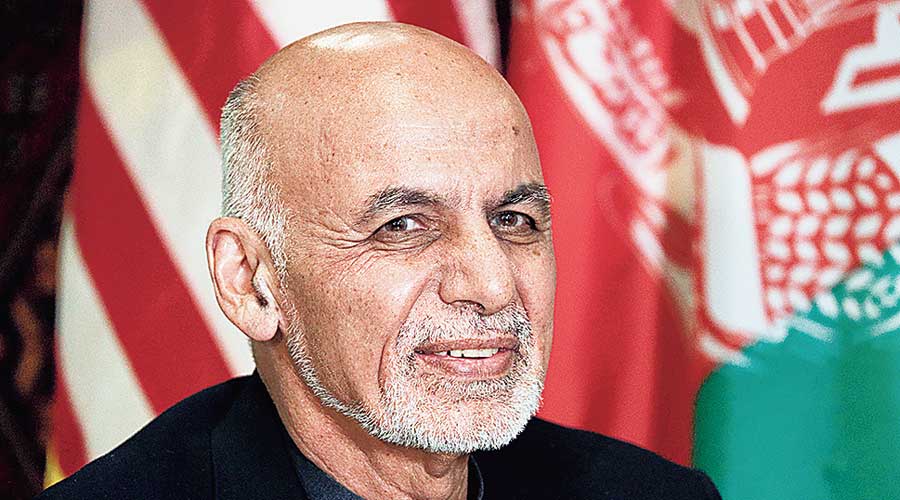 President Ashraf Ghani, who fled Afghanistan on Sunday.
File picture
---
Kabul
|
Published 16.08.21, 02:08 AM
|
---
President Ashraf Ghani of Afghanistan has fled the country, a top political figure said on Sunday, as the Taliban's relentless, rapid advance brought them into Kabul and the last major city controlled by the government fell into chaos.
Abdullah Abdullah, chairman of the council appointed to lead peace talks, said in a Facebook video that Ghani, who had resisted calls for him to step down, had left Afghanistan. Afghan media too reported his departure, which many analysts said was needed to prevent a bloody battle for control of Kabul.
US troops fired shots into the air at Kabul airport on Monday as thousands of Afghans crowded onto the tarmac in the hope of catching a flight out of the country after the Taliban takeover of the country, NDTV.com reported quoting news agency AFP.
-
In the evening, former President Hamid Karzai announced on Twitter that he was forming a Coordinating Council together with Abdullah and Gulbuddin Hekmatyar, leader of the Hesb-i-Islami party, to manage a peaceful transfer of power. He called on both government and Taliban forces to act with restraint.
در پی خروج آقای اشرف غنی و مقامات مسئول از کشور، به منظور جلوگیری از هرج و مرج و کاهش درد و رنج مردم و جهت اداره هرچه بهتر امور مربوط صلح و انتقال مسالمت آمیز شورای هماهنگی متشکل از محترمین هر یک داکتر عبدالله عبدالله رئیس شواری عالی مصالحه ملی، رهبر جهادی گلبدین حکمتیار…

— Hamid Karzai (@KarzaiH) August 15, 2021
As it became clear that the Taliban had entered Kabul's gates, thousands of Afghans who had sought refuge there after fleeing the insurgents' brutal military offensive watched with growing alarm as the local police seemed to fade from their usual checkpoints.
At 6.30pm local time, the Taliban issued a statement that their forces were moving into police districts to maintain security in areas abandoned by the government forces. The Taliban troops had been ordered not to harm civilians and not to enter individual homes, it added.
There were some reports of sporadic gunfire around Kabul but there was no significant fighting.
A senior interior ministry official said Ghani had left for Tajikistan, while a foreign ministry official said his destination was not known.
Abdullah criticised Ghani: "That the former President of Afghanistan has left the country and its people in this bad situation, God will call him to account and the people of Afghanistan will make their judgment."
Some local social media users branded Ghani a "coward".
Diplomatic sources said Ali Ahmad Jalali, a US-based academic and former Afghan interior minister, could be named head of an interim administration in Kabul, though it was unclear whether the Taliban had agreed. In 2009, Jalali was barred from running for President after refusing to give up his US citizenship.
In the afternoon, interior minister Abdul Sattar Mirzakwal had announced that an agreement had been made for a peaceful transfer of power for greater Kabul.
"The city's security is guaranteed. There will be no attack on the city," he said. Mirzakwal later announced a 9pm curfew in Kabul and asked residents to go home.
Earlier, many of Kabul's streets were choked by cars and people either trying to rush home or reach the airport, residents said.
"Some people have left their keys in the car and have started walking to the airport," a resident told Reuters. Another said: "People are all going home in fear of fighting."
"Greetings, the Taliban have reached the city. We are escaping," said Sahraa Karimi, head of Afghan Film, in a post shared widely on Facebook. Filming herself as she fled on foot, out of breath and clutching at her headscarf, she shouted at others to escape while they could.
"Hey woman, girl, don't go that way," she called out. "Some people don't know what is going on. Where are you going? Go quickly."
Many Afghans fear the Taliban will return to past harsh practices in their imposition of Islamic law. During their 1996-2001 rule, women were not allowed to work and punishments such as stoning, whipping and hanging were administered.
A Taliban spokesman, Suhail Shaheen, told BBC that the Taliban would protect the rights of women, and the freedoms of media workers and diplomats.
"We assure the people, particularly in the city of Kabul, that their properties, their lives are safe," he said.
The US military stepped up its evacuation of American diplomatic and civilian staff. A core group of American diplomats were being moved to a diplomatic facility at the airport, where they would stay for an unspecified amount of time.
On the civilian side of the airport, a long line of people waited outside the check-in gate, unsure if the flights they had booked out of the country would arrive.
On Sunday morning, the Taliban had seized the eastern city of Jalalabad without resistance and gained control of the Torkham border crossing, a major trade and transit route between Afghanistan and Pakistan.