Artists mobilise against Tennessee anti-drag bill
Tennessee has outlawed drag shows in public; more US states aim to follow suit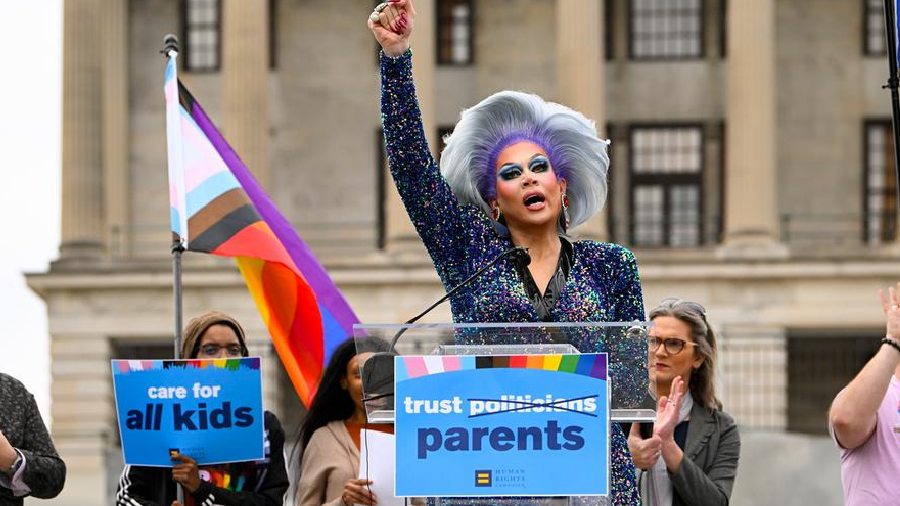 Drag artist Vidalia Anne Gentry speaking in a news conference held by the Human Rights Campaign to draw attention to anti-drag bills in the Tennessee legislature, February, 2023
Deutsche Welle
---
Published 19.03.23, 04:47 PM
|
---
Tennessee is the first US state to introduce a law banning drag shows in public spaces and in places where they could be seen by children.
Along with the bill signed by Republican governor of Tennessee Bill Lee, similar ones have been popping up in other Republican-ruled states, including Arizona, Kentucky, Oklahoma, South Carolina, West Virginia, Nebraska, and Texas.
The new legislation has hit the US LGBTQ community hard, sparking tension between conservative hardliners and liberal advocates of LGBTQ rights in the US.
Ban in place ahead of upcoming Pride Month
The Tennessee law shows how averse conservatives in the US are against drag shows. Even the name "drag" doesn't actually appear in the bill. Instead, performances by men or women who dress up as the opposite sex are referred to by the whitewashed term "adult cabaret performances."
In a March 2 report, NPR stated that the ban could also have a chilling effect on Pride festivals: "Outdoor drag is a staple in the Tennessee summer heat. While new laws typically go into effect on July 1, the bill was quietly amended in January to take effect April 1 — ahead of Pride month in June."
According to Governor Bill Lee, no one will be discriminated against; he sees solely the bill as a measure of "child protection."
Many advocates of the bill accuse drag shows of being "harmful" or confusing to children. Conservative activists fear that drag contributes to the "sexualization" or "grooming" of children.
Republican representative Chris Todd, who sponsored the bill in Tennessee, even associated drag with "child abuse."
Drag queen RuPaul slams the ban
Such reasoning is met with incomprehension in the LGBTQ community.
Activists strongly condemn the new law and other states' bills, calling them unconstitutional, antidemocratic and discriminatory. They fear the laws could also lead to further harassment and violence against queer people.
One of the world's best-known drag queens, RuPaul, reacted to the ban, describing the lawmakers as "stunt queens," who "look for easy targets so they can give the impression of being effective," all while actually aiming to distract the population "away from the real issues that they were voted into office to focus on: jobs, healthcare, keeping our children safe from harm at their own school," the host of the reality series "RuPaul's Drag Race" said in an Instagram post.
'Drag is a legitimate form of artistic expression'
Drag shows are not a threat to anyone, agrees Lawrence La Fountain-Stokes, an expert in cultural and gender studies at the University of Michigan. "Drag is a legitimate artistic expression that brings people together, that entertains, that allows certain individuals to explore who they are and allows all of us to have a very nice time," added La Fountain-Stokes in an interview to the Associated Press news agency. It is "not a threat to anyone. It makes no sense to be criminalizing or vilifying drag in 2023."
The largest LGBTQ civil rights organization in the US, the Human Rights Campaign, also spoke out on Twitter. "Free expression is for everyone. Drag is for everyone," the orgnization stated in a post. "Instead of addressing legitimate issues, Tennessee lawmakers continue to pass more anti-LGBTQ+ laws than any other state in the country. Our community won't be silenced or erased."
Cindy Lauper compares situation to Nazi Germany
The B-52s and Cyndi Lauper are among celebrity voices speaking out against the new laws being passed by Republicans seeking to ban drag artists.
It is "unacceptable that in the 21st century, we are witnessing such blatant attempts to undermine the rights of individuals based on their gender identity and sexual orientation," said the B-52s in a statement. "These bills not only violate the fundamental human rights of the affected individuals but also perpetuate a toxic culture of hate and intolerance that has no place in our society."
"This is how Hitler started," Cyndi Lauper told The Hill news site, "just weeding everybody out," she said, referring to how gay people were targets of persecution under the Nazis.
An all-star benefit concert coming up
"Love Rising" is the name of a benefit concert being organized for March 20, in Nashville, Tennessee, with profits going to different equality activist groups in the US state. It is set to feature performances by Sheryl Crow, Maren Morris, Jason Isbell, Hayley Williams, Brittany Howard, Julien Baker and many more.
"Everything Everywhere All At Once" co-director Daniel Scheinert also indirectly addressed the anti-drag and anti-LGBTQ laws sweeping Tennessee in his Academy Award acceptance speech on March 12, dedicating it to "the mommies, all the mommies in the world, to our moms," and more specifically to his mom and dad: "Thank you for not squashing my creativity when I was making really disturbing horror films or really perverted comedy films or dressing in drag as a kid, which is a threat to nobody!" Scheinert said, prompting cheers among the audience.
Drag shows: Part of cultural mainstream in the US
Cross-dressing and drag shows have long become part of the cultural mainstream in the United States.
Pioneers from the 1950s include popular TV star Milton Berle, known as "Uncle Miltie," who made a cross-dress appearance as part of his comic act on TV.
Today, the reality TV series "RuPaul's Drag Race," airing since 2009, presents drag queens from across the country competing over the tittle of "America's Next Drag Superstar." The show has achieved cult status and is in its 15th season.
Drag brunches at restaurants and the Drag Story Hour, events where drag queens read books to kids in libraries, schools, and bookstores are also popular.
Bill Lee accused of hypocrisy
In reaction to the news that Governor Bill Lee would be signing the anti-drag bill, a photo from a high school yearbook showing him dressed as a cheerleader went viral on social media.
Lee later addressed the photo, telling reporters it was simply "a light-hearted school tradition" and felt critics were "ridiculous" to be "conflating something like that to sexualized entertainment in front of children, which is a very serious subject."
For Tennessee drag performer Hella Skeleton, this proves that Lee doesn't even understand what kind of law he signed. "A lot of drags are extremely funny," Skeleton said in the NPR podcast "This is Nashville," adding: "Apparently when straight men dress up badly in drag, that's OK. But when gay and queer and trans people do it, that's not OK."