American poet Louise Glück wins Literature Nobel
'Her works are characterized by a striving for clarity… she has an unmistakable poetic voice that makes individual existence universal'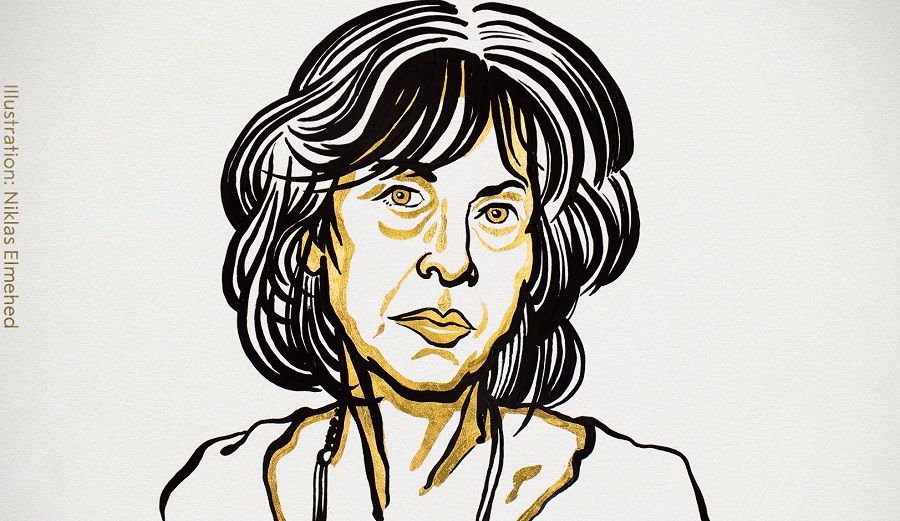 Louise Glück
Picture courtesy: www.nobelprize.org
---
Stockholm
|
Published 08.10.20, 05:01 PM
|
---
The Nobel Prize in literature was awarded to Louise Glück, the American poet, "for her unmistakable poetic voice that with austere beauty makes individual existence universal."
The award was announced Thursday at a news conference in Stockholm.
Glück is the first female poet to win the prize since Wislawa Szymborska, a Polish writer, in 1996. Other poets to have received the award include Seamus Heaney, the Irish poet, who won in 1995. She is the first American to win since Bob Dylan in 2016.
Her 12 collections include "The Wild Iris" for which she won a Pulitzer Prize in 1993, and "Faithful and Virtuous Night" from 2014. She was named the United States' poet laureate in 2003.
Louise Glück made her debut in 1968 with 'Firstborn' and was soon acclaimed as one of the most prominent poets in American contemporary literature.
She has published 12 collections of poetry and some volumes of essays on poetry.
"Her works are characterized by a striving for clarity. Childhood and family life, the close relationship with parents and siblings, is a thematic that has remained central with her. She seeks the universal, and in this she takes inspiration from myths and classical motifs, present in most of her works," said Anders Olsson, the Chairman of the Nobel Committee, while announcing the prize.
In one of the Literature Laureate's most lauded collections, 'The Wild Iris' (1992), she describes the miraculous return of life after winter in the poem 'Snowdrops'.
Averno' (2006) is a masterly collection, a visionary interpretation of the myth of Persephone's descent into hell in the captivity of Hades, the god of death. Another spectacular achievement is Louise Glück's latest collection, 'Faithful and Virtuous Night' (2014).
Louise Glück was born 1943 in New York and lives in Cambridge, Massachusetts. Apart from her writing she is a professor of English at Yale University, New Haven, Connecticut.
With collections like The Triumph of Achilles (1985) and Ararat (1990) Glück found a growing audience in USA and abroad. In Ararat three characteristics unite to subsequently recur in her writing: the topic of family life; austere intelligence; and a refined sense of composition that marks the book as a whole.
Glück has also pointed out that in these poems she realized how to employ ordinary diction in her poetry. "The deceptively natural tone is striking. We encounter almost brutally straightforward images of painful family relations. It is candid and uncompromising, with no trace of poetic ornament," Olsson said.
"It reveals much about her own poetry when in her essays Glück cites the urgent tone in Eliot, the art of inward listening in Keats or the voluntary silence in George Oppen. But in her own severity and unwillingness to accept simple tenets of faith she resembles more than any other poet, Emily Dickinson."
In one of her most lauded collections, The Wild Iris (1992), for which she was awarded the Pulitzer Prize, she describes the miraculous return of life after winter in the poem "Snowdrops":
I did not expect to survive,
earth suppressing me. I didn't expect
to waken again, to feel
in damp earth my body
able to respond again, remembering
after so long how to open again
in the cold light
of earliest spring –
afraid, yes, but among you again
crying yes risk joy
in the raw wind of the new world.
Last year, the academy was criticized after it awarded the prize to Peter Handke, an Austrian author and playwright who has been accused of genocide denial for questioning events during the Balkan Wars of the 1990s — including the Srebrenica massacre, in which about 8,000 Muslim men and boys were murdered.
That furore came a year after the academy postponed the 2018 prize because of a scandal involving the husband of an academy member who was accused of sexual misconduct and of leaking information to bookmakers. That man, Jean-Claude Arnault, was later sentenced to two years in prison for rape.
Those events marked a low point for the prize, which dates to 1901 and has been awarded to some of the world's most influential and revered novelists, poets and playwrights. Prominent past laureates include Toni Morrison, Kazuo Ishiguro, Alice Munro, Gabriel García Márquez, Saul Bellow and Albert Camus. In 1964, the academy chose Jean-Paul Sartre, who refused the honour, saying that writers should not accept awards.
The Nobel Prize in Literature, which is given for a writer's entire body of work and is regarded as perhaps the most prestigious literary award in the world, comes with a prize of 10 million Swedish krona, or about $1.1 million.
(With inputs from The New York Times News Service)