300-million-strong US
Read more below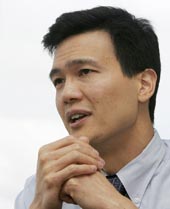 ---
Published 16.10.06, 12:00 AM
|
---
Washington, Oct. 15
(AP): America's population is on track to hit 300 million on Tuesday morning, and it is causing a stir among environmentalists.
People in the US are consuming more than ever — more food, more energy, more natural resources. Open spaces are shrinking and traffic in many areas is dreadful.
But some experts argue that population growth only partly explains America's growing consumption. Just as important, they say, is where people live, what they drive and how far they travel to work.
"The pattern of population growth is really the most crucial thing," said Michael Replogle, transportation director for Environmental Defense, a New York-based advocacy group.
"If the population grows in thriving existing communities, restoring the historic density of older communities, we can easily sustain that growth and create a more efficient economy without sacrificing the environment."
That has not been the American way. Instead, the country has fed its appetite for big houses, big yards, cul-de-sacs and strip malls.
In a word: sprawl.
"Because the US has become a suburban nation, sprawl has become the most predominant form of land use," said Vicky Markham, director of the Center for Environment and Population, an advocacy group. "Sprawl is, by definition, more spread out. That of course requires more vehicles and more vehicle miles travelled."
America still has a lot of wide-open spaces, with about 84 people per square mile, compared with about 300 people per square mile in the European Union and almost 900 people per square mile in Japan.
But a little more than half the US population is clustered in counties along the coasts. Also, much of the population is moving away from large cities to the suburbs and beyond.
The Census Bureau projects the population will hit 300 million at 7:46 am EDT (1146 GMT) on Tuesday. The projection is based on estimates for births, deaths and net immigration.
The population reached its last milestone, 200 million, in 1967. That translates into a 50 percent increase in 39 years.
During the same period, the number of households nearly doubled, the number motor vehicles more than doubled and the miles driven in those vehicles nearly tripled.
The average household size has shrunk from 3.3 people to 2.6 people, and the share of households with only one person has jumped from less than 16 per cent to about 27 per cent.