Salman Rushdie counts himself lucky, retains his sense of humour
Asked how many wounds he received, author says 'I wasn't counting'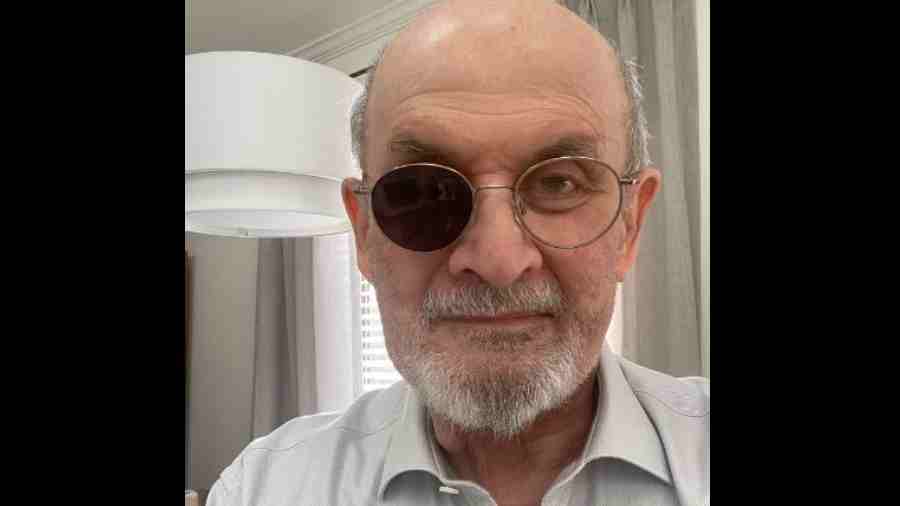 The picture shared by Salman Rushdie on Twitter.
Sourced by The Telegraph
---
London
|
Published 08.02.23, 04:04 AM
|
---
Days before Sir Salman Rushdie was stabbed on stage at a literary festival, he dreamt that an attacker would hurt him with "a sharp object".
In the nightmare, a figure "like a gladiator" came at him, the author revealed in his first interview since the near-fatal attack last August.
That day at the Chautauqua Institution in New York state, Rushdie was stabbed more than a dozen times.
"It was a colossal attack," he told The New Yorker, speaking of his "overwhelming" gratitude to the people who saved his life — the doctors and emergency workers who staunched his wounds at the scene, and the team of surgeons who operated on him for eight hours in theatre.
"There is a lot that was just lucky because the amount of injuries were such that it was more probable that I would not survive. It was a very close thing. But fortunately I came out the right side of the close thing," he said.
Asked how many wounds he received, Rushdie joked: "I wasn't counting."
He said of his attacker: "I only know this from reading the newspapers but apparently he had 27 seconds before people jumped on him. So that's how much damage you can do in 27 seconds."
Rushdie was stabbed in the chest, liver, hand, face and neck, and has lost the sight in his right eye.
But he has not lost his sense of humour, telling friends that the tinted lens he must now wear over one of his eyes makes him look like Johnny Depp.
The interview was accompanied by a striking black-and-white portrait of the author, in which the scars on his cheek and neck are clearly visible.
Rushdie then posted his own picture on social media with a tinted glass in the right lens of his spectacles. "The photo in The New Yorker is dramatic and powerful but this, more prosaically, is what I actually look like," he wrote.
Alan Yentob, the BBC presenter and Rushdie's friend of many decades, also shared a photograph — taken on Sunday over Zoom — in which the writer poses with a copy of Victory City, his latest novel that hits the US bookshops today.
Yentob told The Daily Telegraph: "When he was asked before the stabbing, who he would like to play him in some drama, he said Johnny Depp.
"That's his sense of humour and he hasn't lost it.
"In the midst of this trauma he said to me very early on, when he knew he was going to be blind in one eye, 'I'm going to look like Johnny Depp in Pirates of the Caribbean.'
"He is not a victim and he doesn't want to be a victim. He is his cheerful self."
Rushdie also joked in the interview that people who turned against him during the fatwa, issued by Ayatollah Khomeini in 1989 over The Satanic Verses, have changed their tune.
"People didn't like it. Because I should have died. Now that I've almost died, everybody loves me.
"That was my mistake back then — not only did I live, but I tried to live well. Bad mistake. Get 15 stab wounds, much better."
The injuries to his chest and neck have healed, Rushdie said, but he has lost feeling in the fingertips of his left hand which means he is unable to type properly. He is having regular physical therapy.
Rushdie also revealed he was suffering from post-traumatic stress disorder and struggling to write.
"There have been nightmares, not exactly of the incident but just frightening, and those seem to be diminishing.
"I've found it very, very difficult to write. I sit there and nothing happens. It's a combination of blankness and junk, stuff that I write that I delete the next day. There has been a lot of that. And I'm not out of that forest yet."
He plans to write about the attack and its aftermath. While his 2012 memoir, Joseph Anton, was written in the third person, the new book will not be.
"It doesn't feel third person-ish to me. When someone sticks a knife into you, that's a first-person story," he said.
Writing about his ordeal will give him "an artistic reason to think about it", he said.
Hadi Matar, 24, was arrested and charged with second-degree attempted murder and second-degree assault. He has pleaded not guilty and his trial is likely to take place next year.
Rushdie finished Victory City, a month before the attack.
Asked if he worried that it would be read through the prism of what happened to him, Rushdie said: "I'm hoping that to some degree it might change the subject. I've always thought that my books are more interesting than my life. Unfortunately, the world appears to disagree.
"What I'm hoping is that people will be able to say, 'Oh, here's a writer.'
"I've tried very hard not to adopt the role of a victim. Then you're just sitting there saying, 'Oh, somebody stuck a knife in me, poor me.' Which I do sometimes say. It hurts. But that's not what I want people reading the book to think."
Rushdie is also working on his first play, Helen, about Helen of Troy. It is scheduled to open in London next year, and the writer said he was hoping to attend the first night.
He spent more than a decade in hiding after the fatwa, but thereafter led a relatively normal life and he believed that the risk to his life was low.
"I won't say that I hadn't thought about it over the years — I had. I had come to feel that it was a very long time ago and then the world moves on. That is, I guess, what I had agreed with myself was the case. And then it wasn't.
"I have a lot to think about as a consequence of that. I haven't finished with that thinking," he said.
But he remained defiant, saying that he was determined not to let the experience destroy him as an artist.
"I could be scared and write scared books — a book that doesn't tackle anything important, that shies away from things because you worry how people will react to them. That's a scared book. There are a lot of them around these days. I'm too old for that," he said.
Rushdie described his assailant as "an idiot". The 24-year-old was born in California to Lebanese parents and lived with his mother in Fairview, New Jersey. According to The New Yorker, one of the last emails that Matar sent — cancelling his gym membership — carried an image of the Supreme Leader of Iran, Ali Hosseini Khamenei.
Rushdie said he was concerned about freedoms in Iran and about the fate of the Iranian football team after they supported anti-government protesters at the World Cup in Qatar.
Friends agree that he remains committed to freedom of speech.
Yentob said: "We are living in a world where in Iran, in China, in Russia, in Egypt, there is no freedom of expression. It is something that sadly is still with us.
"We have to remember Salman is a champion of freedom of expression."
The Daily Telegraph, London