Yield of Darjeeling oranges dries up
Viral and fungal infections, pest attacks, lack of seedlings and poor farming practices blamed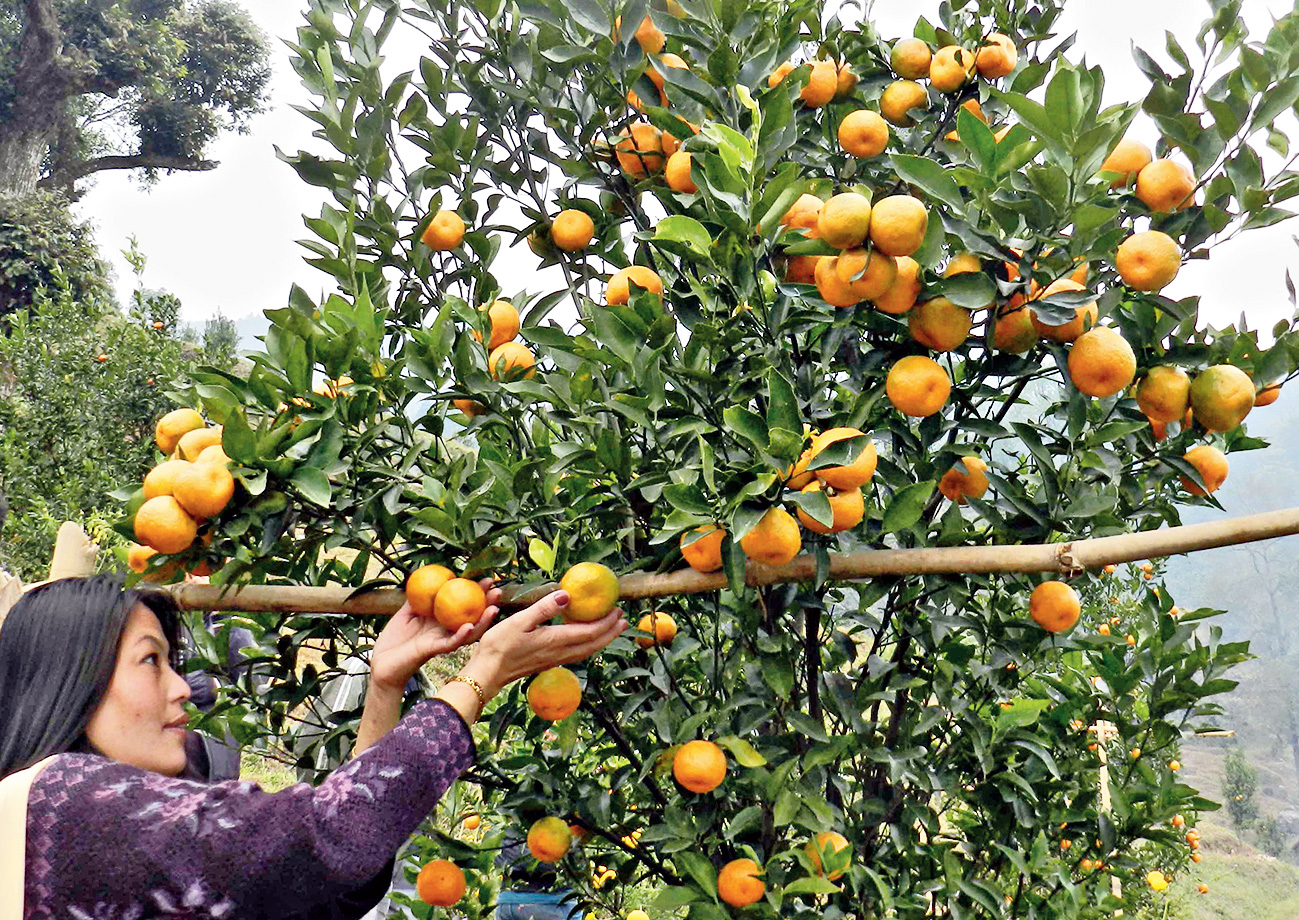 A woman in an orange orchard in the Darjeeling hills.
File picture
---
Darjeeling
|
Published 06.11.18, 07:48 PM
|
---
Kishan Chhetri, an orange cultivator in the Darjeeling hills, used to send "two truckloads" of oranges to the plains until a few years ago. This year the farmer from Marybong, 25km from the town, does not expect his yield to be more than "two to three baskets".
A truck can ferry around 30,000 oranges. Each basket holds around 200 oranges.
Orange growers across the Darjeeling hills have a similar story to tell, with production going down by more than 60 per cent compared to what it was five years ago.
Five years ago, the Darjeeling hills used to produce 2.59 lakh quintals a year of oranges, known for their distinctive sweetness and succulence. Last year, the yield fell to around 1 lakh quintals. This year, the produce is expected to be lower, capping a trend of gradual decline.
Viral and fungal infections, pest attacks and poor farming practices have been primarily blamed for the low yields.
Horticulture experts said even if concrete efforts were made it would take "at least five years" for the orange yield to improve.
Darjeeling oranges, though smaller in size, are considered superior to the Nagpur variety.
Madhav Chhetri, a senior scientist in the Gorkhaland Territorial Administration horticulture department, said: "The Darjeeling orange can be revived, but for that a massive exercise has to begin in earnest. To start with we have to set a target of distributing at least 5-6 lakh seedlings every year in the hills."
Orange orchards in the hills are reeling from an assault of the citrus triststza virus, greening (fungal infections) and the trunk bore disease and an attack by fruit flies.
Getting seedlings is also a problem.
"The variety is grown only in the Darjeeling hills and Sikkim. So preparing seedlings is a problem as we cannot source them from outside. At the moment my department is distributing only 8,000 to 10,000 seedlings a year," Madhav Chhetri said.
Lack of manpower has also been cited as one of the key reasons for the failure to produce adequate seedlings.
Madhav Chhetri said that even if corrective steps were taken from January next year it would take a minimum of five years "to increase the yield", that too with a "sustained campaign".
Lack of proper farming practices has also been blamed for the decreasing produce.
According to Madhav Chhetri, only two out of every 10 orange farmers are adopting proper agriculture practices, such a pest control and irrigation. He said community awareness was needed.
Samuel Rai, director of cinchona and other medicinal plants, said the orange yield was coming down every year.
"If we do not act immediately we will be left with nothing. We had a monopoly as this variety is grown only in Darjeeling, Sikkim and Bhutan. If we do not act fast everything will be lost," he said.
Rai is drawing up an action plan along with the horticulture department. Officials, however, said "massive government support" would be needed.
Rai said awareness about good farming practices needed to be inculcated in school itself. "We are trying out various ways to attract farmers to our seminars and technique-teaching workshops," he said.
Experts believe youths must be attracted to agriculture. "The UPA government had started a scheme called Attract Rural Youth in Agriculture. The scheme must be extended to the hills," said Rai. The scheme offers incentives to farmers.
Officials said it was becoming more and more difficult to encourage hill farmers to grow oranges. "They are getting attracted to other cash crops (such as ginger and cardamom) after failing to deal with the poor orange yield," another official said.
Orange traders in Siliguri are worried.
"The feedback from growers in the hills is that supply will be poor this year too. Of the hill sub-divisions, only Mirik is expected to supply a decent quantity of oranges," said Palash Chakraborty, a member of the Siliguri Regulated Market Fruits and Vegetable Commission Agents Association.
Plucking of oranges has just started and will continue till January.
Additional reporting by Bireswar Banerjee in Siliguri