Women who walk the wards to win your vote
Read more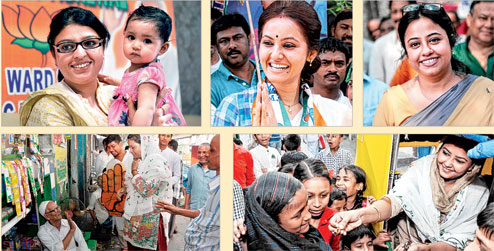 ---
Published 16.04.15, 12:00 AM
|
---
The girl next door to a journalist, a former airhostess and a lawyer, Metro met five women who have thrown their hat into the poll ring this year. Metro speaks to them about what made them plunge into politics and their rigorous routine of campaigning to woo voters come rain or shine.
Priyanka Sharma Tibrewal
Age: 34
Candidate: BJP candidate from Ward No. 58 (Dhapa, Mathpukur)
Main rival: Swapan Samaddar of Trinamul
Background: A student of Welland Gouldsmith School, she graduated from Delhi University. An MBA from Assumption University of Thailand, Tibrewal is a lawyer by profession who heads a solicitors firm and "likes to party and to talk".
Tibrewal went to Calcutta University Law College (Hazra campus) before heading to Bangkok. She returned to Calcutta after three years to settle in her hometown.
As a student she would also write articles for The Telegraph in Schools.
Political connection: She has made an entry into politics holding the hands of Babul Supriyo who is like "a big brother".
No wonder she is playing brother Babul's song in the last phase of her campaign.
Tibrewal and Babul's families have been friends for the past 15-17 years. "During the Lok Sabha polls he had faced some problems; I had helped him with some legal work," she said. She forayed into BJP in March 2014.
She works for a social organisation that sets up schools in various localities. "To work on a larger scale you need power. When I worked for building schools in the locality I realised how important a councillor or an MLA's signature is."
Poll pitch: She is not a neta, she says, but a matter-of-fact lawyer who knows how "rights" have to be earned.
The resident of a ninth-floor apartment at Active Acres, she has two daughters. The eldest is four years old and studies at La Martiniere for Girls, while the youngest is eight months old.
Won't family responsibility hold her back from delivering what she is promising?
"It is the woman of the family who takes care of the sanitation problems, electricity and other issues at home. A corporation ward has similar problems on a larger scale," she said.
Tough campaign: Exhausted after a day's campaign, her stress-buster is listening to songs of Kishore Kumar in her home theatre.
When she returns with layers of dust on her cheeks, she says: "I am not that girly kind… the kind of people I have to deal with, I have to be rough and tough."
She has to take on the might of the Trinamul in a ward ruled by Shambu Nath Kow, the party councillor who has been charged with murder. She is sometimes stopped from visiting parts of the ward by the ruling party's supporters and has learnt how to soldier on, sometimes with police help and sometimes alone, munching on elaichi.
"The opponents have taken me lightly but they don't know my resolve. If they push me back 10 times I will go there 11 times."
Ananya Banerjee
Age: 32
Candidate: Trinamul Congress candidate from Ward No. 109 (Ajaynagar, Kalikapur, Mukundapur)
Main rival: Left Front's Shikha Pujari
Background: The 5ft9inch former airhostess was crowned "Miss Calcutta" in 2000. The skills she had acquired in dealing with people have come in handy during the campaign.
Not a hair out of place and the sari well-pleated, Banerjee, a graduate in English from Calcutta University, "uses some of her hospitality industry skills" when speaking to people in her ward.
Political connection: Her husband Joy Banerjee was a BJP nominee in Birbhum constituency in the 2014 general election.
But wife Ananya said her association with Trinamul started much earlier, in 2009, and she has been with the party since then.
Her paternal grandfather had contested Assembly elections from Kalna, Burdwan, on a Congress ticket.
She, however, did not join politics with the agenda of "desh uddhar (saving the country)" but started at the grass-roots level and "is here to stay".
Poll pitch: She doesn't have an "Aladdin's lamp", but she would try to solve the water problems in the locality. "People will vote for development… I am not promising them overnight changes but I will set a five-year priority list."
Tough campaign: In a sari and peach and grey sneakers, Banerjee walks from one locality to another to meet and greet voters with a smile.
A Body Shop lip balm is always in her bag and she would dab it in between her campaign meetings. "I also got the Miss Beautiful Smile [in the beauty pageant she won]. So that is also there at the back of my mind — that I look good when I smile — and I try to maintain that."
"There are 43,000 voters in my ward and I have reached every house at least once," said Banerjee, who campaigns from 8am to 2pm.
For those living in housing estates, Banerjee and her team are sending out text messages to "vote for development".
Sudarshana Mukherjee
Age: 39
Candidate: Trinamul candidate from Ward No. 68 (Ballygunge Place, Bondel Road, Rustamjee Street, Mandeville Garden, Ekdalia Road).
Main rival: BJP's Mitali Saha
Background: A former TV journalist, Mukherjee quit her profession of 16 years for politics. Leaflets have replaced the microphones that she carried to report news.
A resident of Ballygunge Place, Mukherjee completed her schooling from South Point before studying at Calcutta University. She did her postgraduation in journalism from Bhavan's College of Communication and Management.
Political connection: Mukherjee was handpicked by chief minister Mamata Banerjee. Once her father approved of her foray into politics, "there was no looking back".
As part of the television channel's political bureau, she was in touch with political leaders. She said she had also sought the guidance of Subrata Mukherjee.
Poll pitch: "I was reporting 24x7x365. From now on, I will be accessible to people 24x7x365. Whether it's midnight or 4 in the morning, they will get me."
As a journalist she protested against "injustices and inequalities" and she promises to keep doing so as a politician.
Tough campaign: On a Saturday morning, exactly a week before Calcutta would vote, she sat by railway tracks, talking to a group of elderly and middle-aged men and women.
In the high-rises, she would go with her tablet to make a note of their problems and in slums she would sit with them and listen to them over tea in plastic cups.
Shahina Javed
Age: 27
Candidate: Congress candidate from Ward No. 28 (Parts of Maniktala, Sukeas Street, Rajabazar)
Main rival: Iqbal Ahmed of Trinamul
Background: Shahina completed her graduation from Surendranath College and is now pursuing her master's in social work from The Indira Gandhi National Open University.
She has the gift of the gab and has addressed people from the dais as early as at the age of 12. Ajit Panja would refer to her as "Congress ka tota".
For the civic polls she is competing against men and it is a challenge for her to "be able to break the gender stereotype" by contesting from a general seat.
Political connection: Since the age of 10, Shahina would accompany her father, a Congress party worker, to various party meetings and campaigns and had objections to the "idea of holding flags and sticks".
"Political leaders use the youth to create the feeling of crowd during meetings but I strongly believe I have a greater role to play than that," she said.
For the last three years, she has been elected the president of the Beleghata Youth Congress Assembly.
Poll pitch: She knows she is the "girl next door" and believes that's what will give her votes because she faces the same problems as many of them living in her ward.
"When it rains, I have to cross the same waterlogged streets as them. I do not come from an affluent family: I am one of you and face the same problems that you do."
Tough campaign: In the mornings and evenings, she walks alongside a van pasted with posters listing what she has done in the area over the past few years.
She says she reaches out to the people of her locality not with "promises" but with "resolutions".
"I have applied for a job to the public and it is for them to consider me. I have applied with all my qualifications and I am sitting for a personal interview with all of them."
Fatema Anjum
Age: 28
Candidate: Congress candidate from Ward No. 56 (parts of Tangra)
Main rival: Dipali Das of Trinamul
Background: A master's degree holder in Urdu, Anjum teaches in a local school. Mother of a two-year-old, she comes across as an accessible and amiable person.
During her campaign, she would sit with the women and help them when they would be engrossed in their household chores like cleaning rice or cereals.
Political connection: Her cousin, a member of the All India Youth Congress, inspired her to fight the elections when the seat of the ward got reserved for women. "If Trinamul had not nominated the same person to fight the elections this time, I probably would not have contested. But this councillor needs to be changed."
Poll pitch: The work at the ward level is not that of the chief minister but of the local representative, Anjum says. "My agenda is to see that every home in the locality has proper drinking water and the people in the ward do not have to make multiple visits to the councillor's home for a signature."
Tough campaign: The 28-year-old mother goes around with toffees in her bag and hands them to the children of the locality. But children are not voters. "Yes, but they would bless me," she says.
Compiled by Jhinuk Mazumdar