With plastic sheets banned after fire, hawkers unfurl bedsheets
Pavements within 50ft of the Gariahat intersection have been rid of hawker stalls, as ordered by mayor Firhad Hakim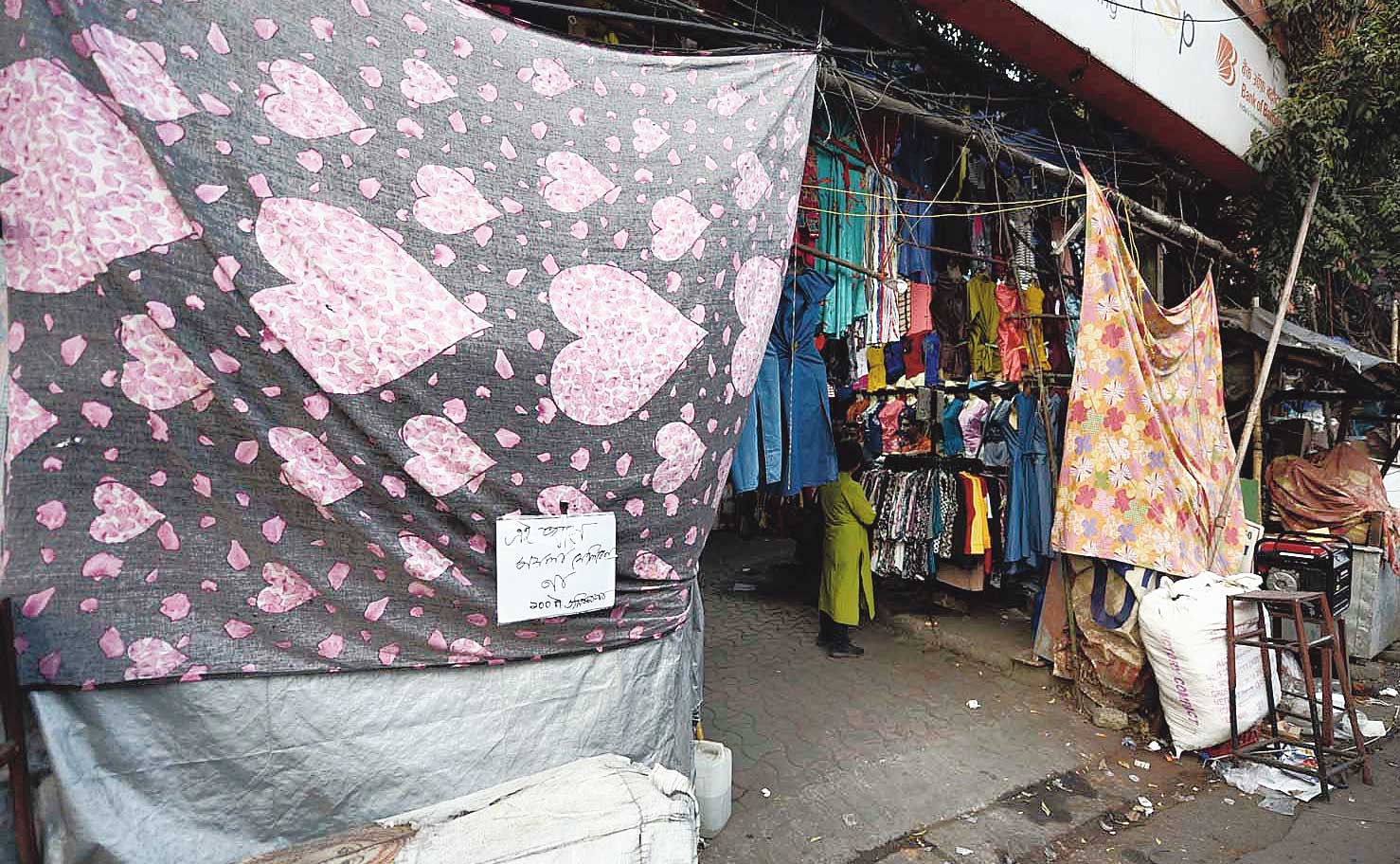 Two stalls on a pavement in Gariahat with bed sheets tied to hooks that used to hold plastic or tarpaulin screens until Wednesday. The piece of paper clipped to the first bed sheet states in Bengali that littering will invite a penalty of Rs 100.
Picture by Gautam Bose
---
Calcutta
|
Published 24.01.19, 08:57 PM
|
---
Hawkers in Gariahat and Hatibagan on Thursday found in the utilitarian bed sheet a quick and easy replacement for the tarpaulin covers and plastic screens they have had to remove from their stalls after mayor Firhad Hakim announced new rules for street vending.
Traders who had been rejoicing just the other day at their shops receiving sunlight for the first time in years were left singing a dirge to the municipal initiative as one pavement stall after another wrapped itself in printed bed sheets.
"I was so happy to see the hawkers in front of my shop removing the plastic covers that had blocked out daylight from the pavement and my shop. After just two days, we are back where we started," the owner of a garments shop in Hatibagan said. Hakim's directive to the unions to ensure that hawkers did not use tarpaulin and plastic covers came after the blaze in the Traders Assembly building in Gariahat that is suspected to have started in a stall on the pavement.
The immediate impact of the clean-up was on the look of the pavements, many of which had been under a canopy of tarpaulin and plastic for as long as people there could remember.
In Gariahat, where stalls within 50 feet of the intersection were being relocated on Thursday, the change was nullified by hawkers using cloth to beat the plastic and tarpaulin ban. "What is the point of enforcing this rule if hawkers can use bed sheets as a partition or roof over their stalls? A piece of cloth is just as inflammable as plastic and tarpaulin," a shopkeeper said. Biswajit Nandy, the general secretary of the Shyambazar-Hatibagan Anchal Hawkers' Union, said bed sheets were a "temporary" alternative. "If the stalls are not covered, garments will get dirty and nobody will buy a dirt-laced item, will they?" he argued. "Just see the plastic sheets that have been removed. They are caked in layers of dirt, which shows how much dust flies in the air."
The West Bengal Urban Street Vendors (Protection of Livelihood and Regulation of Street Vending) Rules, 2018, that was notified last June mentions that hawkers cannot use plastic to cover their stalls.
Deputy mayor Atin Ghosh, who is also the president of the hawkers' union in Hatibagan, said he was aware of cloth being used by some stalls as a replacement for tarpaulin or plastic. "It is a temporary measure. I am told they will remove the cloth while closing for the night."