'Why this need to show papers'
I was born in this country, I wish to die here: Girls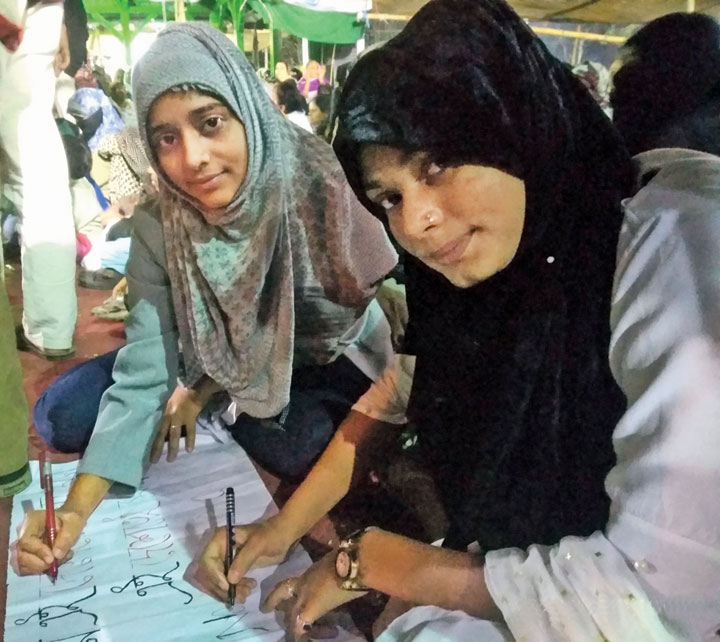 ---
|
Calcutta
|
Published 25.01.20, 07:58 PM
---
In 1905, when Bengal was being divided Dwijendra Lal Ray couldn't accept Curzon's moves.
Young Ray had returned from London and the developments in the country had left him shattered. He penned Dhana dhanya pushpe bhora.
At Park Circus Maidan on Saturday, two girls from two different parts of Calcutta who had never met wrote on a chart paper two lines from Ray's poem.
"Amar ei deshetei janma, jeno ei deshetei mori (I was born in this country and I wish to die in this country)."
Shamreen Parvez is from Rajabazar and Neha Parveen from Topsia. Shamreen is a first-year student of science. The other is a Class X student. Separated by a few years, both are bound together by their common fear of another division.
"This concept of NRC (National Register of Citizens) is divisive. There is an attempt to wedge a difference between communities. But why?" Shamreen asked as she sat in among the women protesters, running a sketch pen over the lines written in Bengali.
While all other words of the two lines from Ray's poem were written in black, the word "deshetei (in the country)" were written in red.
The message was simple and there was no way one could miss the thrust — desh or country. The chart paper had two more words. "No NRC. No CAA" at the end of the two lines. The words NRC and CAA (Citizenship Amendment Act) were penned in red as well.
Over time Dhana dhanya pushpe bhora became quite popular in India as well as in Bangladesh. There are many who say Bangladesh had considered it as a possible choice for its national anthem.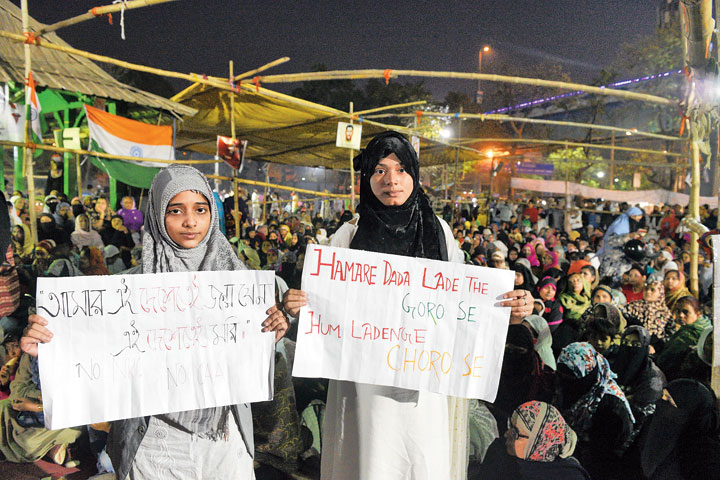 During the 1971 Bangladesh Liberation War, many of Ray's songs used to be played on the Swadhin Bangla Betar Kendra to inspire those fighting the war.
"Have you heard the song?" asked Neha. "I was born here. She was born here. Why suddenly this need to show papers?" she asked. "I can sing the full song," she smiled after a pause.
Since January 7, when a group of women, mostly homemakers and students and some senior citizens, started a round-the-clock vigil at Park Circus Maidan demanding a rollback of the CAA, the NRC and the NPR (National Population Register), the small ground near the seven-point crossing has witnessed various sets of supporters — some fiercely vocal, some silent in their protest.
Speakers from across the country have come and gone even as the crowd sat through the evening and the night, taking breaks in between.
Many carried posters, most in English and a few in Urdu and Bengali. But none had thought of the lines of Ray's poem to deliver their thoughts so clearly.
"We didn't know each other... we met on the ground," Shamreen said. "As we spoke we became friends and decided to pen our thoughts on a chart paper. These two lines struck me and Neha immediately lapped it up."
For the Topsia girl, this poster in Bengali was not the only one. In between writing the two lines from Ray's work, Neha had completed writing her own.
"Hamare Dada Lade The(y)/Goro se; Hum ladenge/Choro se" (Our forefathers had fought the whites; we will fight the thieves).