Mamata is 'begum', some panchayats 'a small Pakistan'
Bengal polls 2021: The price of polarisation in Nandigram
Armed with a well-oiled plan and the financial heft of the saffron ecosystem, Suvendu has undoubtedly scripted a new chapter in the state's politics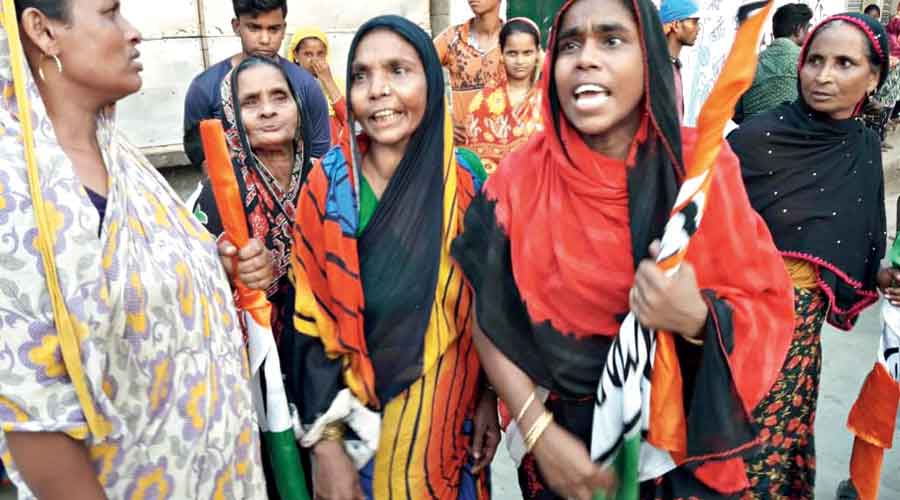 ---
---
Sheikh Yasin, 29, chokes with rage as Suvendu Adhikari's voice carries to his Asadtala home in Nandigram from a ground around 1km away on Monday evening.
The BJP candidate, who is contesting against his former leader Mamata Banerjee, is delivering a speech pockmarked with innuendoes aimed at polarisation that have typified his campaign.
In his 25-minute address to a gathering of 1,500 three days before polling in Nandigram, Suvendu refers to Mamata as "begum" and declares that "a small Pakistan" has been created at some gram panchayats in Nandigram.
Yasin, a tailor, could hear Suvendu over the sound system from his Asadtala home.
"I was born here. I grew up here. Suddenly, I hear that I am a Pakistani. Not just me, all the Muslims living here are being called Pakistanis. Who has given him the right to call us Pakistanis?" asks Yasin, seething.
Yasin and many others then gather on a road in Asadtala to protest in front of Suvendu's convoy as it leaves the Hindu neighbourhood in the Boyal II gram panchayat at Nandigram.
The protesters, including several women holding Trinamul flags, raise slogans against Suvendu while his followers retort with "Jai Shri Ram" chants. Tension simmers but central forces and the local police intervene just in time.
It's now namaz time for Yasin and the others. As the group queues at a source of piped water for their ablution, several of its members share with this correspondent their sense of insecurity and anxiety stemming from the sudden change in Nandigram, where Hindus and Muslims had together taken part in the anti-land-acquisition movement of 2007 that hastened the fall of the Left government.
"I have more than 100 Hindu friends with whom I grew up…. Today, I feel awkward interacting with them as it plays at the back of my mind that some of them may consider me a Pakistani. He (Suvendu) has to explain why he calls us Pakistanis," Yasin says.
Sheikh Sirazul, in his early sixties, nods.
"We have always taken part in pujas and the Hindus in our festivals…. Muslims here had always facilitated immersion processions passing through our neighbourhood. During azan, the Hindus used to tune off the celebratory music (during their festivals). Today, many of them shout 'Jai Shri Ram' while passing by the mosque. Some of them have threatened to pull down the mosque and construct a temple there. The sense of amity has gone and this change has happened so fast, in less than three months," says the carpenter, puffing at a beedi.
Yasin, Sirazul and Asma Bibi repeatedly underscore that they had never been involved in politics, their daily struggle for existence keeping them busy.
"Today, we don't have a choice…. Only Didi can save us and we are with her," says Asma, who could not study beyond Class XII because of poverty.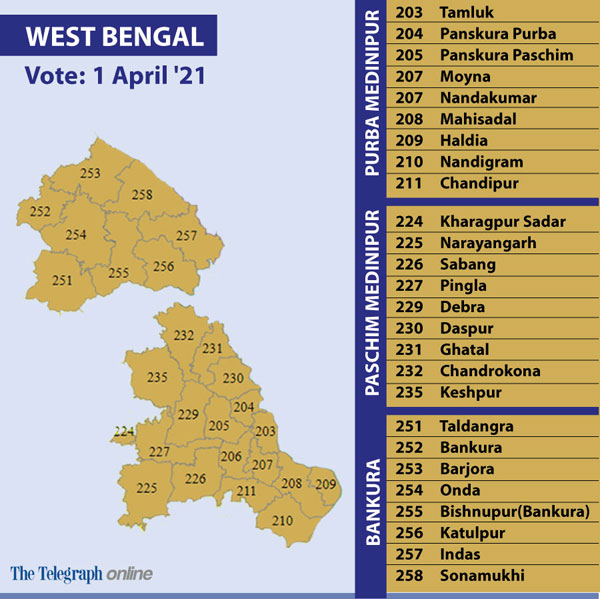 '70:30' game
The air of insecurity in the Asadtala slums contrasts sharply with the environs of Suvendu's air-conditioned and fortified election office in Reyapara.
The two-storey building is abuzz with activity. Young men and women, many of them speaking in Hindi, hunch over laptops, keying in data with the help of local people conversant with the geography of Battleground Nandigram that has over 2.57 lakh voters.
"The polarisation of the minorities is complete. But the question is over the extent of reverse polarisation. How far are the Hindus polarised in our favour?" asks a youth in Hindi, sifting through demographic data from Nandigram I and II, the two blocks that make up the Assembly constituency.
Others present in the room, including some of Suvendu's closest aides, smile in affirmation, indicating that if the Muslims in Mohammadpur, Kendamari, Samsabad, Daudpur and Kalicharanpur in Nandigram I — the minorities make up over 40 per cent of the population here — are backing Trinamul, the Hindus in Boyal, Khodambari, Amdabad and Birulia in Nandigram II — where Hindus total 75 per cent — are behind the BJP.
One of Suvendu's aides checks internal reports on his smart phone and says the BJP nominee is sure to win with a margin of at least 20,000 votes. "The Hindus will overwhelmingly vote for Dada, the mathematics is simple," he says, confirming again how the attempt at overt religious polarisation has poisoned Bengal politics.
BJP poll strategists busy with micro-level calculations based on voters' religious identities is perhaps the abiding picture of the fight in Nandigram — and the rest of Bengal.
Gone are the days when the polarisation agenda — not new to Indian politics — used to be executed covertly. Suvendu, and the BJP in general, has been blatant in the objective of sowing divisions, his publicly stated mission being to engineer a 70:30 split of the electorate to facilitate a formidable Hindu consolidation.
Not only has Suvendu, a Trinamul deserter, made an overwhelming number of temple visits this poll season, he has also surpassed the most extreme Hindutva leaders with his polarising speeches. Sample these:
⚫ If begum comes back to power, the state will turn into a mini-Pakistan.
⚫ They have created a small Pakistan at various gram panchayats in Nandigram and they burst crackers when Pakistan wins (in sporting events). Which chief minister in India goes to an Id prayer wearing a hijab?
⚫ If begum wins, you won't be able to read the Lakshmi Panchali, you won't be able to put teeka on your forehead or wear kanthi (beads).
⚫ Begum loves Bangladeshis and Pakistanis, she is an aunt of the Rohingya.
⚫ Her slogans have been copied from Bangladesh. "Maa-Mati-Manush" was a slogan with Khaleda Zia, "Joy Bangla" was Mujibur Rahman's slogan, "Khela hobe" was the slogan of Narayangunj MP Shamim Osman.
Some BJP insiders feel that even Uttar Pradesh chief minister Yogi Adityanath, the Hindutva poster boy known for his overtly communal agenda, has been more restrained during his Bengal campaign.
Many Muslims in Nandigram say the communal speeches by Suvendu, who had represented the area as a Trinamul MLA, have shocked them.
"He was the apple of our eyes…. We could have given our lives for him. He has changed so much," says Sheikh Jased, sitting at a tea stall in Samsabad Meer Bazar.
This correspondent approached Suvendu after the Asadtala meeting and asked whether such divisive addresses were fair. The BJP leader did not offer a direct answer. He smiled and said: "I will win."
He left amid chants of "Jai Shri Ram" from his supporters.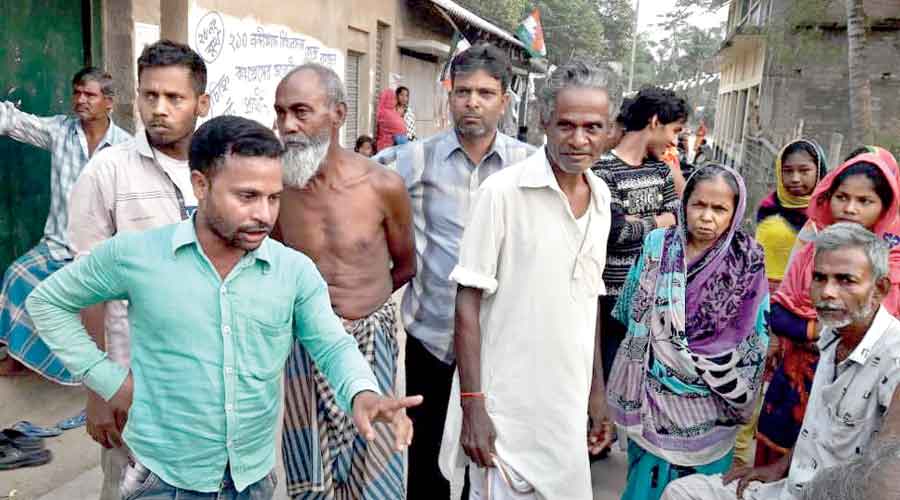 Will it work?
Armed with a well-oiled polarisation plan and the financial heft of the saffron ecosystem — Bengal never before saw the flexing of such money muscle in an election — Suvendu has undoubtedly scripted a new chapter in the state's politics.
Several Trinamul leaders this correspondent spoke to admitted in private that the manner in which Suvendu's campaign had taken off while Mamata's had suffered following her injury in Nandigram and brief return to Calcutta, had left them unnerved.
"We hadn't expected him to resort to such extreme polarisation. We had been slightly on the back foot even two to three weeks ago," says a source.
The question, however, is whether Suvendu's polarising campaign, and its rub-off effect on the rest of Bengal, will yield the desired result.
Unlikely, insist Trinamul insiders.
Suvendu's Hindutva agenda has firmly brought the Muslims under the Trinamul fold. Even staunch Left supporters have said they would vote for Mamata to keep the BJP at bay. Mamata appears likely to receive over 90 per cent of the 68,000 Muslim votes. The community makes up over a quarter of the electorate.
Of the 1.9 lakh Hindu votes, Suvendu has to corner close to 70 per cent, which seems a tall order given Mamata's appeal among women and Trinamul's core support base in different parts of Nandigram, according to Trinamul supporters. Others feel Suvendu might get more Hindu votes if his polarisation attempt succeeds in complete consolidation, in which case the contest can become too close to call.
But Ranjit Jana, a businessman favourably disposed to Trinamul, says: "Suvendu's polarisation plan is working to some extent. I would say, out of 10 friends, four or five have been swayed, but not everyone. The election arithmetic is in Didi's favour. Even in the worst case scenario, she will win by around 15,000 votes."
According to him, the anti-incumbency facing Trinamul can be attributed largely to Suvendu and his aides, and his departure will help Mamata.
If Suvendu exudes confidence, so do Trinamul leaders. They feel the margin will not be less than 40,000 because they think Mamata has derailed Suvendu's divisive agenda with her inclusive campaign and repeated reminders of how she had led the movement to protect the land of the local people.
"The 2007 movement is still very close to the hearts of the people of Nandigram…. To pursue his aspirations, Suvendu has not only dumped many of the people who were the faces of the anti-land-acquisition movement, he has also used his clout with the Centre to restart cases against them. This will boomerang," a Trinamul source says.
The Trinamul leader, however, is cautious against complacency — being aware of the challenge Suvendu poses with his poll management skills and use of money and muscle.
"That's why Didi is camping here even on polling day so that he can't play his tricks," the source says.
Third angle
Far away from the high-pitched duel between Mamata and Suvendu, CPM candidate Minakshi Mukherjee, president of the party's youth wing, comes across as a calm face with a conscience.
"This binary that the battle is between the BJP and Trinamul is so wrong…. It has been created by a section of the media," says the young candidate who has earned plaudits with her astute arguments at rallies.
The focus on religious identities is aimed at diverting attention from the bread-and-butter issues that affect the poor people of Nandigram, Minakshi says.
That Nandigram needs a better deal is clear if one speaks to the youths. There are hardly any employment opportunities in the organised sector in the area. The returns from agriculture are so low that the people who had protested against land acquisition 14 years ago have started leasing out their land to businessmen to convert them into fisheries.
The shape the Nandigram contest has taken has obscured several issues, key among them being whether a plural Bengali society can afford such blatant polarisation along religious lines.
"I can't comment how far Suvendu will go as a politician, but he will surely enter the history books as someone who brought hatred out in the open in Bengal politics," said a social scientist, requesting anonymity.