Bengal polls 2021: Serpents in Tagore's garden
Rabindranath's vision of freedom and openness has been vandalised in Santiniketan, or appropriated to play petty power games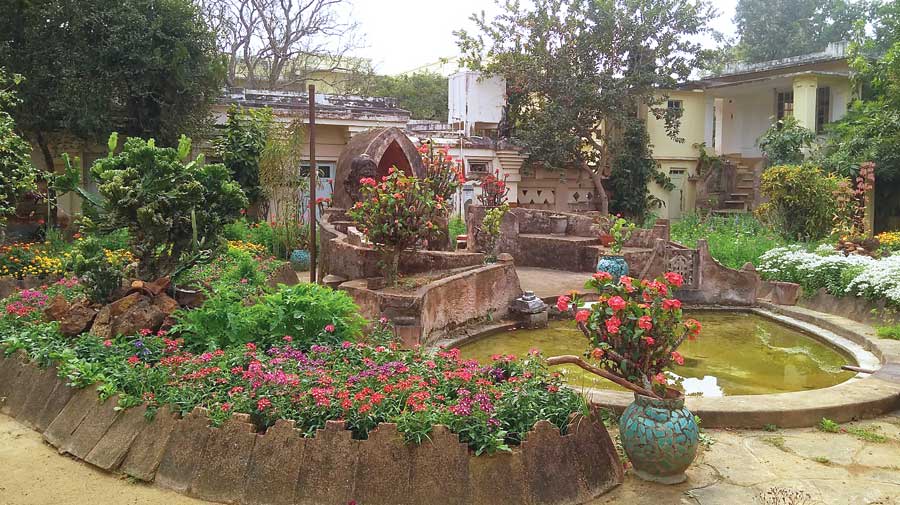 The Japanese garden beside Tagore's house Udayan. The garden was laid by Tagore's son Rathindranath.
File picture
---
Santiniketan
|
Published 30.04.21, 01:25 AM
|
---
Visva-Bharati was founded in 1921 by Rabindranath Tagore on many ideas. One of them was freedom and another was openness. Tagore did not believe in walls. In his play Raktakarabi (Red Oleander), the king lives in a dark chamber behind an iron wall that cannot be broken down, running an empire in which people die to create wealth for him.
Walls condition the mind, keeping it from growing, he felt. Visva-Bharati, located in Santiniketan, Birbhum, was "a seat of learning" where classes were held in open air. It offered other freedoms too: the freedom of being, of thought, of knowledge, and from fear.
"Tagore was a conscious advocate of a democratic community. The school, Patha Bhavana, has a formal students' council known as Ashram Sammilani. The constitution for this council was written by the founder himself," says Sudripta Tagore, a Tagore family descendent and former student and teacher of Visva-Bharati.
He is now principal of an English-medium school in Santiniketan. "We also know about his support for the Alapini Mahila Samiti, a women's organisation that was an integral part of the Ashram community," he adds.
One hundred years later, in its centennial year, which is also a state election year for Bengal, Tagore's university and its institutions lie in a shambles, broken down by a brutal use of authority, almost reminiscent of the king behind the iron curtain of Raktakarabi. To be fair to that king of darkness, the stakes are far less grand, but no less hideous.
Visva-Bharati, which became a central university in 1951, has declined steadily through the years. From an avant garde place, where the best minds of the world met from the fields of art, languages, music, literature, technology and sciences, it slowly turned into another demoralised, in many ways commonplace campus through the decades, because of the declining standard of academics, lack of financial and other resources, a less-than-satisfactory administration, which became a frequent feature and a problem that has intensified in recent years, the excessive intervention of arm-twisting, ruffian political agenda. 
The campus retains its landmarks, the Chhatim Tala, which had enchanted Tagore's father Debendranath, who bought a lot of land around it; the exquisite stained glass Prayer Hall; and Kala Bhavana, the art department, where sculptor Ramkinkar Baij worked and taught. But after the first five decades of glory, the campus and its life and aesthetic became enveloped, at least in parts, in a mist of tedium and gloom. 
What has been happening, however, to the campus since the current vice-chancellor took over in November 2018 is a carnage, a systematic, total and continuous breaking down of all the structures and institutions that hold up any seat of learning, especially Visva-Bharati. Moreover, the air has taken on more than a tinge of saffron with a certain brand of politics having been invited in.
Most of all, no employee can speak without the approval of authorities. Which reminds us of Taasher Desh, Tagore's satirical dance-drama about a kingdom where every move of a citizen is dictated. In fact, reporting Visva-Bharati today is like reading Tagore upside down.
Bidyut Chakrabarty, the vice-chancellor, has been accused of so much that it is hard to enumerate all the allegations. With him at the helm, the campus began to reel from a spree of transfers and suspensions, especially of key members of students', teachers' and employees' bodies, even as it began to extend invitations to representatives of Right-wing organisations.
In August 2019, ABVP national secretary Sunil Ambekar and the then state tourism minister Goutam Deb became the first political leaders to be invited to Halakarshana at the Sriniketan campus. The event had been started by Tagore in 1929.
There had been other quite un-Tagorean firsts already. In June 2019, the university, for the first time, had decided not to hold Pous Mela on environmental grounds. It is one of the two biggest cultural events in Santiniketan, the other being Basantotsav. The Pous Mela decision — though it was held in 2019 — alienated the local craftspeople and traders as the event contributes in a major way to the local economy.
In January 2020, when Covid was yet to become the threat that it is, the university decided not to hold Basantotsav, which too keeps the local economy alive.
From the latter part of 2019, a deluge of events announced the intent of Chakrabarty's administration. 
In December 2019, protests had erupted on the campus against a proposed lecture by Swapan Dasgupta, who later became a BJP candidate in the Assembly elections, on the communally divisive Citizenship Amendment Act passed by the Centre. When Dasgupta finally arrived in January 2020 for the lecture, he faced protests from students at the lecture venue, where a lot of BJP leaders were present along with the vice-chancellor. Chakrabarty later shifted the programme to Sriniketan, where he and Dasgupta were gheraoed again.
In January 2020, a student was evicted from the hostels for recording a speech by Chakrabarty. In the video recording, the speaker is questioning the validity of the Constitution, saying "(only) 293 people met at the Constituent Assembly and drafted the Constitution".
In January-end, all the administration's efforts to contain protest and difference of opinion culminated in a gag order. Visva-Bharati barred all employees from interacting with the media with immediate effect and asked them to air their views, if any, through the university's officiating public relations officer, an unthinkable act of censorship in any institution of education in a country that claims to be democratic.
No one can speak today in Visva-Bharati. Strange, given it was founded by Tagore.
Protests followed. In August, 2020, the Visva-Bharati University Faculty Association sent a letter to Chakrabarty, accusing him of ignoring academics and destroying the democratic environment. It came in the middle of another controversy: Visva-Bharati was building a boundary wall on the Pous Mela grounds.
In a hundred years, things have come full circle at Visva-Bharati, from open space to walls being set up where none is required.
Since then, other events have followed: Visva-Bharati has suspended Sudipta Bhattacharyya, an economics professor and president of the Visva-Bharati Faculty Association, assistant professor of drama Rajesh K.V., also the general secretary of the Adhyapak Sabha. Bidyut Sarkar, secretary of the non-teaching employees' association, had been transferred earlier and then suspended in July 2020.
In February this year all 10 teachers of the English department were "confined" and later showcaused regarding their "absence" from the university based on their "identical undertakings" admitting to their absence. They were all attending a work-related Zoom meeting, sources said. 
Around eight teachers of the physics and philosophy departments — who were earlier showcaused — were chargesheeted for alleging that their English department colleagues were illegally confined for filing what varsity authorities termed "false police complaints" in the matter.
All these bodies mentioned by Sudripta Tagore, which made for a community, have been undermined. "Add to that the fear of suspension, gag order and such measures against the teaching community of the institution," he adds.
At this point, Visva-Bharati begins to look a bit like a very dark version of Lewis Carroll's Alice in Wonderland, where the Red Queen charges, apparently for no reason at all other than megalomania: "Off with their heads!" But to be fair to the Red Queen, like we were fair to the Iron King, she had no ideological leanings.
The vice-chancellor has also been seen hobnobbing with the BJP candidate from Bolpur, party think-tank member Anirban Ganguly. But sources said that the saffron party, embarrassed by Chakrabarty's rampage on the Visva-Bharati campus and its surroundings, is now trying to distance itself from him. 
Does Visva-Bharati have any hope?
"Rabindranath Tagore called for a 'swadeshi samaj'. He wanted to see self-reliance in agriculture, commerce and business, art, literature, etc. Tagore wanted the entire humanity to benefit from India's spiritual awakening. The vision for a self-reliant India is also a derivative of this sentiment. The call for a self-reliant India is for the world's benefit too," said Prime Minister Narendra Modi at the Visva-Bharati convocation in December last year. The Prime Minister of India is the Chancellor of Visva-Bharati. And Tagore may have spoken of self-reliance, but "atmanirbhar" is Modi's slogan.
Tagore's vision has been vandalised in Santiniketan, or appropriated to play petty power games, with or without the support of political parties.