Bengal polls 2021: Modi speeches, LS poll leads didn't help
Sunday's poll count confirmed that more than 40 per cent of the seats BJP leaders were confident of sweeping, had been lost to the Trinamul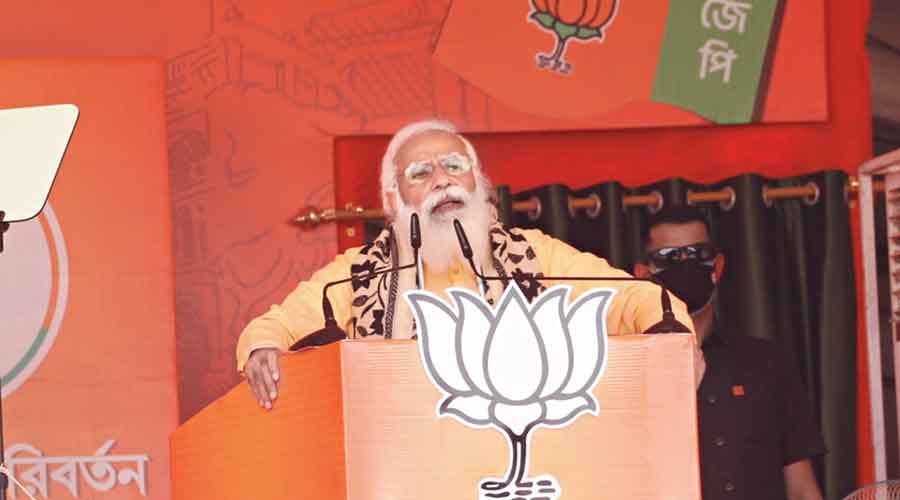 ---
|
Calcutta
|
Published 04.05.21, 01:45 AM
---
The BJP's defeat in the 2021 Bengal Assembly elections was sealed by the loss it suffered in 51 of the 121 seats where the party had secured leads in the 2019 Lok Sabha polls.
Prime Minister Narendra Modi had campaigned and addressed public meetings in many of these seats this time. But the much-hyped Modi magic did not appear to have helped the party.
During the campaign, BJP leaders were confident of sweeping these seats and add more Assembly segments to the list. However, as the poll results unfolded on Sunday, it was clear that more than 40 per cent of these seats had been lost to the Trinamul.
"It was a massive miscalculation on our part. We had got complacent, rather overconfident at some point, and didn't notice that Trinamul was regaining the ground in Assembly segments where we had taken leads in the Lok Sabha polls," a BJP state office-bearer said on Monday, a day after Trinamul's landslide victory.
The saffron camp suffered a major blow in four of the 18 Lok Sabha segments it had taken leads in 2019. In 20 of the 28 Assembly segments under Jhargram, Kharagpur, Hooghly and Asansol Lok Sabha seats, the BJP trailed behind Trinamul. Modi had campaigned in three of these Lok Sabha seats, except Jhargram.
In the Lok Sabha results in 2019, the BJP had leads in all seven Assembly segments in Asansol Lok Sabha seat, six each in Kharagpur and Hooghly and five in Jhargram. Sunday's results showed that the BJP lost three seats in Asansol and five seats in each of the other three Lok Sabha constituencies.
Reminded of the empty chairs that greeted party's national chief J.P. Nadda at a rally that had to be cancelled, a BJP youth wing member in Jhargram said: "Now we realise that people of Jhargram had already rejected us. Not only Naddaji, one of Amitji's rallies was also cancelled."
Union home minister Amit Shah had to cancel his Jhargram rally because of low turnout, though the official reason cited was a snag in his chopper.
In Hooghly, where BJP's MP Locket Chatterjee, in the fray as an MLA aspirant, was defeated by Trinamul's Asit Mazumder in the Chunchura seat, BJP workers said discontent over the selection of candidates was the reason. Intra-party friction started when Trinamul turncoat Rabindranath Bhattacharya was nominated from Singur, a BJP leader in Hooghly said. "The discontent had a ripple effect and we clearly couldn't control it," the leader said.
While Modi had campaigned in Hooghly's Dunlop grounds, Shah had come in a road show for Bhattacharya. Neither efforts bore electoral fruit.
The discontent among old party workers over several issues, including candidature, is one of the reasons why BJP suffered a setback in Asansol and Kharagpur, party sources said. On April 17 and 20, Modi had addressed public meetings at these two places.
On April 23, amid mounting Covid-19 cases, Modi addressed a virtual rally for Birbhum, Calcutta, Murshidabad and Malda. In Birbhum, the BJP lost four of the five Assembly segments that it had taken leads in the 2019 Lok Sabha polls. In Calcutta, the BJP lost the Jorasanko and Shyampukur seats where it had an edge in the 2019 parliamentary elections.