Bengal Assembly Elections 2021: Mamata holds aloft amity in art
How our muslim brothers and sisters lovingly draw Ram and Sita: CM on Patachitra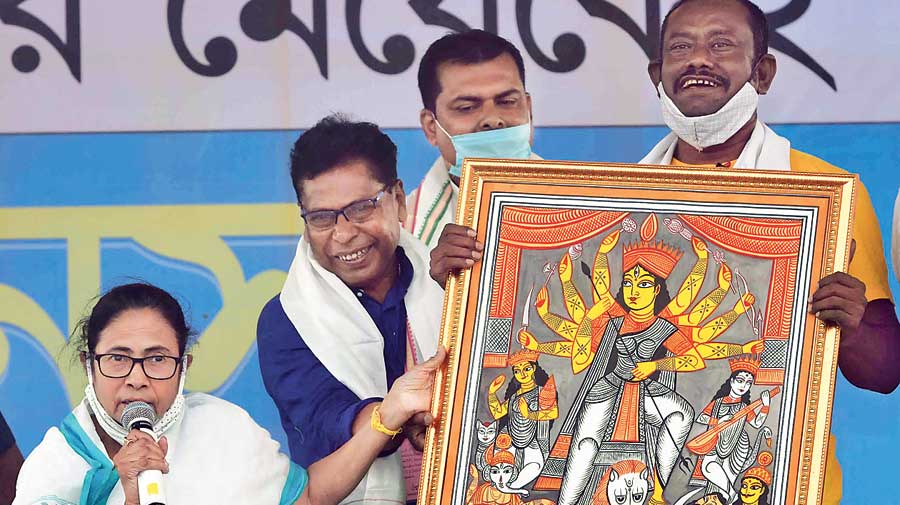 ---
|
Pingla
|
Published 28.03.21, 01:41 AM
---
Mamata Banerjee on Saturday devoted over a third of her campaign speech at West Midnapore's Pingla to highlight the rich tradition of the Bengal patachitra, practised famously by artists of the Naya village in the area for generations, all of whom are Muslims.
Using the patachitra instance, the chief minister upheld secularism and the communal amity at the very core of the complex, multidimensional Bengal ethos that the saffron ecosystem has been allegedly trying to attack.
"I am grateful to the people of Pingla, because it is one of the few hubs, exemplary globally…. I would request the Delhi leaders to come and see this. Minority brothers and sisters, how beautifully they draw Hindu gods and goddesses. This is such a heartwarming instance of our communal harmony. They do this with a great deal of love. They are globally known for this," said Mamata at the Pingla campaign rally.
"Come and see, leaders from Delhi, how our Muslim brothers and sisters lovingly draw Ram and Sita," she added, referring to the foremost deities in the Hindutva universe.
Pingla has 2.65 lakh voters, including around 80,000 Muslims. In the Assembly polls of 2016, Trinamul's Soumen Mahapatra had won by a margin of over 21,000 votes. It was shaved down to barely 6,500 in the extrapolated results of the 2019 Lok Sabha election.
Patachitra — pata meaning cloth and chitra meaning picture — is a general term for traditional, cloth-based scroll painting found in Bengal and Odisha. The artform is known for its intricate details and Hindu mythological narratives and allegories. It is a key component of an ancient Bengali narrative art, originally serving as a visual device during the performance of a song.
Bengal Patachitra dates back to the pre-Pala period, and is referred to as far back as Buddhist literature of the 1st century AD. The Patachitra has sub-genres such as Durga Pat, Chalchitra, Tribal Patachitra, Midnapore Patachitra, and Kalighat Patachitra.
Mamata was mainly referring to the Naya artists, who practise the Midnapore sub-genre. The work of the Naya artists are displayed in several international museums.
Naya is part of Pingla. The village has about a hundred families, all belonging to the Muslim community, who have been specialising in the art form for generations.
"If we gift a patachitra (piece) to foreigners, they treasure it, it occupies a pride of place in their homes…. Lovely saris are also made (with this art form). In future, I would like to have these sold globally, with four five showrooms at important cities abroad," said the chief minister.
The Naya artists make (Hindu) religious artwork, with stories from mythological epics such as the Ramayan and the Mahabharat, besides Bengal's own important goddesses Kali, Manasha and Chandi, as well as folk tales such as that of devoted wife Behula and her husband Lakhinder.
"In future, women from here can ramp it up (the art form), by forming self-help groups…. Be proud. In what you do, you are Number One in the world," added Mamata.
On Saturday, Mamata enthusiastically spoke about the art form.
"Please make some nice patachitra items for me….I buy from you every time I come to this region, because I have to gift foreigners who love your work. I will remember you. I will take big initiatives for you, so that you get more income and wider recognition," she said on receiving several patachitra gifts from the artists.
Attack on Shah
The chief minister on Saturday once again accused Union home minister Amit Shah of exerting undue influence on the Election Commission of India to try and manipulate the Bengal elections.
"Delhi's Amit Shah is conducting these elections…. Elections should be free, fair and peaceful. Amit Shah is running the Election Commission of India," she said.
Mamata also lambasted the Adhikari turncoats. "They have been trying to stop people from voting wherever they can...The more I speak of them, the more intense my hatred for them becomes," she said.