Bengal Polls 2021: Jorpatki residents "reply to the bullets with ballots"
Among the voters were the families of Maniruzzaman Mian, Samiul Haque and Hamidul Mian, the three youths who lost their lives in the April 10 firing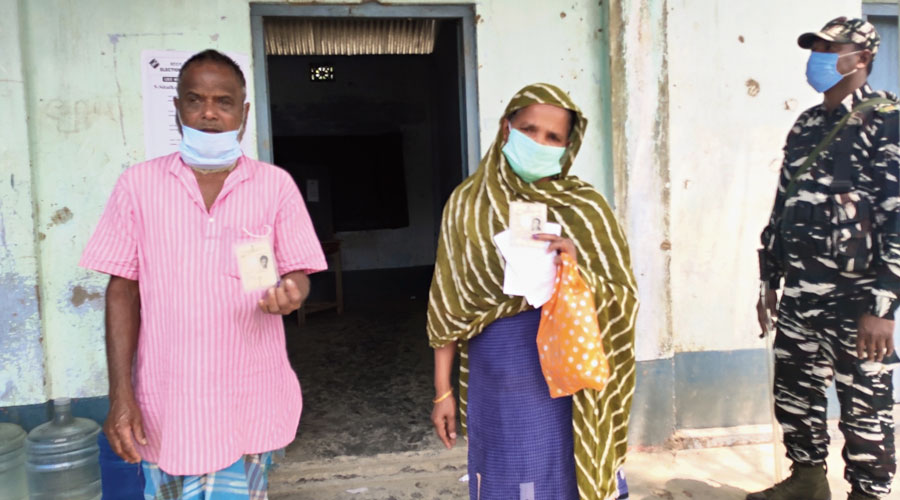 Amzad Hosain and Mamata Bibi, the parents of Maniruzzaman Mian who was killed in the CISF firing, at the booth in Jorpatki on Thursday.
Main Uddin Chisti
---
Cooch Behar
|
Published 30.04.21, 01:31 AM
|
---
Residents of Jorpatki in Cooch Behar's Sitalkuchi Assembly segment walked up to Amtali MSK (booth number 5/126) on Thursday to "reply to the bullets with ballots" as polling was held for the second time.
"Around 84 per cent voters (814 out of 966) turned up at the booth to cast their votes, including family members of the three of the four youths who had fallen to the CISF's bullets on April 10. The attendance indicates they were determined to reply to the injustice that was delivered to them around 20 days back…..we are confident that they have replied in the most appropriate manner through their ballots," said Alizar Rehman, a local Trinamul leader.
Since morning, over 50 CAPF personnel were sighted at Jorpatki, guarding the booth and surrounding areas. Along with them were state police personnel, led by a number of senior police officers.
As the day rolled, voters came out in groups, walked up to the booth and exercised their franchise. Among them were the families of Maniruzzaman Mian, Samiul Haque and Hamidul Mian, the three youths who lost their lives in the April 10 firing.
"Family members of Nur Alam Mian, the fourth youth, are voters of 5/125 booth. That is why they didn't turn up," said a resident.
Mamata Bibi, the mother of 28-year-old Maniruzzaman, reached the booth with her husband Amzad Hosain, two sons and Rahila Khatun, her daughter-in-law who was seen cradling her one-and-a-half month-old daughter whom they have named Mariam.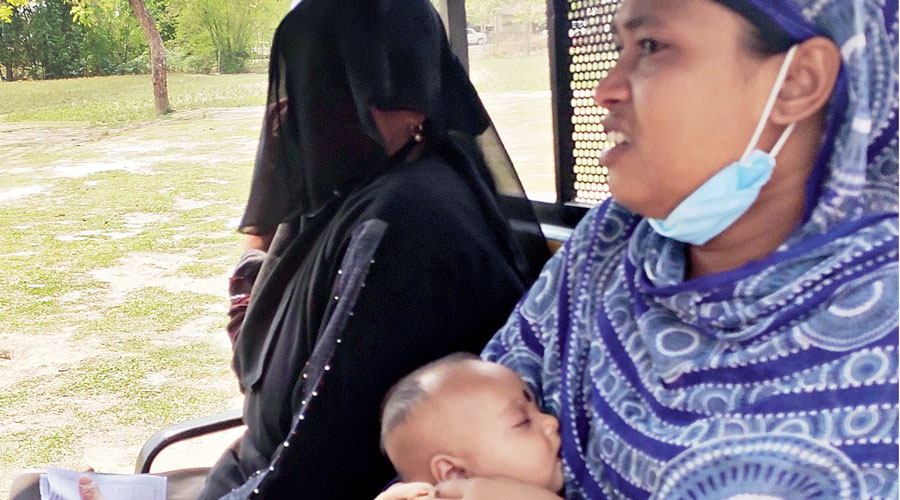 As they walked to the booth, Mamata could not control her emotions and burst into tears. "It is this ominous booth that has claimed the life of my son. I can never forget it," the old woman said.
After some time, she managed to control herself and stood in the queue. Gradually, each of them went inside to cast their votes.
Afsar Ali, Samiul's father, who was equally morose as he stood in the queue, recalled the horrifying incident.
"On that day, I was standing in the queue with my two sons…. I saw how my son was gunned down. Our only hope is that justice is delivered to us once the new government comes to power. So far, not a single CISF man who fired at our boys has been arrested," he said.
Candidates of different parties — Partha Pratim Roy of the Trinamul Congress, Barendranath Burman of the BJP and Sudhangshu Pramanik of the Left Front — visited the booth.
Roy, who is also the district Trinamul chief of Cooch Behar, said: "Our party supremo has made it clear that we will not let the deaths of these local youths go in vain. We are confident of forming the government and all necessary legal steps would be taken against those who fired at them."