Bengal Polls 2021: It's time for Covid-er baat, Mamata Banerjee tells Narendra Modi
The chief minister blamed the central government for supplying medicines and vaccines to 80-odd countries, thereby contributing to the domestic crisis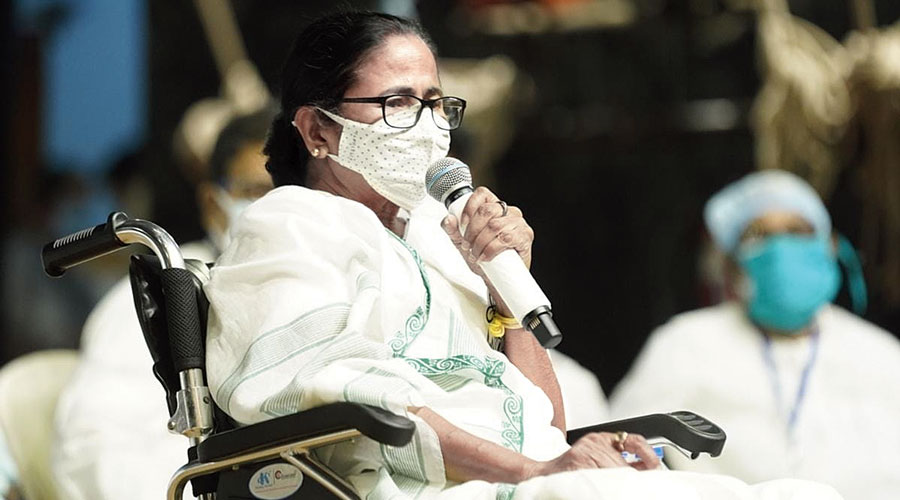 Chief minister Mamata Banerjee in Behrampore on Sunday.
Telegraph picture
---
Behrampore
|
Published 26.04.21, 01:19 AM
|
---
Chief minister Mamata Banerjee said on Sunday that the nation had had enough of Narendra Modi's "Mann Ki Baat" and some "Covid-er baat (talk about Covid)" was in order from the Prime Minister.
Mamata once again mounted a scathing offensive against Modi, his party, his government at the Centre and the Election Commission of India (allegedly working at the behest of the BJP) for their part in letting the second wave of the pandemic in India get to the devastating stage for the sake of winning the Bengal election.
"Vaccines are not available in our country. There is no oxygen and medicine. Amid such a situation, he (Modi) is continuing his Mann 'Ki Baat'. Nobody is ready to listen to your 'Mann Ki Baat', there's been enough of it… now, it's time for Covid-er baat. Now is the time for you to give us vaccines, oxygen and medicines," said Mamata at a Trinamul Congress workers' meet at Rabindra Bhavan in Behrampore.
The chief minister was referring to the Sunday edition of Modi's Mann Ki Baat programme.
"Covid-19 would not have had such a spike here if Narendra Modi and his ministers had taken action earlier. The fact is that they ruined the entire country in a bid to capture Bengal…. If there was a proper plan to vaccinate the people, Covid-19 would not have gone to such a state," said the Trinamul Congress chief.
"They had the option to resist (the second wave), but they did not, despite the five-month period in between when the infection numbers were not high," she added.
Mamata criticised Modi's boasts of Atmanirbhar Bharat (self-reliant India), referring to his government's decision to supply medicines and vaccines to 80-odd countries, thereby contributing to the domestic crisis.
She claimed the 2 lakh central forces personnel, deployed untested by the Election Commission allegedly at the BJP's behest, had contributed substantially to the spike in Covid cases in Bengal.
"Two lakh central forces from states like Uttar Pradesh, Rajasthan, Gujarat and Delhi (some of the worst-hit states) have come here. They have been roaming freely, going from one district to another. They don't even know themselves whether they are infected as they were never tested or screened," she said.
"If central forces come your homes, speak to them from a safe distance. If they come too close, I request the mothers and sisters to ask them to go for a test or treatment first," she added.
Mamata said the poll panel could not evade responsibility for the worsening of outbreak after forcing Bengal to go through an unprecedented eight-phase polling amid the pandemic. "When Covid cases started increasing after the third phase of the elections, I requested the commission to club the remaining phases. I kept requesting them. I also requested them to stop the campaign, for all. But they did not listen," she said.
"Many ministers and their large entourages from other states came and stayed at luxury hotels across Bengal. Over one lakh BJP cadres from outside were brought and they also spread Covid-19 rampantly Bengal," Mamata added.